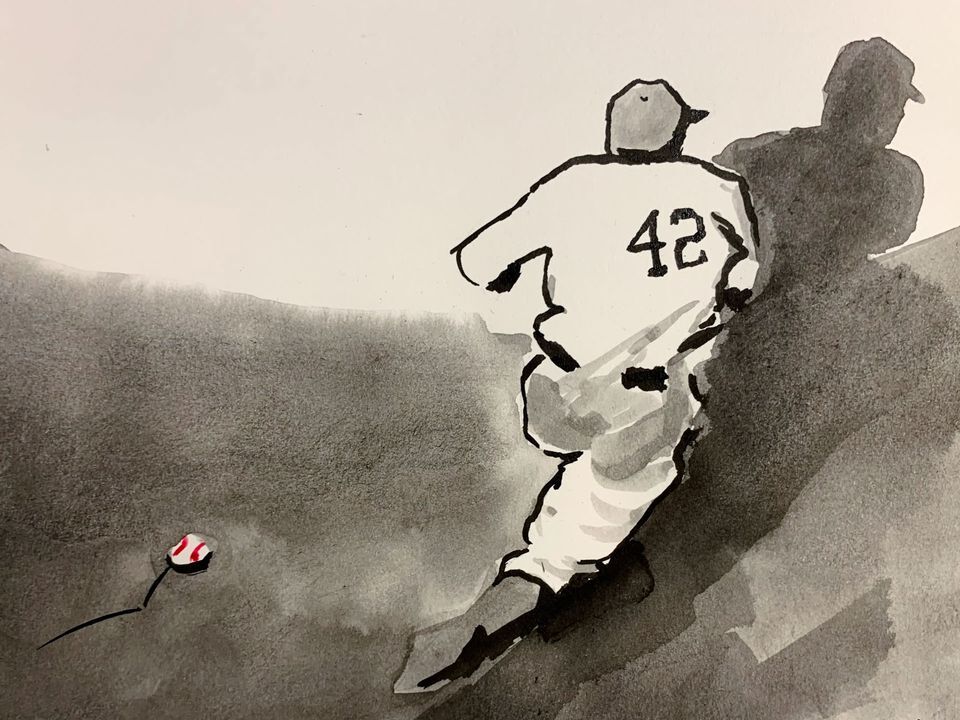 John Collins: Moonlight Graham
1206 Maple Ave, Ste 1005, Los Angeles, CA 90015
Apr 01, 11:30 AM - 5 PM — ends May 22, 2021
Track 16 Gallery presents Los Angeles-based artist John Collins's "Moonlight Graham: Nightly Baseball Comic." The show runs through May 22. Visitors can make a reservation to visit through the gallery website.

On the wall of the rear gallery of Track 16 over 100 small drawings will hang, each one a devotional to baseball in a pandemic year where America's favorite pastime was halted.

As a game that many children fantasize about, the dream continues in this series. Pretending his identity was "Moonlight Graham," a newspaper comic illustrator, Collins would highlight a play or story of interest every day from within the baseball world. He created these works on a fictional deadline because within this fantasy, his drawing would appear in the next morning's sports section next to the baseball scores and standings.

The name Moonlight Graham reverberates with multiple meanings. It was descriptive of his own creative act of moonlighting--these were created at night after working on his studio paintings or handyman jobs. It is also a pun on social media: Moonlight (nightly) and Graham (Instagram). Lastly, as a nod to baseball fans, the name is recognizable as the name of a baseball player in the early 20th century who became a household name thanks to W. P. Kinsella's novel, Shoeless Joe, which was later adapted into the film, Field of Dreams. The baseball player received his nickname because he moonlit as a doctor during his playing days, which Collins found a nice parallel to his own project.

The work captures the movement of the players through dynamic compositions and twisted limbs straining to reach the plate, pitch the ball, or crack the bat. Through washes and line work, the compositions reflect the drama of a moment in the game, some rendered more completely and some works a simple gesture of line. Coupled with a textual explanation of the historical moment, each work is documentation, reminiscent of a zine or a photo heading. Use of negative space, as well as black, browns, and greys recall the values and hues of printed newspaper, with an occasional pop of a vibrant red, orange, or yellow. The point of view often shows the camera implicitly, whether it is an aerial view or aimed towards the batter, it is a view we are all familiar with--a nightly watch of the game on television. The drawings themselves create a sense of temporality--not only are these homages to particular moments, but the nightly routine denotes the carved out time as well.

John Collins was born in Grayslake, Illinois. He now lives and works in Los Angeles. Collins received a BFA from School of the Art Institute in Chicago, IL and studied at The Burren College of Art in Ballyvaughan, Ireland. Recent solo and group exhibitions include John Collins: Excavation (2016) at The Shop at Center Theatre Group, Los Angeles, CA; John Collins: Art in Unexpected Places (2015) at Rochester Museum of Fine Art, Rochester, NH; B <--> LA. Didn't you know what you were carrying on your back? at Rosalux in collaboration with Track 16 Gallery, Berlin, Germany; Full Spectrum Radio Live Portrait Series (broadcast 1/22/18), KillRadio Studios, Los Angeles, CA; Musica con Huevos at The Offbeat, Los Angeles, CA.