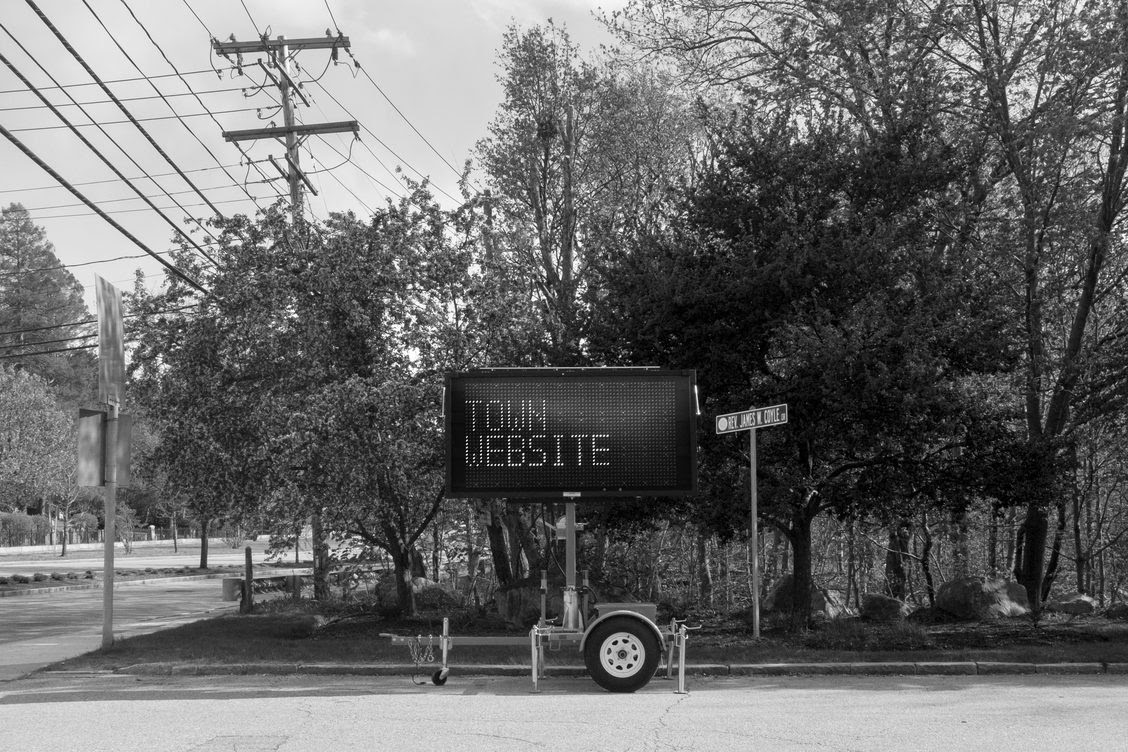 Alex Lukas: TOWN WEBSITE
Oramas Rd. and California St., Santa Barbara, CA, 93103
Apr 10, 12 PM - 6 PM — ends Apr 11, 2021
Riviera Parking is pleased to present TOWN WEBSITE, an exhibition by Alex Lukas. Please email
info@rivieraparking.com
to make an appointment to view the show.
ALL
TRAVLERS
TO MASS
—
URGED TO
QRNTINE
14 DAYS
Massachusetts Turnpike
March 2020
…
COVID
IS STILL
A RISK
New York State Thruway
July 2020
…
YOUR ACTIONS
SAVES LIVES
US Highway 101
December 2020
…
AVOID
GATHER-
-INGS
—
WEAR
FACIAL
COVERING
—
STAY
SAFE
Ojai, Calif.
March, 2021
-Alex Lukas
Alex Lukas was born in Boston, Massachusetts and raised in nearby Cambridge. With a wide range of influences, Lukas' practice is focused on the intersections of place and human activity, narrative, history and invention. His field-work, research, and production reframes the monumental and the incidental through intricate publication series, sculptures, drawings, prints, videos, and audio collages. Lukas' work has been exhibited nationally and internationally, and is included in the collections of the Pennsylvania Academy of the Fine Arts, the Kadist Foundation, the Philadelphia Museum of Art, New York Public Library, and the Library of the Museum of Modern Art. He is an Assistant Professor of Expanded Print and Publication in the Department of Art at the University of California, Santa Barbara.
Riviera Parking is a project space located in a two-car garage in the Lower Riviera neighborhood of Santa Barbara. It is a temporary exhibition space which invites one artist to present one work over one weekend that was made during the COVID19 pandemic. The conversations and process from each exhibition will be presented on our website after the completion of the physical exhibition. This space is run by Niko Chodor and Alex Heilbron.