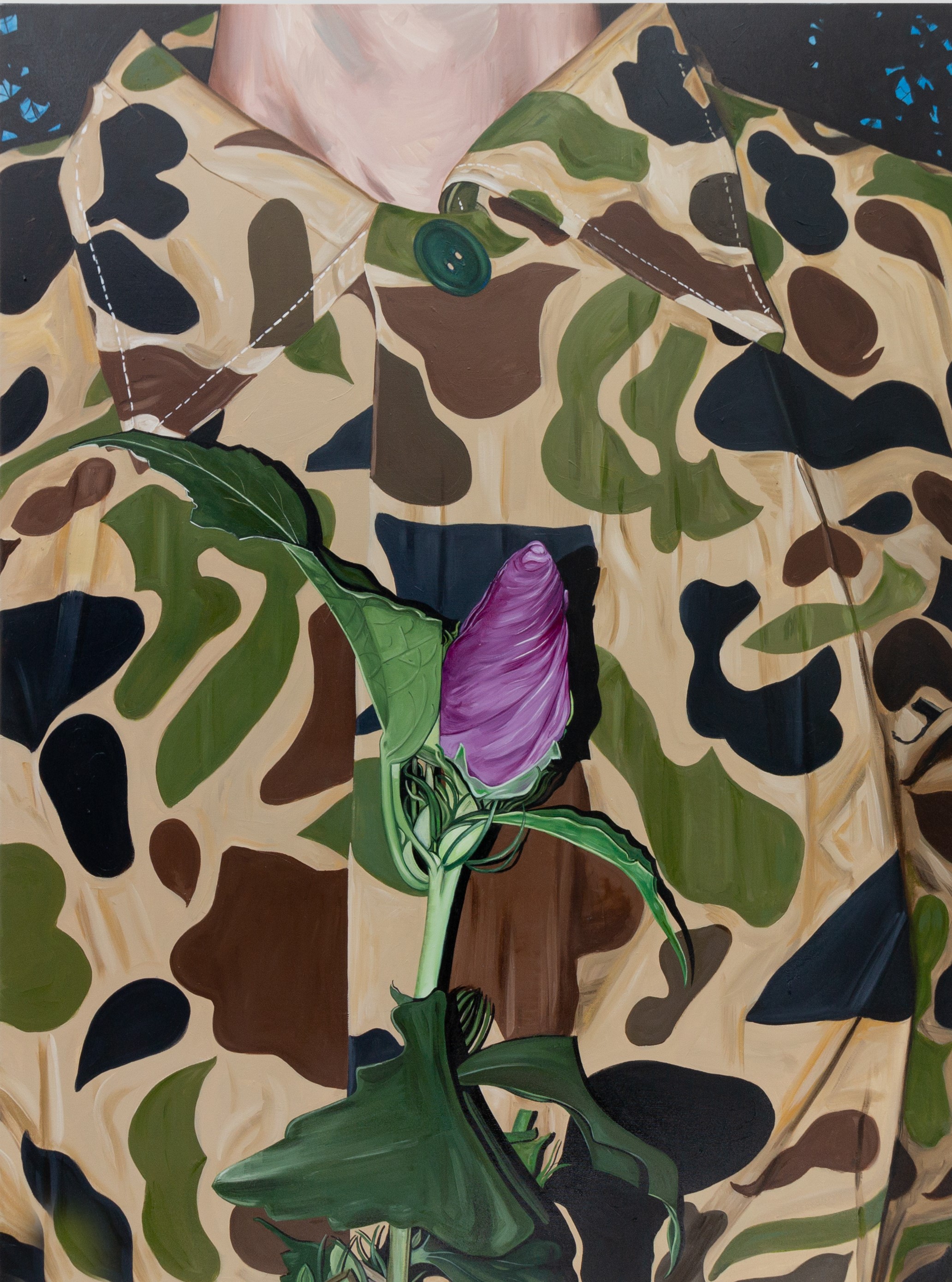 Brad Phillips: Grandpa Goes to Hollywood | Teresa Baker: Pulling Up The Prairie
3311 East Pico Blvd, Los Angeles, CA
Apr 24, 11 AM - 5 PM — ends May 29, 2021
Brad Phillips: Grandpa Goes to Hollywood (Pictured)
April 24 - May 29, 2021

de boer gallery is pleased to announce a solo exhibition and limited edition publication of Brad Phillips' new paintings. In his first exhibition with de boer, Toronto-based Phillips presents figurative paintings depicting his wife, artist Cristine Brache, alongside poignant text paintings.

The exhibition is shown and installed as two parts, separate yet together in two different rooms. The figurative paintings installed in the main gallery and the text paintings installed in the domestic setting of the gallery's private viewing room. Much like Phillips' critically acclaimed book "Essays and Fictions," published by Giancarlo DiTrapano (1974-2021) of Tyrant Books, the exhibition takes on a dual identity where truth and untruths are presented in tandem. This so-called "autofiction," a term primarily used to describe a genre of postmodern literature that combines autobiography and fiction, also fits perfectly as a descriptor for the paintings in Phillips' new exhibition.

In one painting, Cristine in the Corner of the Hotel Room, 2021, a female subject wearing luminous white pants and a bright yellow sweater stands in front of a door. A scene that would be ordinary if not for the subject's position of precarious leaning into the corner between the wall and the door. The female subject's head is tilted up and staring at the paint on the wall, with her heel raised in the air. It is like stepping into a dream, fleeting yet familiar.

Phillips' near-perfect replica of Bruce Nauman's first text painting, The True Artist, is An Amazing Luminous Fountain (1966), offers a clue to understanding the exhibition. Yet, rather than leave the middle of the painting blank like Nauman, Phillips paints an impeccable representation of Daffy Duck, full length with his hands on his hips. Titled No Gods, No Masters, 2021, it becomes evident that Phillips' art has become an activity, a moral stance, and position.

While the paintings in the exhibition are narrative, to read them only as descriptions as it relates to Phillips and his personal life would be a misstep he is urging you to make. See that's the thing here, where do our dreams and truths collide? Phillips' combination of the reality of a life lived intersecting with an artist's imagination creates a potent dialog about the current state of culture. One in which pictures shared online become currency, signifiers, and identities. Each of which could be true or false. This fragile exercise is complex; it's complicated, yet effortless and beautiful when articulated by Phillips.

Brad Phillips (b. 1974) lives and works in Toronto, Canada. Phillips is best known for his work around addiction, mental illness, and the more obscure aspects of human sexuality. He has had solo exhibitions at de boer, Los Angeles; Harper's, New York; Allen & Eldridge, New York; CSA Space, Vancouver, BC; Wallspace, New York; Groeflin Maag Galerie, Zurich, Switzerland; Rod Bianco Gallery, Oslo, Norway; and Andrew Kreps Gallery, New York, among others. Two-person exhibitions include Anat Egbi, Los Angeles (with Cristine Brache), and Working Title, Toronto, ON (with Sojourner Truth Parsons). His work has been included in group exhibitions at Nino Mier Gallery, Los Angeles; Galerie Sebastien Bertrand, Geneva; Signs & Symbols, New York; Jessica Bradley, Toronto; The Hole, New York; M + B, Los Angeles; Galerie de l'UQAM, Montreal. Phillips' first book of short stories, "Essays and Fictions," was published in 2019 by Tyrant Books. New York magazine recently called it one of the most important books of the decade. Writing about Phillips and his work has appeared in various publications, including Autre Magazine, New York Times Magazine, Purple Fashion Magazine, Mousse, Art Forum, Modern Painters, Hyperallergic, Whitehot Magazine, Frieze Magazine, Bordercrossings, The Art Newspaper, and Canadian Art.

Featured image: Cristine in My Camo Shirt, April 2020, 2020, oil on canvas, 48 x 36 in (121.9 x 91 cm)

----------------

Teresa Baker: Pulling Up The Prairie
April 24 - May 29, 2021

de boer gallery is pleased to announce a solo exhibition and limited edition publication of mixed media wall works by Teresa Baker. In Baker's first exhibition with de boer, the Los Angeles-based artist presents a collection of large-scale works evoking art historical antecedents from Mark Rothko, Paul Klee, and Ree Morton as well as a traditional loom, map-making, and the natural topography of the Northern Plains. Pulling Up the Prairie is a play on Ofelia Zepeda's poem "Pulling Down the Clouds" and the idea of trying to grasp something so vast, something so ephemeral, and take it with you.

Honoring both her modern aesthetic and the materials and cultural metaphors of her childhood, Baker transforms synthetic materials into works that reference territories' irregular shapes. The looping marks, made with materials like yarn and string, suggest mapping. These works are drawn from memories in the grand Northern Plains where she is from and time spent exploring, walking, looking, and working. The materials, texture, shapes, and color relationships are guided by the Artists' Mandan/Hidatsa culture to explore how identity can relate to innate objects.

Baker's hand-stitched patterning, painting, beading, and soldering create a recognizable style in rhythm with the artwork's overall asymmetrical shape. The organization of these materials within the invented picture plane creates environmental psychology that suggests environments form identities. This discovery is represented as experimental expressions and compositions that reveal deep and mature thinking combined with a personal narrative. As a momentary space or state, the works can be described by their vagueness, hybridity, and ease, with the incredible potential for disruption and revolutionary change.


Teresa Baker (b. 1985)is an enrolled member of the Three Affiliated Tribes in Western, ND. She currently lives and works in Los Angeles, CA. She has had recent solo exhibitions at Interface Gallery, Oakland in 2019, and Gray Contemporary, Houston in 2018. She has exhibited widely in the San Francisco Bay area at venues such as Yerba Buena Center for the Arts, di Rosa, the Wattis Institute, Kiria Koula, Et al., and The Luggage Store Gallery. In 2016 she had her first solo museum show with the Art Museum of Southeast Texas, Beaumont, TX. She was the 2020 Native American Fellow for Visual Artists at the Ucross Foundation, Tournesol Award Artist in Residence at the Headlands Center for the Arts, 2013–2014 Artist-in-Residence at The MacDowell Colony, 2015. Baker received her MFA from California College of the Arts and her BA from Fordham University.