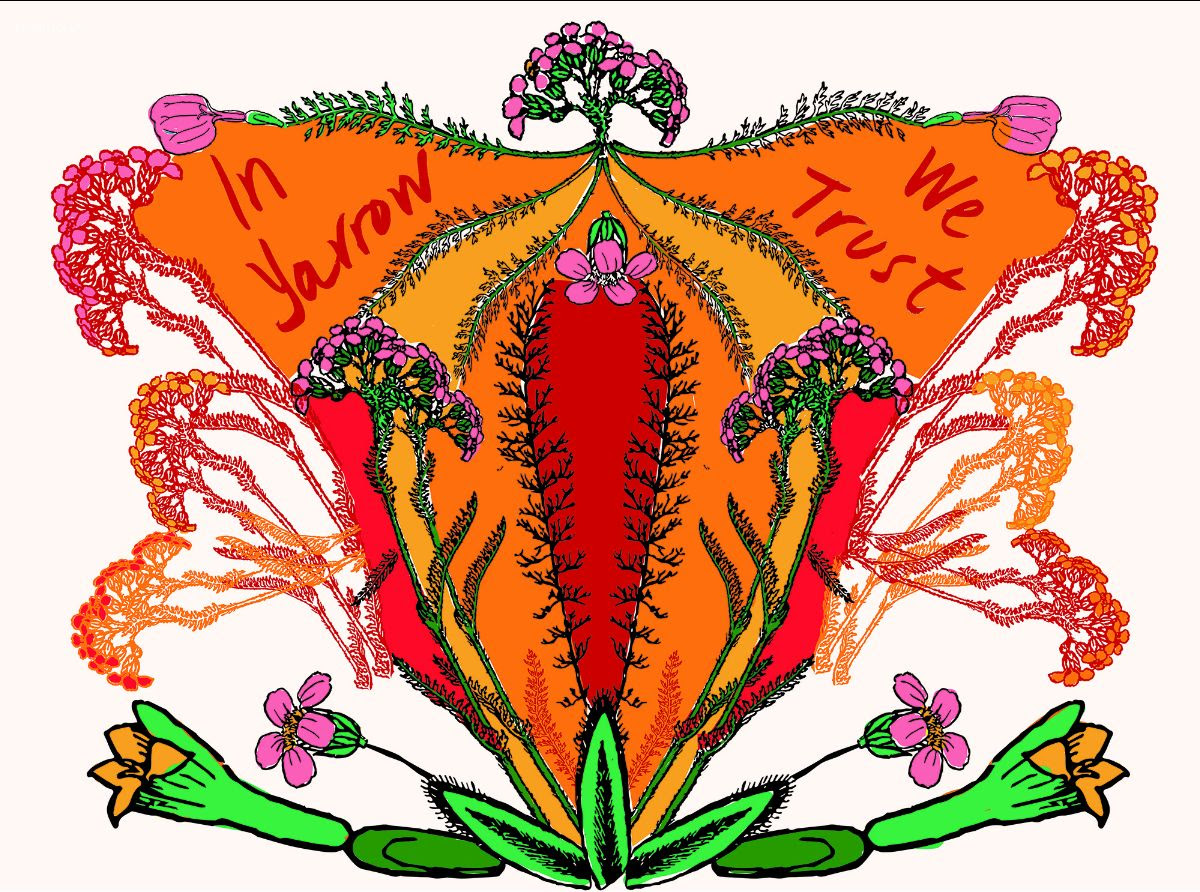 Carolina Caycedo: In Yarrow We Trust
3006 W 7th St #220 Los Angeles CA 90005
Apr 22, 10 AM - 5 PM — ends May 22, 2021
Open by appointment, Thursday through Saturday, 10 AM—5 PM
Please schedule your appointment with us:
commonwealthandcouncil.com/visit
The exhibition will also be available to view digitally on our website:
commonwealthandcouncil.com/
Carolina Caycedo: In Yarrow We Trust
Trading on the motto "In God We Trust" found on US currency, In Yarrow We Trust draws together seemingly opposed strands of lived reality—exalted motherhood and abortifacient herbs, breasts heavy with milk and debt-saddled neocolonial finances—to elaborate the complex intersections of blood ties, state power, and fiscal obligations comprising the links in our shared bonds, our common trust.
What does it mean to assign trust—the basis of all human relationships, and the implicit foundation of our civic and financial institutions—to a deity, establishing "God" as underwriter, over and above any accountability of the state to its people? The Distressed Debt series appropriates the peculiar theism of financial instruments while repurposing their visual lexicon in digital collages made from images of government, municipal, and corporate stocks and bonds. Decontextualized intaglio scrolls and rosettes sprawl over surfaces dense with vaunted civic icons: Greco-Roman figures, plantation scenes, majestic landscapes. Carolina Caycedo cobbled this imagery from 19th and 20th century stocks and bonds originating in Puerto Rico, Virginia, and Philadelphia—all Commonwealth territories. Embedded here is a critique of American imperialism, from stereotypical illustrations of indigenous and enslaved people to the strange, florid complexity of the decorative elements, overlaid with colonial and racist texts describing slaves as "assets," and the hollow, repetitive slogans that make up the totemic language of money. Other collages, cut from the original bonds and stock certificates, parse the deliberate obtuseness of financial-ese terms like "heteroskedasticity" and "after-hours trading."
In a hanging sculpture made from fishing nets, paper currency from various countries circles a multicolored corn cob, suspended in the conical net like an infant's toy mobile. It sways and turns with the slightest breeze, exposing the absurd, ephemeral fragility of our valuation tokens, paper-thin and light as air. In what, then, do we trust? A second sculpture, Good Night Spell, answers with a kind of tangible lullaby, commemorating the birth of Caycedo's second child. Bells jingle softly as it moves about a bright pink umbilical, ensconced within diffuse layers of fishing nets resembling a tiered skirt. Corn from Caycedo's garden, fishing nets evoking humble subsistence, and the flowing ease of a river. Materials which anchor trust and faith in our most basic bonds to each other, and with the natural world. A series of plant portraits honors this covenant through intricate depictions of herbs known to affect the uterus: yarrow, rue, nettle.
Among her fanciful and often jarring reclamations of civic and financial codes, Carolina Caycedo unveils the affective terms of all social connection, offering an alternative prospect on human relations, based not in bondage and indebtedness but generosity, trust, and mutual aid—the real ties that bind.
Distressed Debt series printed courtesy of Counter Image, a special grant initiative by York Chang and Juliana Paciulli to provide production services to artists of color.
Special thanks: David, Una, and Niko; Joaquín Guzman, Juan R. Aguilera at Barronova, La Conejita Co., Lucia Fabio, Mar Guevara, and Catalina Arias.
Carolina Caycedo (b. 1978, London, UK, to Colombian parents; lives and works in Los Angeles) received an MFA from the University of Southern California in 2014 and a BFA from Los Andes University in Bogotá in 1999. Recent solo exhibitions have been held at Museum of Contemporary Art Chicago (2020-21); Institute of Contemporary Art Boston (2020); Orange County Museum of Art (2019-20); and Muzeum Sztuki, Łódź, Poland (2019-20). Caycedo has participated in group exhibitions at El Museo del Barrio, New York (2021); the Institute for Contemporary Art, Richmond, VA (2020); Röda Sten Konsthall, Gothenburg, Sweden (2020); Chicago Architecture Biennial (2019); Museo de Arte São Paulo, Brazil (2019); Centre Pompidou, Paris (2019); Hammer Museum, Los Angeles (2018); Whitney Museum of American Art, New York (2018); Hamburger Bahnhof, Berlin (2018); Los Angeles County Museum of Art, CA (2017); and Seoul Museum of Art, South Korea (2017). Caycedo is the recipient of the VIA Art Fund Artistic Production Grant (2020), Art Matters Foundation Fellowship (2020), California Community Foundation Fellowship for Visual Artists (2017), Foundation for Contemporary Arts Emergency Grant (2016), Creative Capital Award (2015), and Harpo Foundation Grant for Visual Artists (2015), and has participated in residencies at The Huntington Library, Art Museum, and Botanical Gardens, San Marino, CA (2018); FAAP/Bienal São Paulo, Brazil (2016); and DAAD, Berlin (2012). Caycedo is the 2020-21 Wanlass Artist in Residence at Occidental College in Los Angeles, and a 2020-22 Inaugural Borderlands Fellow of the ASU Center for Imagination in the Borderlands and the Vera List Center for Art and Politics at The New School. The Blessings of the Mystery, Caycedo's exhibition with filmmaker David de Rozas, opens at the Visual Arts Center, University of Texas at Austin in September 2021 and Ballroom Marfa in April 2022.
Caycedo's work is included in the collections of Hammer Museum, Los Angeles; Hood Museum of Art at Dartmouth College, NH; KADIST, San Francisco; Los Angeles County Museum of Art, CA; Muzeum Sztuki, Łódź, Poland; MUSAC, León, Spain; Museo de Arte del Banco de la República, Bogotá; Seoul Museum of Art; Solomon R. Guggenheim Museum, New York; The Huntington Library, Art Museum, and Botanical Gardens, San Marino, CA; Vincent Price Art Museum, Monterey Park, CA; and Whitney Museum of American Art, New York.