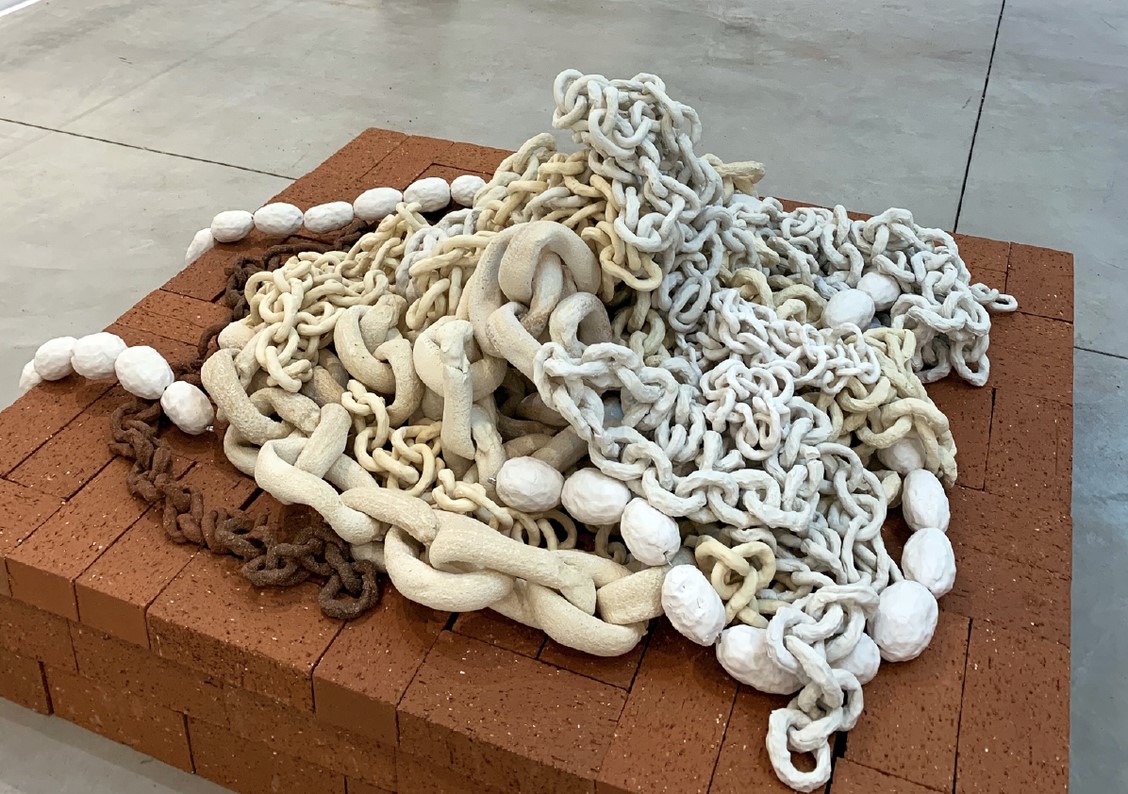 of rope and chain her bones are made
👀
Bergamot Station, 2525 Michigan Avenue, Building B3, Santa Monica, CA 90404
May 01, 2 PM - 6 PM — ends Jul 31, 2021
Group Show featuring works by

Lavialle Campbell - Sydney Croskery - Pamela Smith Hudson - Taylor Kibby
Christy Matson - Blue McRight - Brittany Mojo - Claudia Parducci - Diane Silver

May 1 - July 31, 2021

Reception: Saturday May 1, 2-6pm
Masks and social distancing required

Sappho, the ancient Greek poet, sought to "write words more naked than flesh, stronger than bone, more resilient than sinew, sensitive than nerve." Analogies between artistic inspiration and human form are equally embodied in the work of the nine LA women in this exhibition. The evidence of their hand is revealed in the use of elemental materials, dichotomies of physical strength and fragility, as well as palpable manifestations of energy. As the sculptor Taylor Kibby reminds us, "no energy is ever created or destroyed, it simply shifts from one form to another." There is a bodily relationship of artist to material, a corporeal coalescing of anatomy with the raw earthly matter of clay, fibers and fire. It is an alloy of spirit and substance, as Shakespeare transmogrified; "of his bones are coral made; those are pearls that were his eyes." Tactile and raw materials are employed by these artists in repetitive acts and rhythmic processes. Systems of production result in patterned, arterial forms not unlike the work of Eva Hesse and Ruth Asawa. The primarily abstract work in this exhibition appears, as Sydney Croskery states, "counter to our technological present," the work "grows like geological forms" and finds "meaning in the making." In fact, much of the work contains a quiet kineticism, revealing fundamental aspects of physics and dualities of energy. For example, Kibby's clusters of ceramic chains find their own angle of repose as they snuggle into unique shapes each time they meet the floor. Claudia Parducci's resin castings of heavy rope morph seemingly limp swags into stiff armatures of frozen tension. Diane Silver's bone white ceramic vessels are scarred with rust from the pendulum swings of chains across their surfaces. Certainly, the use of rope and chain lend a nautical quotient to some of the work, particularly in Brittany Mojo's Marina Marinara where ceramic buoys and chains of all sizes are transformed by fire, undergoing "a sea change into something rich and strange." Working with fishing nets, crab traps, bait baskets and plastics found on the beach, Blue McRight "creates a visual, metaphoric language that addresses ocean plastic pollution as well as gender fluidity, reproduction and death in marine creatures." The textile works of Lavialle Campbell and Christy Matson possess the taut, muscular balance of warp and weft, the sinuous textures of fiber and thread, as well as the meticulous handwork of cutting, patching and seaming fabric into skin. A work from Campbell's NB Series layers black-eyed peas over a biomorphic mound of ceramic baby bottle nipples, referencing her battle with breast cancer. In Pamela Smith Hudson's dark, densely layered painted surfaces of earthly organic veins, and tubular intestinal swirls, one can hear the blood, as Springsteen intones, "just as black and whispering as the rain." Rope, chain, fiber and fabric are linkages, like nets and networks, combining to form strength in individuals and unity amongst groups, even if those chains are only made of clay.