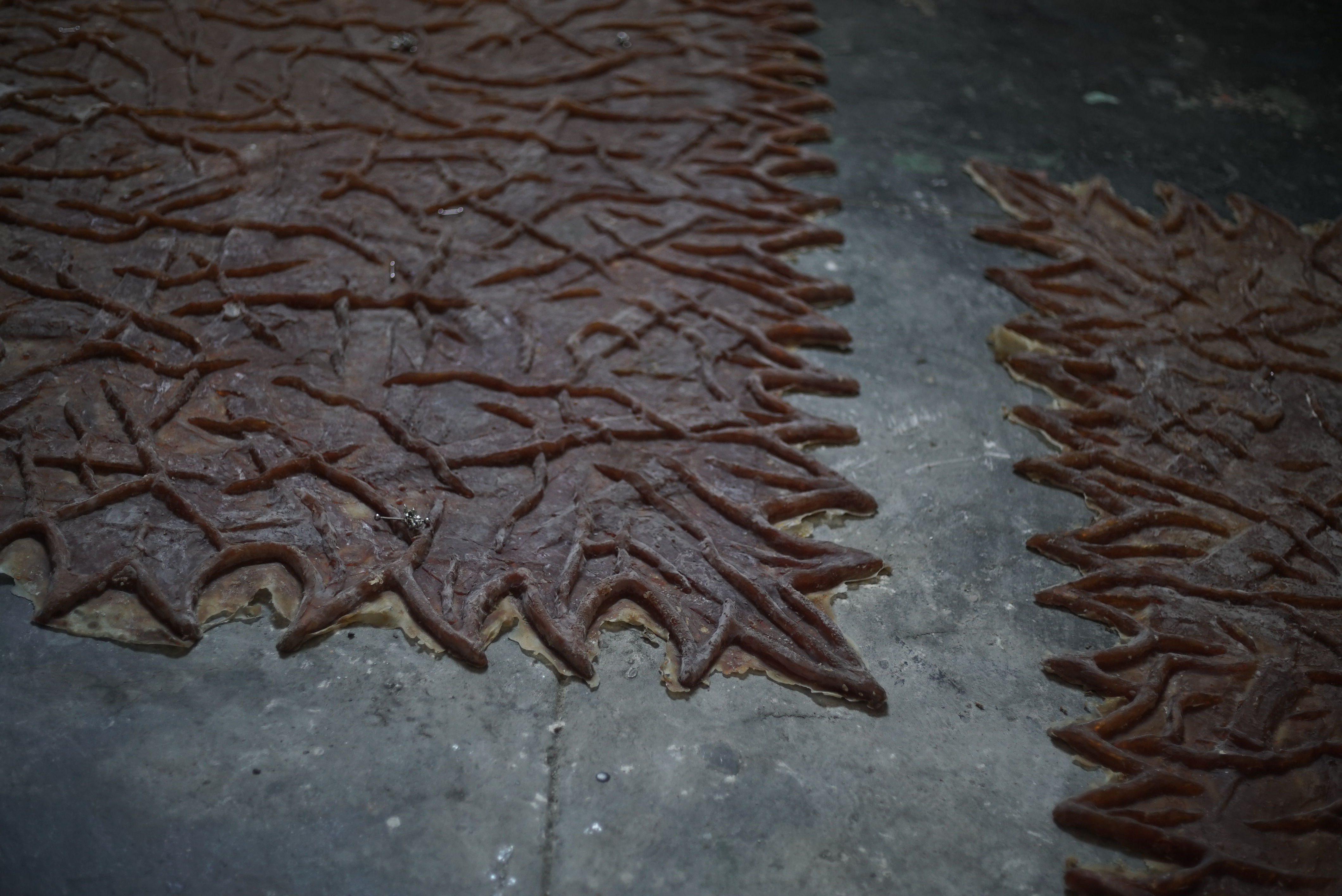 Sessa Englund: Fool's Errand
5513 Pico Blvd. Los Angeles Ca 90019
May 16, 11 AM - 6 PM — ends Jul 04, 2021
Hunter Shaw Fine Art presents "Fool's Errand," a solo exhibition by Los Angeles based artist Sessa Englund. In this selection of sculptural works, the artist explores impermanence through a visual language of domesticity and the body. Sites of somatic intimacy - furniture, food, jewelry - are abstracted into hybrid forms suggesting a liminal realm in which the body has merged with its surroundings. The sensitive materiality of these objects further conveys a state of intermediacy: rusted metal, burnt marzipan, latex, and dried flora inhabiting an entropic ontology of continuous flux. At once vulnerable and austere, "Fool's Errand" elicits the melancholic pathos of a time-distorted memory.

Throughout the exhibition, Englund incorporates a generic adolescent iconography: trolls, hearts, flames, and butterflies mass produced in endless variation and sold to signify identity. The artist often deploys these motifs through techniques of body modification, adorning objects with piercings and stick-and-poke tattoos. As an ethos, the practice of body modification acknowledges the transient nature of the body while asserting agency over its material and form. Recorded in altered flesh, memory is made visible. This is evident in a series of floor-bound sculptures resembling rugs of skin. Augmented with custom body jewelry and tattoos, their biomorphic surfaces are raised in furcated patterns suggesting roots, veins, or mountainous topography. Cast in latex, they have the texture and appearance of weathered dermis, and like the biological material they evoke, are in fact encountered in a state of slow, continual aging and disintegration.

A suite of rectilinear constructions recall a spartan living space. Cabinets, sofas, dressers appear fragmented and reduced, as if in a state of materialization or disassembly. Stripped of their functionality, these skeletal forms frame empty space, pointing to the void within matter. Intrusions of cast glass in tones of foggy white and spectral green punctuate the edges of the wooden structures. These blocks conceal murky impressionistic forms at once luminous and vague like years of memory embedded within a household object. This uncanny domesticity imbues "Fool's Errand" with a psychological climate of tenderness and dread, while expressing the existential reality of impermanence underlying all that is manifest.

Sessa Englund holds a BFA from the School of Art + Design at SUNY, Purchase NY (2013). Recent solo and two-person exhibitions include "All made of tender flesh, all put together," Haul Gallery, Brooklyn NY (2019); "Wild Objects" with Alicia Adamerovich, Project Pangée, Montreal Canada (2019); "A suspended state in last," Guest Spot at the Reinstitute Gallery, Baltimore MD (2018); "Sympathy for trolls" (artist in residency presentation),, East of Elsewhere Gallery, Berlin Germany (2018). Recent group exhibitions include "From Dallas to Baum Bridge" curated by Anna Frost, LA River, Los Angeles (2020); "Beast On Its Back" curated by Anna Frost, Canyon Canyon, Los Angeles (2020); "Games of Ceres," King's Leap, Brooklyn NY (2018).