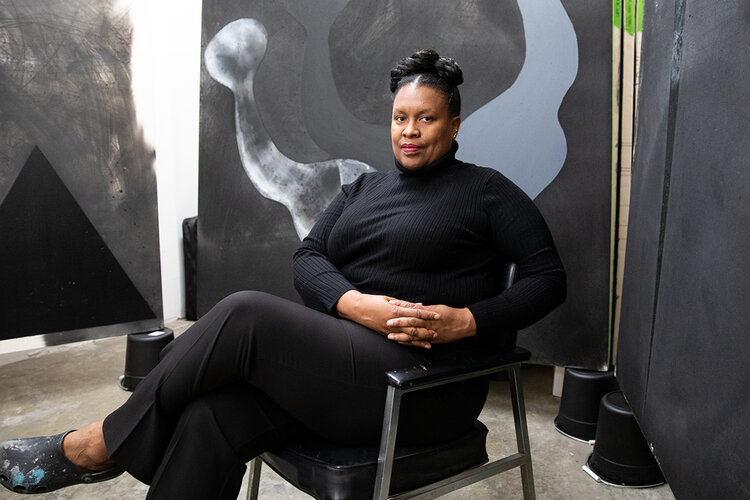 Lisa Diane Wedgeworth: PASSION POWER PRAYER
👀
5376 W Adams Blvd, Los Angeles, CA 90016
May 01, 12 PM - 12 AM — ends Jun 12, 2021
Opening: Saturday, 1 May 2021, 12pm - 12am
Artist Reception: 1 May 2021, 4pm - 8pm
On View: 1 May - 12 June 2021
All Inquiries:
HELLO@BandofVices.com
Band of Vices is pleased to announce a special presentation and solo exhibition by Los Angeles-based contemporary artist, Lisa Diane Wedgeworth, entitled PASSION POWER PRAYER. Ms. Wedgeworth is an interdisciplinary artist whose large-scale abstract paintings are informed by memory and employ energetic mark-making in order to interpret psychological and emotional energies. She is an abstract painter whose work sits at the intersection of an engagement with fraught historical events of America's past and present balanced by a personal desire to know where she fits in the world.
She explains that she creates "paintings using only black paint because I want to explore the depth of blackness; because being BLACK in America is complex and layered; because the black experience in the United States is beautiful, incredible, horrifying, tragic and exceptional; because being black in America is the evidence of strength, love, courage, power, beauty, warmth, creativity, discipline, commitment and excellen[t] ... I dig deep, reflecting on my life experiences past and current, employing the visual language of abstraction to tell, interpret and explore themes related to being an observant human being."
These erudite abstract paintings exhibit a maturity, coupled with a palpable resoluteness of purpose. Ms. Wedgeworth has decided to mine the emotional and complex terrain of herself in these works as they relate to organic and geometric shapes. Her fascination began with exploring the circle but her interest has expanded to include the triangle and other shapes. This inclusion is one that is most deliberate and is imbued with a personal directness that is inescapable. She explains that her interest has to do with the interplay of the notion of celestial or heavenly bodies and their connection with the spiritual and earthly realm. The triangle represents how Wedgeworth sees herself: firstly as a daughter, then as a sister & finally as a mother. So in the painting Self-Portrait As A Triangle With Aura (Daughter, Sister, Mother) 2018 she has learned how to balance these different aspects of her personality as she navigates through society. She also conveys that while the triangle may seem fully balanced, her personal triangle is not, which is the case with the majority of humankind.
Lisa Diane Wedgeworth has been thinking about exploring the color black in her paintings for years now. This idea began while she was getting her MFA in painting in 2013. She began thinking about shapes, language, DNA, using symbols to express herself and the relationship between celestial and earthly bodies. Wedgeworth began making these large-scale paintings that were informed by historical events such as Hurricane Katrina, the landmark 1967 trial of Loving v. Virginia & the 1963 Birmingham Baptist Church Bombing. These represent collective memories but also historical pain and trauma against Black bodies.
These works also bring her into conversation with such African American abstract painting giants who came generations before her including Norman Lewis (1909-1979), Joe Overstreet (1933-2019) and Mary Lovelace O'Neal (b. 1942), artists who based much of their artistic journey and practice on mining and exposing America's litany of inequities and disparate treatment of its Black citizenry. Her work can be viewed as a bridge between the Civil Rights Movement struggles to coming to grips with our current Black Lives Matter Movement protests and marches of today.
Her art practice is rooted in the vicissitudes and verisimilitudes of historical & personal reckonings, all in an effort to unearth more truth, fairness & understanding of the world in which we live.
PASSION POWER PRAYER is comprised of 12 large-format works, encompassing a spiritual journey and exploration that spans several years of the artists' sojourn, including works that culminated in her acceptance as o 2020 recipient of the COLA Award - a prestigious award that would have historically included an exhibition of the artist's work at Los Angeles' Barnsdall Municipal Art Gallery. However, due to COVID-19 restrictions, that show was indefinitely postponed.
Patient, yet defiant, Lisa Diane Wedgeworth ultimate chose Band of Vice to display this oeuvre of thought-provoking and multi-dimensional works.
Patrons are asked to experience her 2020 works in our newest exhibition space (the beautiful dark pink bldg), across the street and located next door to Alta Restaurant at 5351 W. Adams Blvd. After that, you can then venture across the street at our flagship gallery, located at 5376 W. Adams Blvd. for her earlier 2014-2018 works.
In both galleries, there will also be new works by South African artist, Leila Rose Fanner.
Please note: Band of Vices respects all Covid-19 safety protocols. To ensure the safety of our entire community, masks are required and the gallery will ask patrons to practice spacial distancing. If you would like to schedule your visit, please email Vanoy at
HELLO@BandofVices.com
.
Photo: Josh Caffrey, 2020