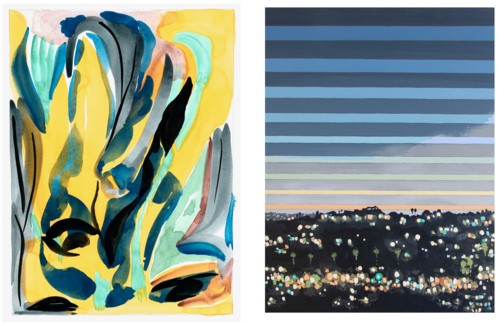 Ariel Dill: Four O'Clocks | Julika Lackner: Twilight
1206 Maple AVE, 502B, Los Angeles, CA 90027
May 08, 12 PM - 12 PM — ends Jul 24, 2021
Two forthcoming exhibitions by Ariel Dill: Four O'Clocks and Julika Lackner: Twilight open May 8 at LADIESROOMLA.ORG
Who: Ariel Dill & Julika Lackner
What: Solo exhibitions by two LA painters
When: May 8 - July 24, 2021
Where: ladiesroomla.org
As measures of time in a pandemic-era LA feel elastic and arbitrary, simultaneously flying by and moving slowly, two local artists underscore temporality in Los Angeles in their respective solo exhibitions at LADIES' ROOM.
ARIEL DILL: FOUR O'CLOCKS
LADIES' ROOM is pleased to announce Ariel Dill: Four O'Clocks (May 8 - July 24, 2021). Comprised of watercolor, gouache, and pencil on paper, intimately sized works draw variously from the visual languages of surrealism, children's book illustrations, and japanese prints, as well as Dill's Los Angeles surroundings.
Dill's imagery expresses a movement between abstraction and representation, figuration and graphic flatness, the imagined and the observed. As the eye wanders across the works on paper, directed by the flow of the material and the movement of her gestures, shallow visual spaces and graphic forms give way to expansive vistas. The freely floating, biomorphic forms describe fragments of letters, the shape of an eye, or daydreaming out a window or at a children's book.
The materials with which Dill works are free to do what they will on the page. Her calligraphic marks are animated by a graceful energy, conveying multiple interpretations. As she builds up areas of transparent watercolor, punctuated in places by opaque shapes in gouache, the forms move and develop, choreographing the freedom of imagination, one thought to the next. In negotiating the will of these materials, her tableaus coalesce in a visual liminal state. The stimuli of southern California she sees on afternoon walks with her 4 year old daughter — flowers, cacti, densely variegated neighborhoods illuminated by the brilliant Los Angeles sun — unconsciously make their way onto the page through her unbounded gestural approach.
Ariel Dill Bio
ARIEL DILL (b. 1976. Los Angeles, CA) earned a Bachelor of Arts from Skidmore College, Saratoga Springs, NY, and a Master of Fine Arts from Hunter College in New York, NY. Solo exhibitions include: LADIES' ROOM, Los Angeles, CA (forthcoming); TURN Gallery, New York, NY; Southfirst Gallery, Brooklyn; and Neverwork, New York, NY. Recent group exhibitions include LADIES' ROOM, Los Angeles, CA; TURN Gallery, New York, NY; Safe Gallery, Brooklyn, NY; Cuevas Tillard Projects, New York, NY; Edward Thorp Gallery, New York, NY; Jack Hanley Gallery, New York, NY; and Loyal Gallery, Stockholm, Sweden. She has been awarded a New York Foundation for the Arts Painting Fellowship and is included in the Alex Katz Foundation Collection. Dill lives and works in Los Angeles, California.
# # #
JULIKA LACKNER: TWILIGHT
LADIES' ROOM is pleased to announce Julika Lackner: Twilight (May 8 - July 24, 2021). A solo exhibition of paintings started in April 2020, Lackner turned to the foothills and neighborhoods of her immediate environs near downtown Los Angeles as our lives were increasingly spent inside.
"By looking at the hills around me at a certain time of day, shortly after the sun had set," shares Lackner, "I found endless variations in the color and movement of the sky above and the twinkling city lights below." Lackner introduces bands of color in the night sky which thin towards the horizon, bringing together the variations in color and movement she observes. Rather than appearing fixed in a particular time, this formal device marks numerous moments through the shifting colors of the sky over the course of a sunset.
Lackner's depictions of the Los Angeles skyline call to mind motifs which circulate in popular culture; her studied observations of the nightly spectacle expand upon and elevate this familiar subject. In previous bodies of work, Lackner has painted the urban interior spaces of Berlin, night skies, abstracted aerial perspectives and clouds, and geometric forms. Twilight continues her interest in capturing the phenomena of landscape and topography.
Julika Lackner Bio
Julika Lackner (b. 1980. Berlin, Germany) earned a BA from the University of California, Santa Barbara, CA (2001) and an MFA from the Art Center College of Design, Pasadena, CA (2006). Solo exhibitions include Julika Lackner: TWILIGHT at LADIES' ROOM, Los Angeles, CA (2021); Julika Lackner Major New Works- Paintings and Works on Paper at Mertens Fine Art, Montecito, CA (2013); Julika Lackner at Plum Goods, Santa Barbara, CA (2011); Transcendental Representations at The Faculty Club, University of California Santa Barbara, Santa Barbara, CA (2009); Up-Close and Distant at Mandarin Gallery, Los Angeles, CA (2007). Her works have been shown in group exhibitions at Sullivan Goss Gallery, Santa Barbara, CA; Curatorial Hub Holiday Pop Up Art Show, Culver City, CA (2018); Gippsland Art Gallery, Sale, Australia; MiM Gallery, Los Angeles, CA (2016); and the Henry Clay Building, Louisville, KY (2011). Lackner lives and works in Los Angeles.
# # #
PLEASE EMAIL
INFO@LADIESROOMLA.ORG
OR CALL/TEXT 310.447.8021 FOR PREVIEW IMAGES/PRESS INFO