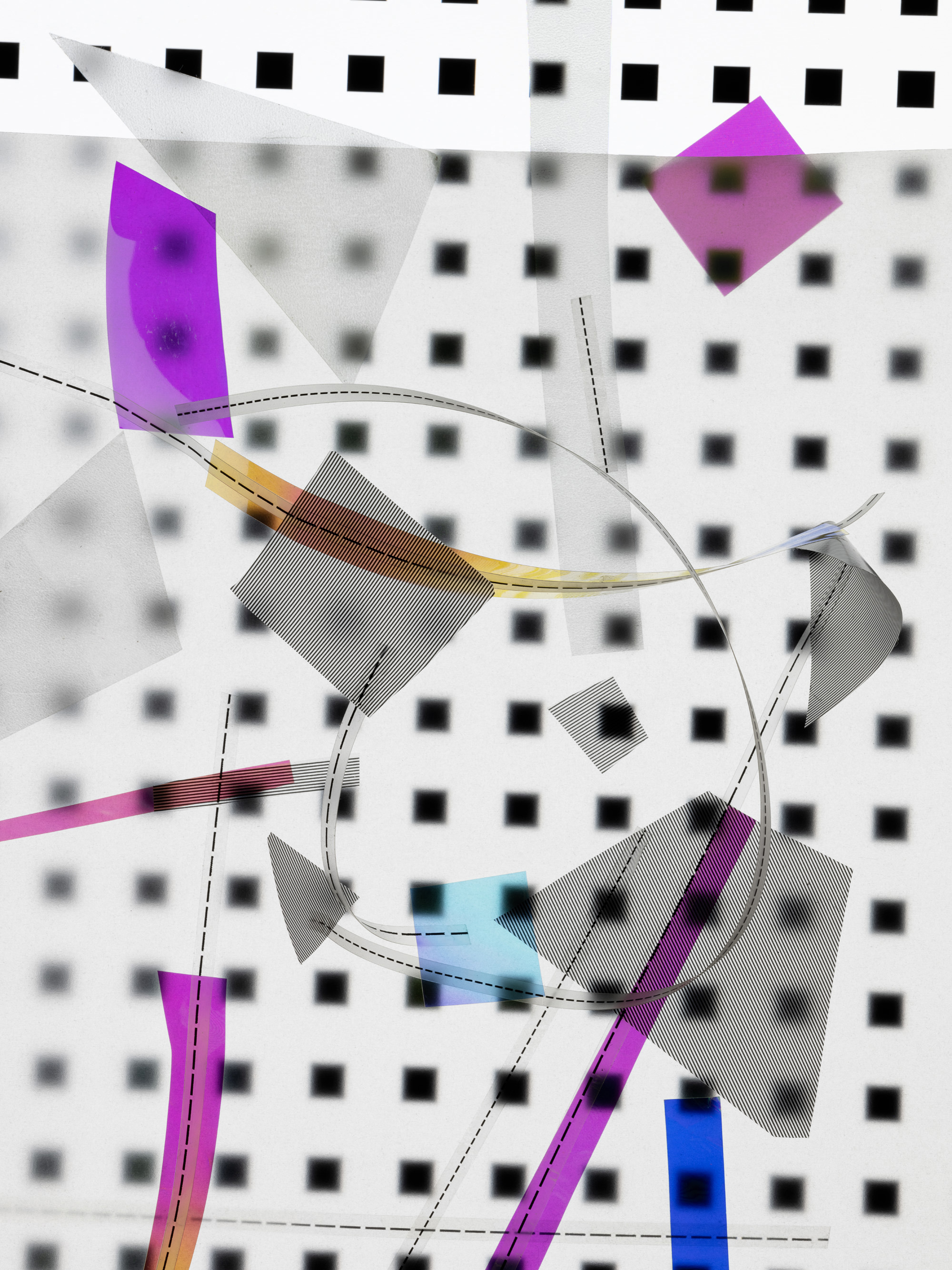 Valerie Green: Reprograph | Justin Margitich: Iconographica | Robyn O'Neil: The Los Angeles Drawings
👀
743 N. La Brea Avenue
May 15, 11 AM - 9 PM — ends Jun 19, 2021
Valerie Green: Reprograph (pictured)
May 15 - June 19, 2021

Valerie Green's Reprographs excavate the material and formal histories of image reproduction, photography and graphic design toward a lyrically abstract pictorial end. Utilizing an archive of materials, including an array of Letraset products given to her by her father, Green layers cut and found shapes, lines, and colors over the glow of her computer screen. The resulting images seem to define a new analog-digital interface, where the reactivation and repurposing of an outmoded–yet once revolutionary–technology speaks to the photographic process, material memory, visual continuity across time, and the breakneck pace of technological advancement.


----------------

Justin Margitich: Iconographica
May 15 - June 19, 2021

Repurposing the visual lexicon of Byzantine and early Russian Icon painting, Justin Margitich considers the formal and technical possibilities inherent in that tradition's far-reaching language. Its express aesthetic influence largely excluded from discourses surrounding painting today, Icon painting stands among the earliest direct precedents of certain contemporary figurative and portrait modes that eschew likeness in favor of an essentialization of the subject through identifiable characteristics or attributes. Today, as society continues to fractalize and subdivide through visual, often commodifiable means, a return to Iconography as the Byzantines and their contemporaries understood it becomes both profoundly unfeasible and conceptually loaded. Margitich's icons, would-be saints, abuzz with psychedelic auras and energies, arrive at the universal through carefully executed irreducibility.

----------------

Robyn O'Neil: The Los Angeles Drawings
May 15 - June 19, 2021

An open-source, impressionistic handling of memory as material turns Robyn O'Neil's Los Angeles Drawings, the most recent examples in her ongoing Cloudmaker series, into declarations of being through expansive, tender, and wry reticulations of art historical flashes and personal episodes. A wispy cloud from Emil Nolde's The Seal, 1912, and a brooding cloud from Thomas Gainsborough's Blue Boy hang next to one another, having been precision-plucked from different painted skies altogether; nearby is a glyphic cloud lifted from a sweatshirt worn by the Beth Howland character on Alice, the classic sitcom that ran during the artist's youth. Sensitive compositional decisions equalize rangy sources and experiences, translating them into articulations of memory's persistent flightiness and its location at the forefront of the human experience.