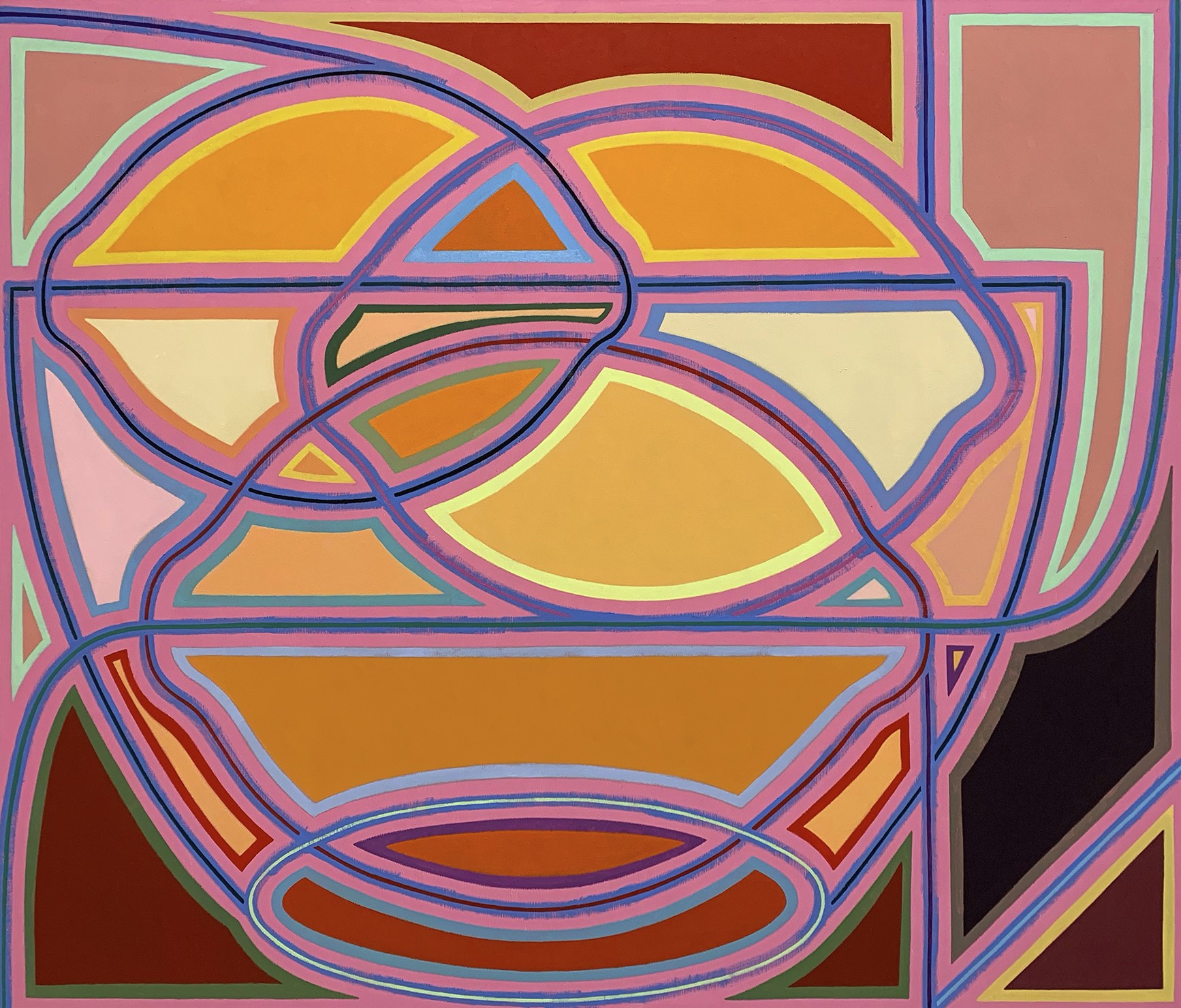 Holly Coulis: Orbit
2712 S. La Cienega Blvd, Los Angeles, CA 90034
May 21, 10 AM - 4 PM — ends Jul 02, 2021
Philip Martin Gallery is pleased to present, "Orbit," an exhibition of paintings and sculptures by Holly Coulis.

The creation of pictorial experience is at the heart of Holly Coulis's work. Lines cross her paintings in specifically plastic ways: taking direction, dividing up areas, circumscribing forms. Working from initial sketches, Coulis creates space though brushy lines and defined areas of applied paint, each outlined in color. The result is abstraction intersecting with the odd still life object – most often citrus. These forms act as spatial agents in a picture plane, rather than as substitutes for bodies in physical space.

Writing on Swiss master Paul Klee, Bridget Riley notes, "Every painter starts with elements - lines, colors, forms - that are essentially abstract in relation to the pictorial experience that can be created with them." Coulis's forms jostle up against one another and dissolve, lending her compositions a feeling of movement and energy that includes both subject matter and a sense of abstraction. Color, rather than being the color of something specific, is contextualized by its surroundings. It defines space while also pushing that space both toward and away from us. The shapes in Coulis's work shift, fan, and stack, creating depth as well as unfamiliar moments.

The exhibition, "Orbit," marks the first time Holly Coulis's sculptures have been seen in Los Angeles. Made from oil paint on MDF, these sculptures enlist familiar shapes – a pile of oranges for example – but also function as abstract 3D forms. The components of Coulis's sculptures are wrapped in colorful bands that point to the space between the second and third dimension. Viewed from certain angles these lines extend into space in dynamic visual play, their shapes seemingly twisting towards the viewer as if rotating in place. A painted spatial uncanniness becomes clear, and the sense that these elements are not just a means to an end, but have distinct characteristics of their own.

Holly Coulis (b. 1968, Toronto, Canada) received her BFA from Ontario College of Art and Design (Toronto, Canada) in 1995 and her MFA from the School of the Museum of Fine Arts (Boston, MA) in 1998. She has had recent solo and group exhibitions at Philip Martin Gallery (Los Angeles, CA); Klaus Von Nichtssagend Gallery (New York, NY); Jeffrey Deitch Gallery (New York, NY); The Hole (New York, NY); Tif Sigfrids (Athens, GA); SOCO Gallery (Charlotte, NC); Simon Lee Gallery (London, UK); Cooper Cole (Toronto, Canada); University of Georgia (Athens, GA); Atlanta Contemporary (Atlanta, GA); Massachusetts College of Art and Design (Boston, MA); Sardine (Brooklyn, NY); Paramó (Guadalajara, Mexico); El Museo de los Pintores Oaxaqueños (Oaxaca, Mexico); Galleria d'Art Moderna (Milan, Italy); The Bruce High Quality Foundation (New York, NY); and Leo Koenig (New York, NY. Her work is in such public collections as the Blanton Museum of Art (Austin, TX); Fidelity (Boston, MA); Rollins College Art Museum (Orlando, FL); and the Nerman Museum (Overland Park, KS). Coulis's has been reviewed in publications such as Artforum, Art in America, Los Angeles Times, New York Times, The New Yorker, Flaunt Magazine, Hyperallergic, and FT Magazine. Coulis lives and works in Athens, GA.