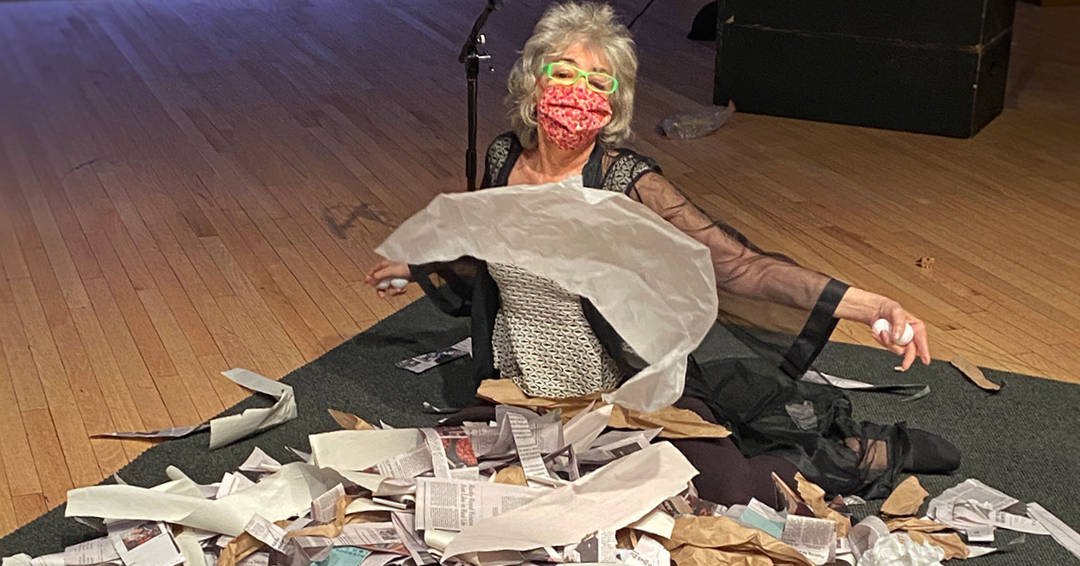 Shelley Hirsch: ToHuWaBoHu; Roman - Stop Scratching That Gash; Book Bark Tree Skin Line
👀
Suite #201, 1601 W Redondo Beach Blvd, Gardena, CA 90247
Jun 05, 12 PM - 11:59 PM — ends Jun 05, 2024
Shelley Hirsch: ToHuWaBoHu; Roman - Stop Scratching That Gash; Book Bark Tree Skin Line
BLACK HOLE presents three audio works from Shelley Hirsch. These pieces, developed in different settings over nearly 20 years, are explorations and celebrations of language, playful approaches to storytelling, and testament to the openness and scope of Hirsch's practice. In each you can hear Hirsch's quick-witted improvisatory counterpoint and the depth of her perspective on music and narrative. They are simultaneously full of directionality and gestural spunk, while remaining free-associative and open-ended for the listener. Hirsch has only performed twice in Los Angeles, and these works have never been heard before on the West Coast. We are excited to share her brilliant audio practice with Los Angeles.
About the works
ToHuWaBoHu. Tohuwabohu is a Biblical Hebrew phrase found in the Book of Genesis. It is usually translated "waste and void," "formless and empty," or some variation of the same. It describes the condition of the earth before God said, "Let there be light". In German it implies chaos/void, in French: commotion.
Co-commissioned by the Donau Festival and Kunst Radio/Vienna, the piece was originally presented in 2012 as a 5.1 surround sound composition in collaboration with visual artist Ursula Scherrer's installation Alga at the Minoriten Church in Krems, Austria. It was subsequently adapted for KunstRadio/Radio ORF in Vienna, and then extended as an 8-channel surround sound installation for Harvestworks, NYC, in 2013. Hirsch has performed live interventions with the 8 channel piece at The Knockdown Center in NYC and at Hunter College for Harvestworks/ Studio Pass.
Roman - Stop Scratching That Gash. Hirsch's work is often created within the atmospherics of her writing practice. These texts are not scores, nor poems or essays to be read or performed from in a final way, but often end up being used as an associational pool of source material, capturing the aura of a time or place in a musical way for Hirsch - a personal means of recording. For Roman, Hirsch's evocative text about the live-in super of her Greenpoint sublet will be given to the listener as they leave. The piece feels through the emotional messiness of housing, finance, gentrification, disgust, compassion, and small moments of beauty found.
Hirsch produced and arranged the piece at Harvestworks for Charlie Morrow's Sound Cube, first presented at The Kitchen in 2004 as part of the New Sound New York festival. The piece was produced for a dual quadrophonic format (one array at foot level, one above), with particular consideration given to height; the work was spatialized and developed as an architectural rendering and also as interiority. The installation continues to be presented internationally. Additional audio from Simon Ho were sampled from Ho's piece 'Dust', as well as keyboards excerpted from their collaborative work for the band Polly Cotton.
Book Bark Tree Skin Line. "The project is a continuation of my lifelong fascination with how language, stories, and song grow out of primal vocal utterances which are located in the body—the recorder and storage house of memory. It began with the connection I feel with trees and associating the place between the trunk and its branches with my own longing and then finding the beauty in the bark, the skin of the tree, skin lines of aging, the stories that live between the lines."
Produced for Deutschland Radio, first performed at the National Sawdust Festival, and commissioned by NYSCA through Harvestworks in 2016, the piece is centered on an investigation of the words of the title—book, bark, tree, skin, line—and their etymological, poetic, mnemonic, and sonic properties. Hirsch was awarded a Guggenheim Fellowship the following year. A further iteration of the piece was presented as a choral work produced by Blank Forms for The Prismatic Park Series in 2017.
About Shelley Hirsch
Shelley Hirsch is a vocalist, composer, improviser and storyteller whose solo compositions, staged multimedia works, improvisations, radio plays, installations, and collaborations have been presented in concert halls, clubs, festivals, theaters, museums, galleries, and on radio, film, and television. Her work has been presented on five continents and she has been heard on over 70 recordings.
Hirsch's notable works include O' Little Town of East New York, a multimedia autobiographical musical which was staged and produced at Dance Theater Workshop (1991), and was later adapted for radio, winning the Prix Futura at the International Media Competition in Berlin; For Jerry, a virtual duet with the late techno-mystic Jerry Hunt, which was performed at the Whitney Museum of American Art, and later evolved into a performance installation with 33 hanging monitors, co-produced by the Marstall and Hebbel Theatres in Munich and Berlin (1999); and the solo composition States, which was performed at Alice Tully Hall (1999) and expanded to include a chorus at the Golden Mask Festival in Moscow, Russia (2016).
Hirsch is the recipient of a John Simon Guggenheim Memorial Foundation Fellowship; a Creative Capital Grant; a fellowship from the Foundation for Contemporary Grants for Artists; four fellowships from the New York Foundation for the Arts; the Ucross/Alpert Residency Prize; residencies at DAAD Berlin, Yaddo, and Harvestworks (at which she has received a record number of six Artist In Residence grants); and commissions from New York State Council on the Arts, Zweites Deutsches Fernsehen (ZDF), Kunst Radio, New American Radio and Performing Arts, and The Donau Festival. Hirsch's latest honor is a 2021 music composition commission from NYSCA.
Her work is archived in the Downtown Collection of NYU's Fales Library.
About Harvestworks Digital Arts Center and Charlie Morrow's Sound Cube
These works were realized with the support of the Harvestworks Digital Arts Center, a not-for-profit arts organization located in New York City. Founded by artists in 1977, Harvestworks' self-described mission is to support the creation and presentation of art works achieved through the use of new and evolving technologies. We understand our work at BLACK HOLE as a part of this continuum, and wish to recognize and assert the value of their work in creating a productive creative environment for artists and innovative practitioners in electronic media, as well as a public context for technology in art. Many thanks to Carol Parkinson for digging some of the original files up from their archive. You can find more information at
www.harvestworks.org/
BLACK HOLE would also like to acknowledge the work of Charlie Morrow, multimedia artist, producer, and composer, whose Sound Cube was the site of the production and arrangement of Hirsch's "Roman - Stop Scratching That Gash'' among many other commissioned works for a touring, 8-channel audio environment. Throughout his career, Morrow has produced an elaborate body of work that includes his own artworks as well as multitudes of other productions as events, publications, and even maple sugar products. He has sought to bring experimental sound and music to a wider audience; in museums, workplaces, and hospitals. His works have ranged from massive free public events, such as "Toot'N Blink" for Chicago's Lake Michigan and "Fanfare in the Air" for New York Harbor to innovative installations for the world's leading institutions, including Kennedy Space Center, Empire State Building, and the American Museum of Natural History. You can find more information on his practice at
charliemorrow.com/