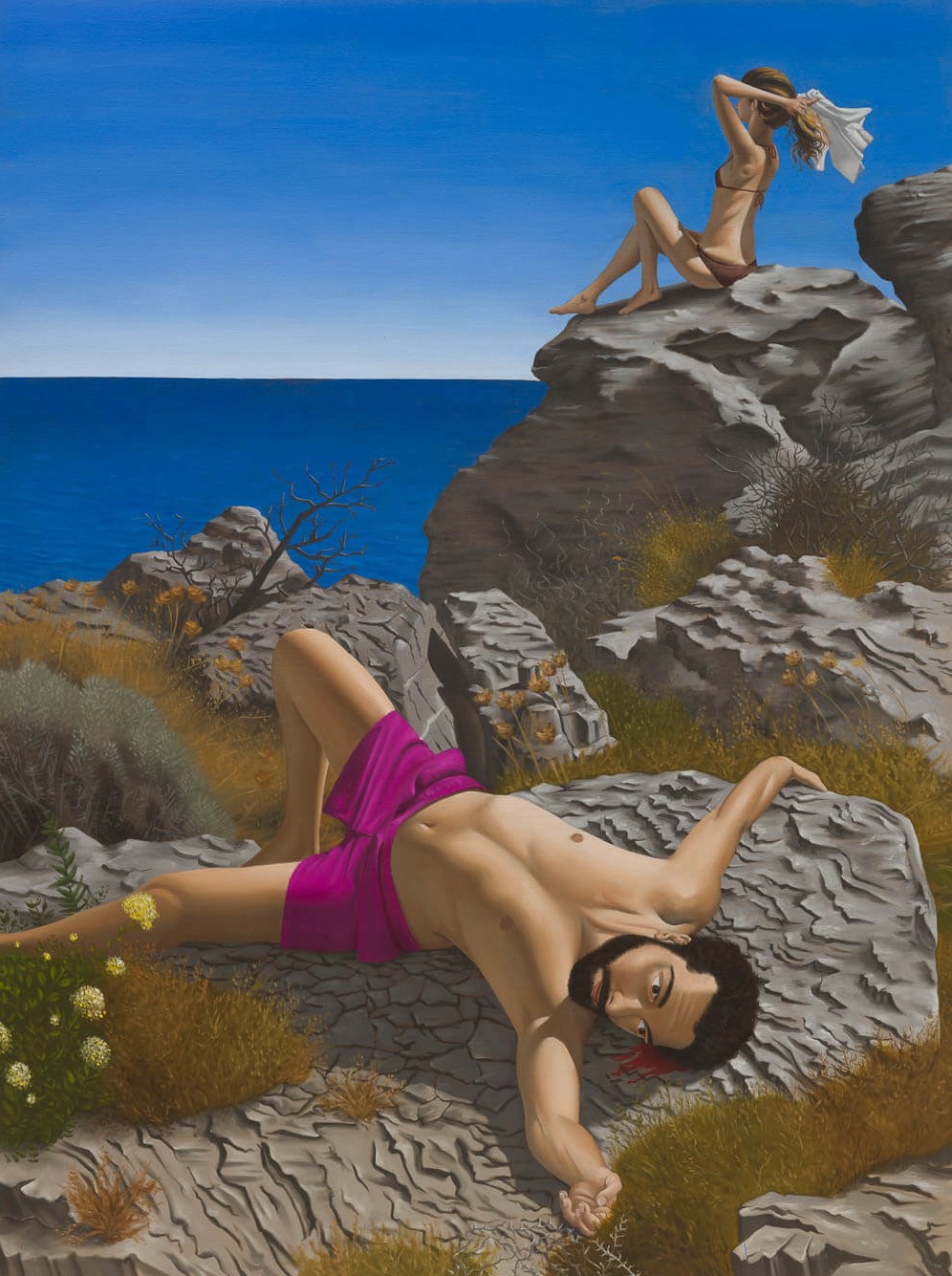 Patrizio di Massimo: Close at Hand
2245 E Washington Blvd., Los Angeles, CA 90021
May 22, 11 AM - 6 PM — ends Jun 19, 2021
François Ghebaly is pleased to present Patrizio di Massimo's Close at Hand, the Italian-born, London-based artist's first exhibition with the gallery.

A bespectacled and bathrobed mother is twisted up on the couch, wincing in agony as her daughter grips her robe collar with one hand, the other raised and ready to—strike? Maybe. On second look the daughter's open palm looks more like a jazz hand than anything else. Suddenly the initial violence of the scene takes on a theatrical irony. Are we seeing a mother and daughter playing out a vicious Oedipal relationship, or are we seeing a mother and daughter just...playing?

A smocked and sneakered woman stands triumphantly, one foot resting atop a gigantic stone hand. Her pleased expression has the air of conquest—the slaying a mythic beast.

Patrizio di Massimo casts friends, family, and fellow artists—including Adam Christensen, James Davison, Natalie Dray, George Henry Longly, and Tai Shani—to act out epic struggles and archetypal relationships in contemporary domestic settings. This series, completed over the course of fluctuating waves of lockdown—at once surreal, silly, elegant, and suffused with dark tension—shows the unruly side of intimate vicinity, especially when imposed under duress. Di Massimo's visual vocabulary pairs quotidian details, judiciously and at times hilariously communicated through his subjects' clothes and belongings, with historical references and artistic tropes, including Mannerism, portraiture, Greek mythology and Hinduism.

The idiom "close at hand" describes anything nearby, physically within reach. Its connotation is one of ease, convenience, accessibility. Those fortunate enough to be quarantined with their loved ones close at hand eventually found such proximity to be anything but convenient, easy. The home became a pressure cooker for emotions that, for some, remained boiling under any number of tense and conflictual relationships, unexpectedly rising between friends, lovers, family, and peers.

For example, the figures in Mum's Floral Robe are in fact the artist's mother and sister, wrestling with ancient themes in jammies and sweats. In these pictures, as in life as of late, the universal is brought humbly, haltingly, down to earth.

Patrizio di Massimo (b. 1983 Italy) lives and works in London. He holds an MA from the Slade School of Fine Art in London and stipendiums from de Ateliers, Amsterdam and Pinakothek der Moderne in Munich (Kunstzeitraum). Upcoming exhibitions include solo show The Escalator Cycle at Castello di Rivoli Museo d'Arte Contemporanea, Rivoli-Turin, opening in June 2021 and a participation at the Kathmandu Triennale 2077, scheduled in fall 2021. This is his first exhibition with François Ghebaly, Los Angeles.