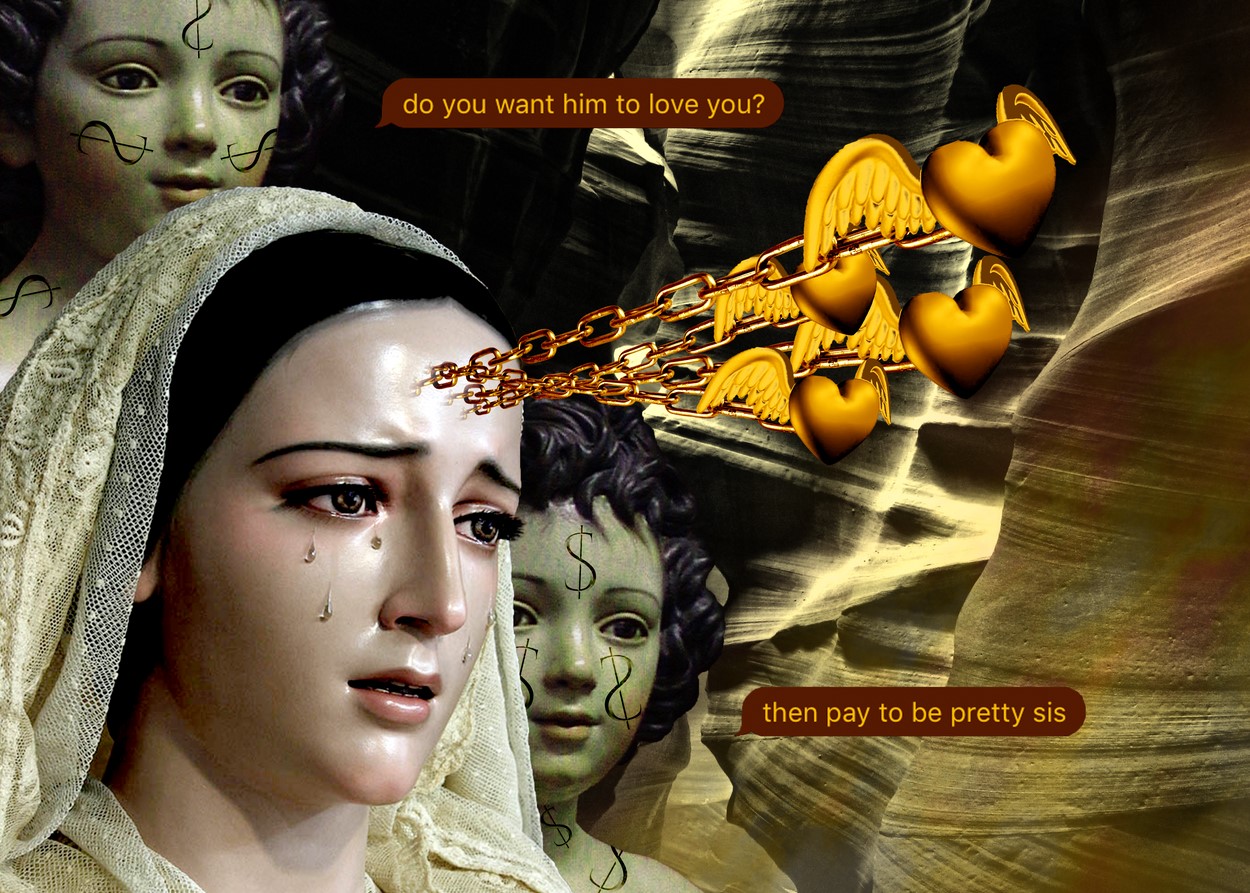 Like Water | Drag Show Fundraiser
3718 West Slauson Avenue
Jun 12, 6 PM - 9 PM — ends Jun 13, 2021
On View: June 3, 2021-June 13, 2021
Curated by: Joshua Cabello
Artists: Kat Chavez, Abraham Medellin, Paarsa Hajari, Valentine Amari, Clifford Prince King, Malachi, Josh Cabello, Jheyda McGarrell, Felony Dodger, Bradley Lock, Ilaria de Plano
Opening & Press Preview: Thursday, June 3, 2021, 6-9 PM
Closing VIP Reception & Drag Show: Saturday, June 12, 2021, 5-9 PM
Gallery hours this week:
Thursday- Friday: 11-4pm
Saturday: 6-9pm (Drag Show Fundraiser Event)
Sunday: 11-4pm
LOS ANGELES, CA (June 3, 2021) -As a contemporary art space whose mission speaks to the empowerment of diverse perspectives, SoLA Contemporary is proud to present LIKE WATER, a group exhibition that depicts and deconstructs mainstream conventions of gender. Coinciding with Pride Month, the annual celebration in honor of the 1969 Stonewall Uprising and its role as a catalyst in the modern gay rights movement, Like Water features the work of a dozen individuals who explore identity and combat queer oppression through their art.
In this show, a variety of mediums including photography, video, and costume design come together to demonstrate the fluid and ever-evolving nature of queer identity. Portraiture is an important element in the show's narrative, as many of the artists utilize this technique to push-back against heteronormative and colonial art traditions, while reclaiming and taking control of their own representation.
Like Water is more than just a celebration of queer life and self-expression. It is also a nuanced probe into the notion of visibility and activism. While the show offers many of the fun, aesthetic, and performative qualities so often associated with queer/drag culture, Like Water is simultaneously humanizing and galvanizing -- reminding us of the particular vulnerabilities, as well as complexities of queer life.
"So much of activism has been reduced to this pursuit of visibility, which only becomes heightened during Pride month. But many of us are already visible. We stand out from crowds on a daily basis, simply by existing as we are, and that's exactly what puts us in danger. In putting together this exhibition, I wanted to show as many dimensions to our experience as possible - the campiness, the imagination, the turmoil, the anger, the exploration, and above all, the humanity," says visual artist, drag queen, and Like Water curator Josh Cabello.
"We are also fragile, loving, complex, and oftentimes unfinished. It's difficult as queer people to confidently show up and announce 'we are here' everywhere we go. It can be equally empowering to show up and say, 'We are here, and we still have a long way to go, but we are still here.' There's plenty of confidence in accepting yourself right where you are."
Cabello has partnered with the Queer Detainee Empowerment Project (QDEP), a nonprofit that offers post-release support and community organizing to LGBTQ detainees, immigrants, and their families. During the Like Water VIP closing, attendees will have the opportunity to learn about and donate to this organization. A portion of the Like Water proceeds will also go towards the QDEP cause.
LIKE WATER will be on view from June 3-13, 2021. The opening reception will be held on Thursday, June 3rd from 6-9 PM. On June 12th, the exhibition will close with a live drag show, allowing for additional interplay between art, performance, and gender.
Get tickets for the Like Water Drag Show Fundraiser:
www.eventbrite.com/e/sola-contemporary-presents-like-water-drag-show-fundraiser-tickets-157737610439?aff=ebdssbeac
###
About SoLA Contemporary
South LA (SoLA) Contemporary is a nonprofit, artist-run organization that serves as a cornerstone for cultural and artistic innovation in South Los Angeles. Our goal is to advocate for change by empowering people from diverse backgrounds to take risks in their creative endeavors and to explore the intersection of art, culture, society, and politics. Above all, SoLA Contemporary is a safe and receptive space for anyone seeking to experience the power of contemporary art.
Location: 3718 West Slauson Avenue, Los Angeles, CA, 90043. solacontemporary.org Press contact: Anefertiti Bowman, Executive Director,
Anefertiti@solacontemporary.org
Connect with us!
#sola #solacontemporary #southlacontemporary
Featured Image: Valentine Amari "Amora's Dilemma"