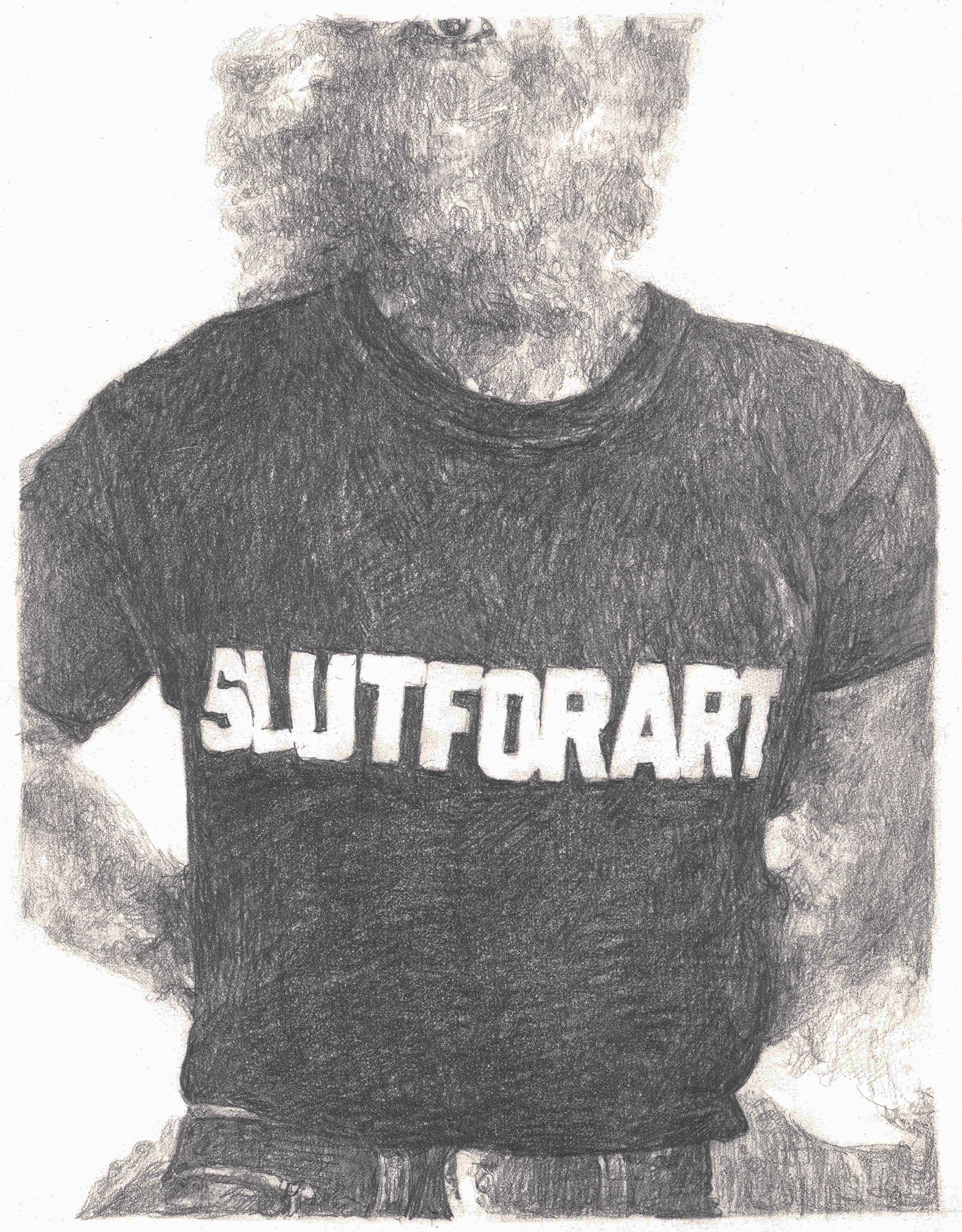 Kang Seung Lee: Permanent Visitor | American Artist: I'm Blue (If I Was █████ I Would Die)
3006 W 7th St #220 Los Angeles CA 90005
Jun 03, 10 AM - 5 PM — ends Jul 03, 2021
The gallery is open by appointment on Thursdays, Fridays and Saturdays, from 10 AM to 5 PM. Please schedule your appointment with us here:
commonwealthandcouncil.com/schedule
---------------
Permanent Visitor
Kang Seung Lee
June 3rd–July 3rd, 2021
Tattoos and scars bear lasting witness to memories, pain, and trauma—a mode of knowledge inscribed directly into the body. Kang Seung Lee scanned the skin of friends in his queer community of artists and activists: Julie Tolentino, Jen Smith, Jennifer Moon, and Young Joon Kwak, mapping a multigenerational fabric of embodied experiences. Skin markings resurface as shapes embroidered on Sambe cloth in antique 24-karat gold thread. Sambe, a woven hemp textile traditionally used in Korea for funeral shrouds, denotes mourning but also reverence. Like marks on the body, which make up a personal-political register that evolves as the skin shifts and ages, Lee's work captures lives in persistent flux while honoring their emergent histories of resistance. A three-channel video presents the skin scans like a mutable human text—undulating flesh-forms, neither fixed nor fully legible.
Bringing transience and permanence into symmetry while taking a long view of lifetimes unfolding, Lee considers how history comes to be marked by accumulation as well as loss. A series of drawings memorializes the relationship between artists Tseng Kwong Chi and Keith Haring, within a broader circle of artists living, working, and dying amid the AIDS crisis.
Lee made a selection of Tseng's work from Haring's collection. Redrawing the pieces in graphite, he reproduced not only the photographic image but Tseng's marginalia ("Happy Birthday Keith" scrawled on a border, etc.) as well as the matting and picture frames, rendering incidental features integral to the whole. In rendering the back-of-frame label of one work, complete with ink blot in the signature, Lee catches the inconsistent stroke of a marker. Certain phrases—"Permanent Visitor," "Visitor," Tseng's motto "SLUTFORART"—weave through the exhibition in various guises: gold-embroidered on Sambe, painted and drawn, comprising the puckish tags and talismans of the artist's itinerant presence that now signal his legacy.
Designer and former dancer Shawn McQuate has refabricated a garment he wore in a picture taken by Tseng, which sits in the gallery like a skin dispossessed of its body near a redrawing of the photo, bearing the inscription "Polaroided and Xeroxed in New York City, September 1980. Tseng Kwong Chi." Together, they conjure an incomplete vanishing act: McQuate continues his work despite being legally blind; the painstaking reconstructions present a record of historical and bodily erasures, remembering what is lost and preserving all that remains in the wake of immense personal and communal tragedy.
Kang Seung Lee (b. 1978, Seoul, South Korea; lives and works in Los Angeles) received an MFA from the California Institute of the Arts (2015). Lee has had solo exhibitions and projects at 18th Street Arts Center, Santa Monica (2020); Hapjungjigu, Seoul (2019); One and J. Gallery, Seoul (2018); Artpace, San Antonio (2017); Baik Art, Los Angeles (2017); Commonwealth and Council (2017, 2016); Los Angeles Contemporary Archive (2016); Pitzer College Art Galleries, Claremont (2015); and Centro Cultural Border, Mexico City (2012). Selected group exhibitions have been held at Gwangju Biennial 2021; Asia Cultural Center, Gwangju (2020); National Museum of Modern and Contemporary Art, Seoul (2020); Daelim Museum, Seoul (2020); Palm Springs Art Museum (2019); PARTICIPANT INC., New York (2019); Canton Gallery, Guangzhou (2018); LA><ART (2017); and Centro Cultural Metropolitano, Quito, Ecuador (2016). Lee is a recipient of the 18th Street Arts Center Artist Lab Residency (2020), California Community Foundation Fellowship for Visual Artists (2019), the Rema Hort Mann Foundation grant (2018), and Artpace San Antonio International Artist-in-Residence program (2017). Lee's work is currently on view in Close to You at MASS MoCA through January 2022. A solo exhibition of his work will open at Gallery Hyundai, Seoul, in 2021, and he will participate in the New Museum Triennial, opening October 27, 2021.
---------------
I'm Blue (If I Was █████ I Would Die)
American Artist
June 3rd–July 3rd, 2021
Images
Commonwealth & Council presents the first Los Angeles exhibition of American Artist's I'm Blue (If I Was █████ I Would Die), which uses a vacant schoolroom setting pervaded with blue to summon the psychological environment of the American police system.
Three empty desks stand arrayed before a video monitor, awaiting instruction. Each desk has been outfitted with a riot shield upholstered in navy blue fabric, echoed in the blackboards which are similarly refigured as navy blue panels. The desk modifications literalize the blue shield—the unwritten police code of silence—while recalling how school children explore power and autonomy by opening the lids of their desks to disrupt the teacher's view. This teacher is different: DC Comics' Dr. Manhattan appears on screen, admonishing his cop-pupils to stop evading moral and legal culpability behind a false "blue identity" politics.
Fiction creates heuristic distance between an intractable reality and a certain transposed register of life, illuminating the possible from a new angle. Dr. Manhattan exists in a god-like quantum state, apart from linear experience. His atomic transformation, recouped and exploited by the military, has nonetheless given him an outside view, as "a puppet who can see the strings"—powerless to affect events, he shows us the world. He is naked and blue, and in Artist's version, also Black: a Black cop, restored to self-consciousness by his uniquely fraught position. He interpolates the voice of real life ex-cop Christopher Dorner, who was fired from the LAPD in 2008, ostensibly for making false statements, after blowing the whistle on his training officer for kicking a handcuffed schizophrenic man—an assault which the victim corroborated at Dorner's disciplinary hearing. In February 2013, in a sprawling 11,000-word manifesto posted to Facebook, Dorner announced his revenge on the LAPD, marking some 40 law enforcement personnel and their family members for death. His sole demand: a public admission that he had been terminated in retaliation for reporting officer misconduct. LAPD Chief Charlie Beck agreed to review Dorner's case, but the killing had already begun. Dorner wrote, "This is a necessary evil that I do not enjoy but must partake and complete for substantial change to occur within the LAPD and reclaim my name. The department has not changed since the Rampart and Rodney King days. It has gotten worse."
Holed up in a cabin near Big Bear Lake following a statewide manhunt, Dorner died in a shootout with police. While his heroic vigilante narrative has entered public myth, Dorner put a hole in the blue wall of silence, providing a rare firsthand glimpse into the culture of corruption, secrecy, and racism pervading the LAPD and American policing at large. I'm Blue (If I Was █████ I Would Die) dwells on these openings, expanding them into shared space for learning, consciousness, and agency.
American Artist (b. 1989, Altadena, CA; lives and works in New York) makes thought experiments that mine the history of technology, race, and knowledge production, beginning with their legal name change in 2013. They attended the Whitney Museum Independent Study Program in 2017 and received an MFA at The New School in 2015, and BFA at California Polytechnic University, Pomona in 2011. Artist has had solo exhibitions at the Whitney Museum of American Art (2020); Queens Museum (2019); Museum of the African Diaspora, San Francisco (2019); Koening and Clinton, NY (2019); and HOUSING, NY (2018). Their work was included in group exhibitions at the San Jose Museum of Art (2020); Nam June Paik Art Center, Yongin, South Korea (2020); MoMA PS1 (2020); LC Queisser, Tbilisi, Georgia (2019); The Studio Museum in Harlem (2019); Museum of Contemporary Art, Detroit (2019); Performance Space New York (2018); MCA Chicago (2018); 47 Canal, NY (2018); and Elizabeth Foundation for the Arts, NY (2017). They will participate in INFORMATION (Today) at Kunsthalle Basel, opening June 25, 2021. Their project SHAPER OF GOD is currently available to view online at KADIST.
American Artist is also represented by LABOR, Mexico City and will have a solo exhibition at the gallery in September 2021.