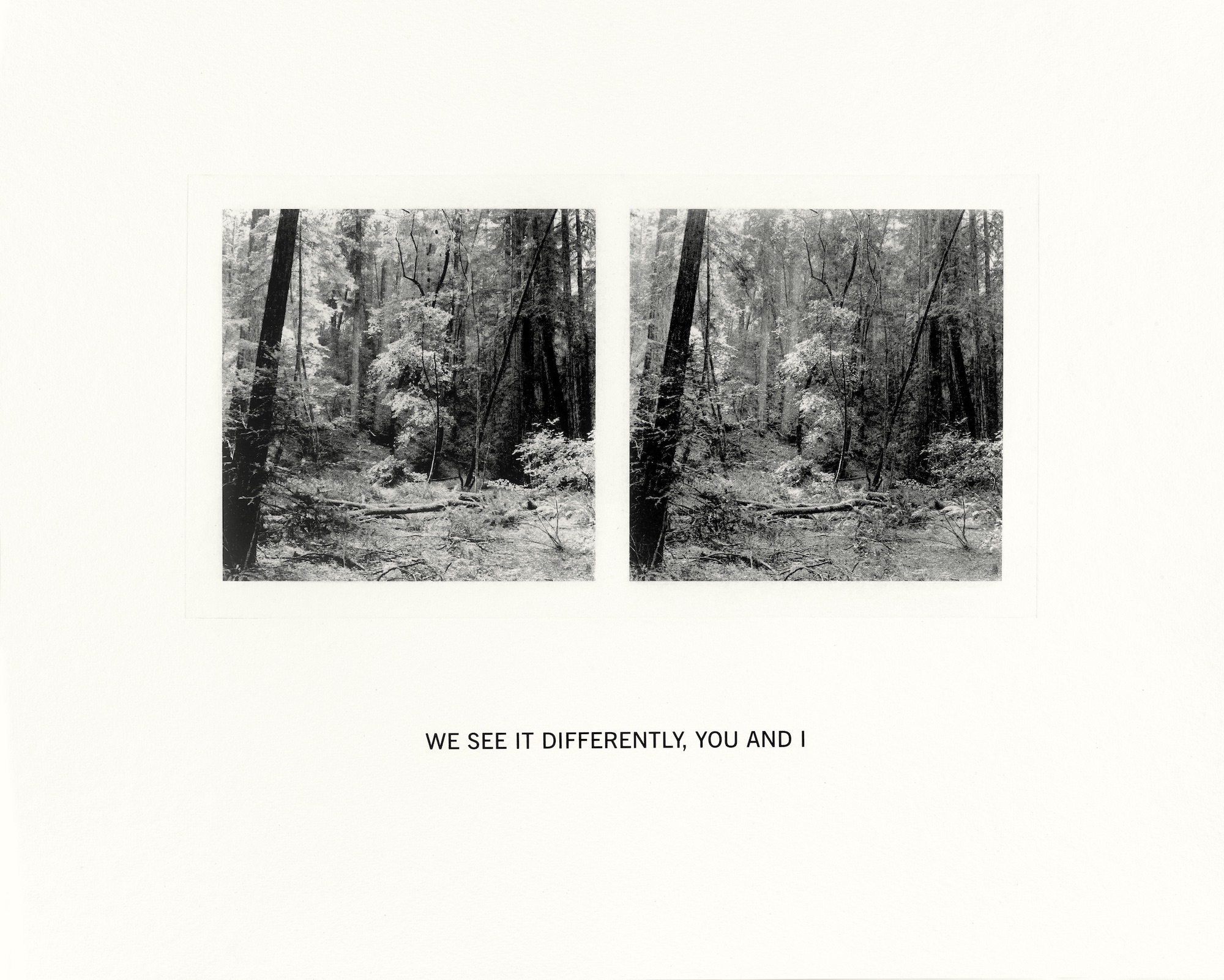 Susan Silton: WE | Lia Halloran: The Sun Burns My Eyes Like Moons | Carlson Hatton: Take a moment to think of a relaxing location or situation, this could be a memory or something made up
1110 Mateo St. Los Angeles CA, 90021
Jun 26, 3 PM - 6 PM — ends Aug 14, 2021
Susan Silton: WE (pictured)
June 26 - August 14, 2021

In her latest body of work, Silton questions the nature of reality versus appearances. WE is a set of sixteen photo-etchings depicting scenic landscapes of the Armstrong Redwoods National Forest. The prints are divided into pairs of images that, at first glance, appear almost identical. However, the images have been slightly modified from one another, exposing the stark differences of individual perception.

----------------

Lia Halloran: The Sun Burns My Eyes Like Moons
June 26 - August 14, 2021

Comprised of large-scale cyanotypes and their painted negatives, Halloran's latest body of work is an homage to the sun. With a history of integrating scientific concepts into her studio practice, Halloran developed these new works over the past year when she was awarded the City of Los Angeles Visual Artist Fellowship which follows her research of solar eclipse expeditions, ancient Egyptian temple reliefs, and most significantly, the archives of Mount Wilson Observatory in Los Angeles. Within the four large cyanotype-painted hybrid works, the artist incorporated contemporary satellite imagery of the sun, photographs she took during a total solar eclipse in 2017, and turn of the century solar images taken by George Ellery Hale, founder of Mt. Wilson Observatory and inventor of the solar telescope.

---------------

Carlson Hatton: Take a moment to think of a relaxing location or situation, this could be a memory or something made up
June 26 - August 14, 2021

Carlson Hatton's latest body of work explores the psychological and physical terrain of the post-pandemic world. After spending much of last year in isolation, we have emerged cautious and anxious, faced with the challenge of navigating our upended world. The seven paintings that comprise this solo exhibition explore a disconnect between the artist's quiet, reflective practice and a surrounding reality that runs a wilder, and at times, darker course that exceeds control. Cobbled together figures celebrate paint, color, mark making and gesture while also evoking strong psychological undercurrents of individuals at odds with themselves and their environments.