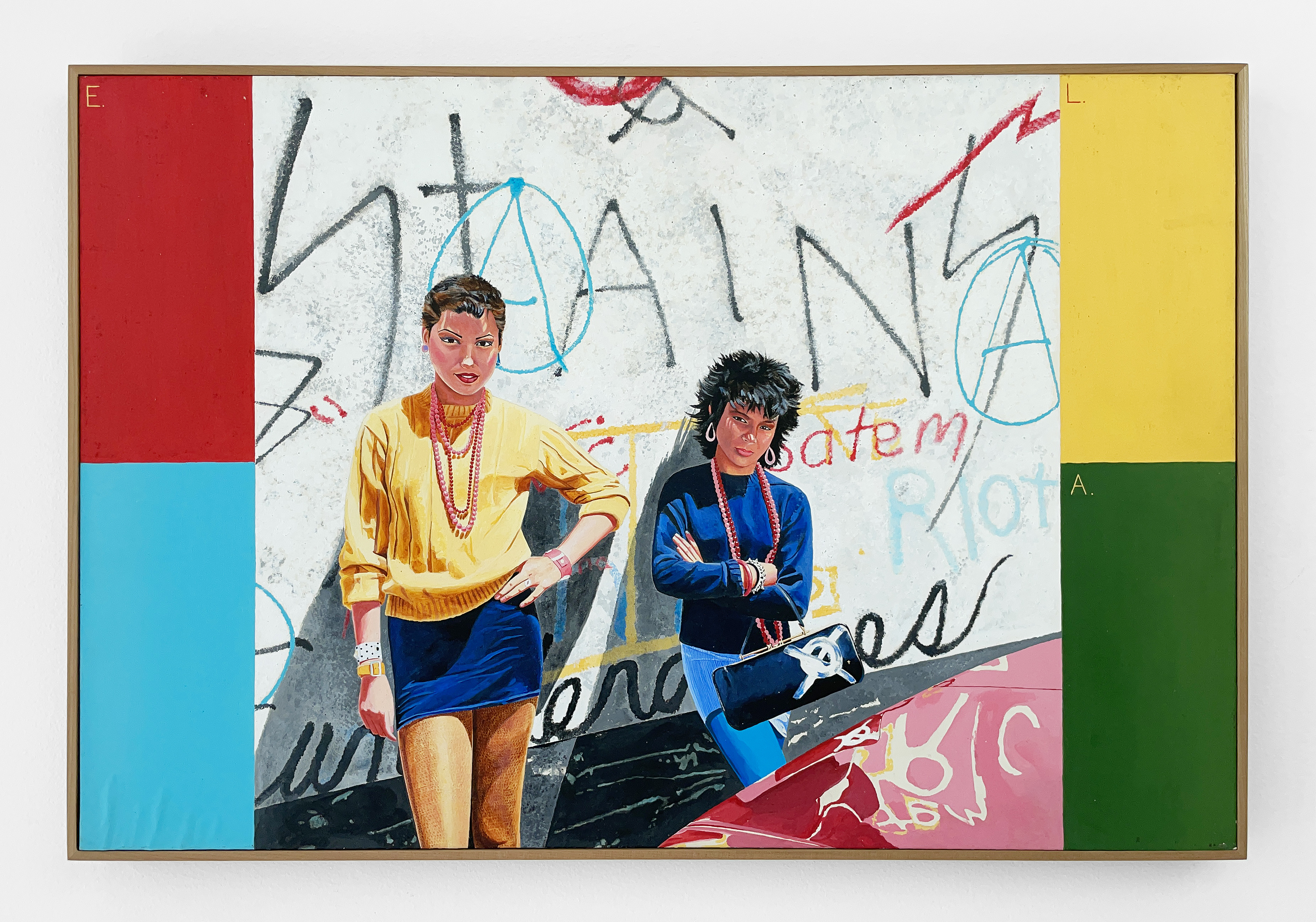 Nick Taggart: LA STORIES: PAINTINGS AND DRAWINGS FROM 1980
7101 North Figueroa Street Unit E Los Angeles CA 90042
Jun 26, 4 PM - 7 PM — ends Aug 01, 2021
ODD ARK • LA is pleased to present LA STORIES: PAINTINGS AND DRAWINGS FROM 1980, a selection of works made in 1980 by Los Angeles-based artist Nick Taggart. On view and by appointment only June 26 - August 1, 2021.

Taggart, who moved from London to Los Angeles in 1977, arrived at a time when LA's underground art and music scene was taking root in downtown LA, and energized by opportunities of affordable warehouses, lofts, and apartments. Downtown LA also became a hub for artsy gathering spots such as the funky Soviet-themed restaurant, Gorky's Cafe, and Al's Bar, the grungy night club that hosted punk bands as well as performance art. There were also a handful of art galleries, often up a flight of stairs or down in a basement. Although it was a relatively small community, the aesthetics and post-punk ethos of the arts scene mirrored the maverick milieu of the East Village arts scene that happened in New York in the early 80s.

During that time, Los Angeles sat mostly under a smoggy haze that blanched the city into a generally pallid tone - this was an interesting contrast to the attitude and aesthetics of the burgeoning 'New Wave' scene with its geometric patterns and vibrant colors. 1980 was also the year before the arrival of MTV -- which would have a huge and everlasting global impact on music, art and fashion.

Taggart's exhibition focuses on a selection of never-before-exhibited works that are emblematic of 1980. Painted in acrylic on panel, and in a hyper-realistic style, the paintings offer a glimpse into LA's social landscape and the artists' own circle of friends, which included musicians, photographers, fashion designers, and music fans.

The exhibition will also include a suite of limited edition archival prints produced by ODD ARK LA and the artist. The prints are of oil pastel portraits Taggart made in his sketchbook during 1980 and drawn in a much looser and more urgent style than the paintings. The portraits are based on photographs Taggart sourced from popular magazines such as The Face and Italian and French Vogue, and feature internationally known figures of that era such as Grace Jones, Brooke Shields and various fashion models.

Nick Taggart's LA STORIES: PAINTINGS AND DRAWINGS FROM 1980 represents a 40-year retrospective view to a particularly dynamic time in Los Angeles, as it began to re-define itself as a cosmopolitan metropolis, no longer in the shadow of New York.

For the occasion of the exhibition, an 'Eye' t-shirt that was originally designed in 1981 by Nick Taggart for 'Heaven', the popular and iconic L.A. 80's fashion and novelty store, will be hand -screened and re-produced as a special edition - Available for sale through the gallery.



Nick Taggart (b. Stockport, England) studied at Torquay College of Art, Devon, and Cambridge College of Art, Cambridge, England. Taggart's work has been the subject of extensive solo and group exhibitions including Angles Gallery, Santa Monica, CA., Richard Heller Gallery, Santa Monica, CA., Armory Center for the Arts, Pasadena, CA., Signal Gallery, London, England., San Jose Museum of Art, San Jose, CA., and ODD ARK•LA in Los Angeles, CA, amongst others. As a prolific artist/illustrator, Taggarts's work has been on the cover of numerous books, vinyl records and other publications. His work has been reviewed in Art in America, Los Angeles Times, LA weekly, Art of England, Arts Magazine and Fabrik Magazine amongst others. Taggart lives and works in Los Angeles, CA.