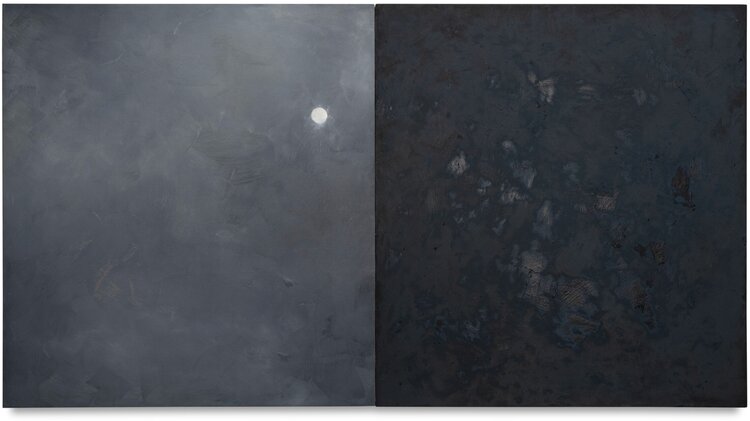 Joe Goode: 20 Years Later...
1227 North Highland Ave Los Angeles, CA 90038
Jun 18, 10 AM - 6 PM — ends Aug 07, 2021
Reservations recommended. Walk-ins welcome.

Kohn Gallery is honored to announce 20 Years Later…, an exhibition featuring historically significant paintings by prominent California Light and Space artist, Joe Goode. Created at the turn of the last century from 1999 to 2003, the works on view belong to Goode's three seminal series: Oil and Water, Night and Day, and Cause and Effect. Investigating duality and the sublime qualities of nature these works present the paradox of opposing natural elements, the passage of time, and the consequences of human interaction with the Earth's delicate climate. The works in a general way refer back to Goode's sky paintings of the 1970s, but modified with more abstracted atmospheric effects. These works display Goode's ability to imbue painting with resonant subject matter as well as formal beauty.

A member of the Los Angeles "Cool School," Goode was a constitutive figure of the burgeoning Los Angeles art scene of the 1960s. His work was included in the 1962 groundbreaking exhibit, "New Painting of Common Objects," curated by Walter Hopps at the Pasadena Art Museum (now Norton Simon Museum), alongside Andy Warhol, Roy Lichtenstein, and Ed Ruscha among others. This was the first Pop Art exhibition in a museum in the United States. It earned Goode critical acclaim, while securing his place in art history. After more than a half a century of producing innovative paintings, sculptures, works on paper, prints and photographs, Joe Goode is integral to the story of American art.

ABOUT THE ARTIST

Goode's career is distinguished by his continual evolution of process and themes, and has been widely recognized in the United States and Europe, showing at hundreds of gallery and museum exhibitions. In 2015, the Contemporary Art Museum St. Louis exhibited a survey of Joe Goode's work. Goode's work is included in many museum collections including the Los Angeles County Museum of Art, The Museum of Contemporary Art Los Angeles, the Menil Collection, The Smithsonian Institution, The Whitney Museum of American Art and the Museum of Modern Art New York. The artist lives and works in Los Angeles, California.