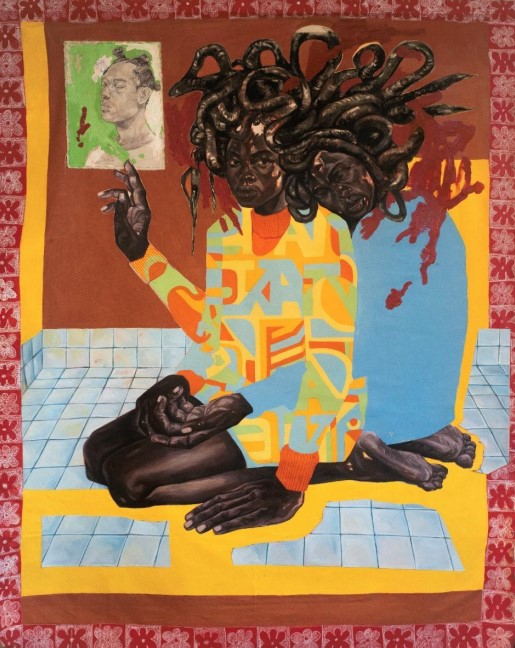 Kindred Technology
3718 West Slauson Avenue
Jun 19, 5 PM - 9 PM — ends Aug 07, 2021
EXHIBITION ADVISORY
KINDRED TECHNOLOGY:
SoLA Contemporary, 3718 West Slauson Ave, Los Angeles, CA 90043
On View: June 19, 2021-August 7, 2021
Curated by: Lanise Howard
Artists: Alexandria Couch, Khari Tuner, Kwame Gomez & Martin Etem
Opening & Press Preview: Saturday, June 19, 2021, 5-9 PM
Closing: August 7, 2021, 11-4 PM
LOS ANGELES, CA (June 15, 2021) – Using art as a tool for both abstraction and analysis, the artists in SoLA Contemporary's upcoming show, Kindred Technology, explore the intricacies of life and identity as Black Americans. This group exhibition, curated by Lanise Howard, features the work of five individuals who seek to make sense of a shared, yet elusive ancestral past. Together, the Kindred Technology artists succeed in building an immersive world -- one where art and technology, history and narrative, spirituality and science converge in conversation with one another.
The search for a deeper understanding of one's past requires a deeply personal approach. Each artist utilizes their own unique methods and materials in order to personify their vision of Blackness and/or the self. Mediums range from figurative illustrations to mixed-media collages and sculptures. Paint, found materials, photographs, and mirrors draw the viewer into an Afro-futuristic universe, while simultaneously prompting self-reflection.
With the aid of art's transformative and healing powers, Kindred Technology addresses a difficult truth. It does not shy away from the fact that, as a result of historic traumas, many Black Amerians cannot trace their ancestral lineage. However, the five artists use this uncertainty as an opportunity to interweave their own stories into the fabric of history. They fill the void with visions Black life that are brimming with magic and imagination, pushing back against the narratives of oppression and victimization that we have come to know so well. Kindred Technology is a testament to the power of the African Diaspora and its ability to persist. It reminds us of how the very struggle to reconcile Black identity has necessitated the need for a culture rich with creativity, community, innovation, and empathy.
"This search for our ancestry shapes our world view, and how we aim to rewrite our histories. In this way, I think of us artists as being an integral part of this reshaping of the narrative. I thought of this kinship that we share, and how each of us must work together to forge our future. This passing down of knowledge has been happening long before us. The ancestors that we share, used this kinship to carry on their histories and ways of being. And even today, we find ways to carry this on, whether it be subconscious or conscious," says Howard.
Kindred Technology will be on view from June 19 – August 7, 2021. The opening reception coincides with Juneteenth, a day of celebration that commemorates the emancipation of Black Americans in the United States.
###
About SoLA Contemporary
South LA (SoLA) Contemporary is a nonprofit, artist-run organization that serves as a cornerstone for cultural and artistic innovation in South Los Angeles. Our goal is to advocate for change by empowering people from diverse backgrounds to take risks in their creative endeavors and to explore the intersection of art, culture, society, and politics. Above all, SoLA Contemporary is a safe and receptive space for anyone seeking to experience the power of contemporary art.
Location: 3718 West Slauson Avenue, Los Angeles, CA, 90043. solacontemporary.org
Press contact: Anefertiti Bowman, Executive Director,
Anefertiti@solacontemporary.org
Connect with us!
#sola #solacontemporary #southlacontemporary
Featured Image:
It's Alright: You Can Close Your Eyes for This One
Alexandria Couch
Oil, acrylic, collage, embroidery and oil pastel on canvas
76"x60"