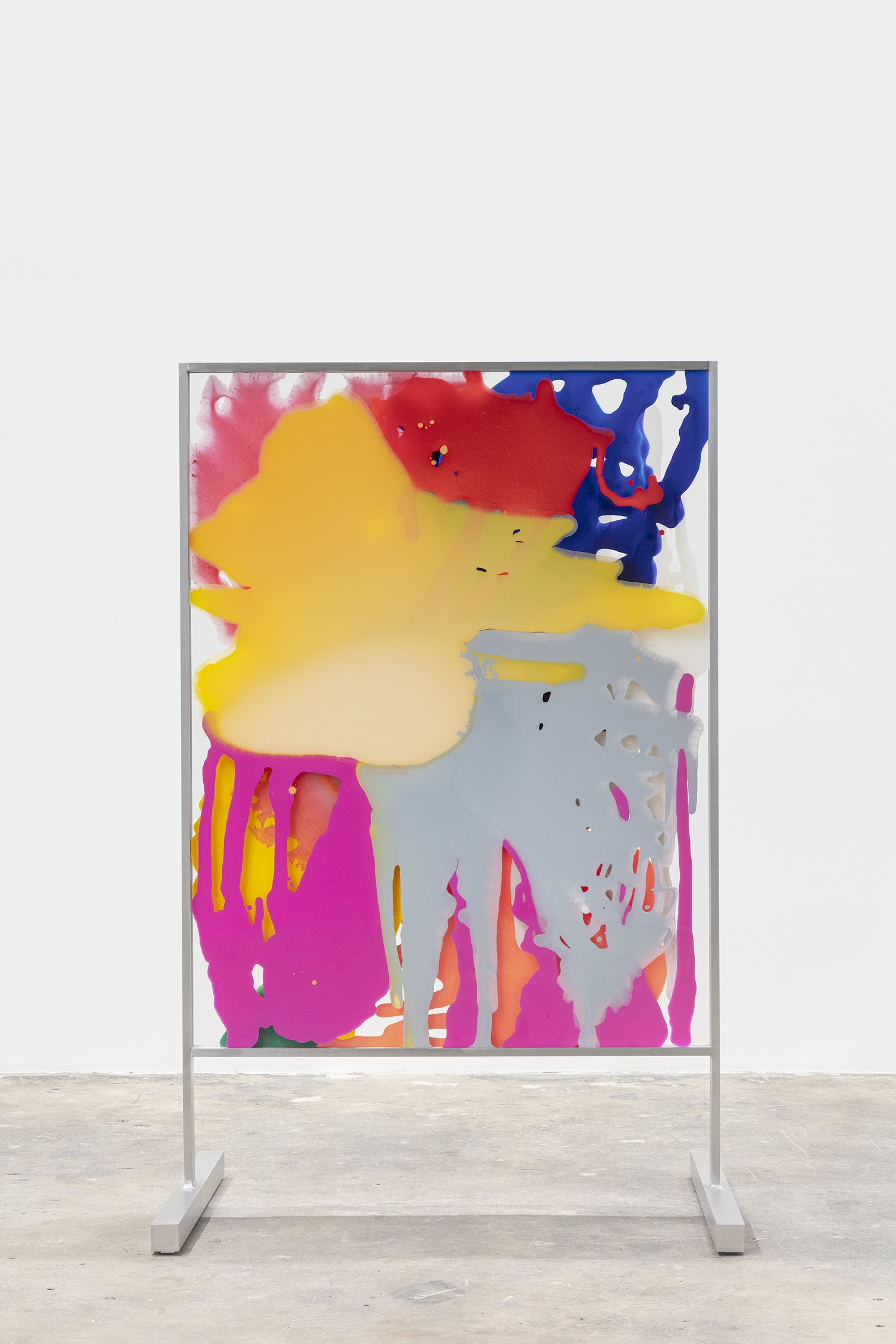 Yunhee Min: Vitreous Opacities
👀
1700 S Santa Fe Ave #101 Los Angeles, CA 90021
Jul 03, 12 PM - 6 PM — ends Aug 14, 2021
Vielmetter Los Angeles is thrilled to present Vitreous Opacities, an exhibition of new works by Yunhee Min, on view from July 3 - August 14, 2021. The exhibition consists of new paintings on glass alongside standing works that explore Min's interest in the interaction of poured paint on glass. Vibrant hues of acrylic paint mixed with enamel spill out onto the glass surfaces, the clash of colors and mix of opaque and translucent pigments create energetic compositions that capture the liquid nature of paint. Fixed onto the glass, the paint's impression of wetness is heightened to engender a sense of suspension, akin to the surface tension of liquid materials trapped in a glass slide.
The show's title references an optical condition of ghost like flutters in ones' field of vision as a result of floating objects in the vitreous body of the eye. Similarly, the shapes of the paint applied to the surface of glass create an illusion of floating forms in space generating its own optics with the likeness of the lens. The contrast of the hard and soft tension that is prevalent in these new works brings to mind the idea of "liquid intelligence" described by Jeff Wall as the relationship between natural forms, time, memory and means of representation as they contrast with photographic technologies. In Min's works, she orchestrates pours and spills of wet paint on the slick glass surfaces to contend with the confrontation of liquidity, movement and temporality to create a cacophony of complex contours, wild shapes, and shadows.
Glass's alchemical and allusive qualities harken back to its ancient use as an imitative material due to its ability to intensify the surface with lustre and transparency. Glass is also an ever-present and iconic material in modern architecture that signifies and extends visibility as well as the ubiquitous surface of screen technology today. One can see and be seen through glass as it can also reflect and refract its environment, creating at times an imperceptible or oblique sense of viewing space. Amplifying these qualities, Min's standing works are two sided, with the opposing glass panels framing each other to make a composition where areas of the paint can be seen through.This sense of the paint being suspended, as if floating in space, further unsettles the fixed image.
Yunhee Min (b. Seoul, Korea) is a Los Angeles based artist, she holds a BFA from Art Center College of Design and an MA in Design Studies from Harvard University. Recent site-specific installations and architectural interventions include "Hammer Projects: Yunhee Min" at the Hammer Museum, Los Angeles, CA; "Yunhee Min & Peter Tolkin: Red Carpet in C," University of California, Riverside, Barbara and Art Culver Center of the Arts, Riverside, CA; "Equitable Vitrines" in the Equitable Life Building, Los Angeles, CA; satellite exhibition space for the Museum of Contemporary Art, Santa Barbara, CA; the Los Angeles County Museum of Art; and at Night Gallery, Los Angeles. Min has had solo exhibitions at LAXART, Los Angeles, CA; The Museum of Contemporary Art, San Diego, CA, project space; at ArtPace, San Antonio, TX, project space; the Yerba Buena Center for the Arts, San Francisco, CA; and Exercise, Vancouver, BC. Her work is in the collections of the Los Angeles County Museum of Art, The Museum of Contemporary Art, San Diego, and the UCLA Hammer Museum, Los Angeles, CA. Min is also represented by Miles McEnery Gallery, New York.
The gallery is located at 1700 S Santa Fe Avenue, south of the 10 freeway. For further information and press inquiries, please contact Olivia Gauthier at
Olivia@vielmetter.com