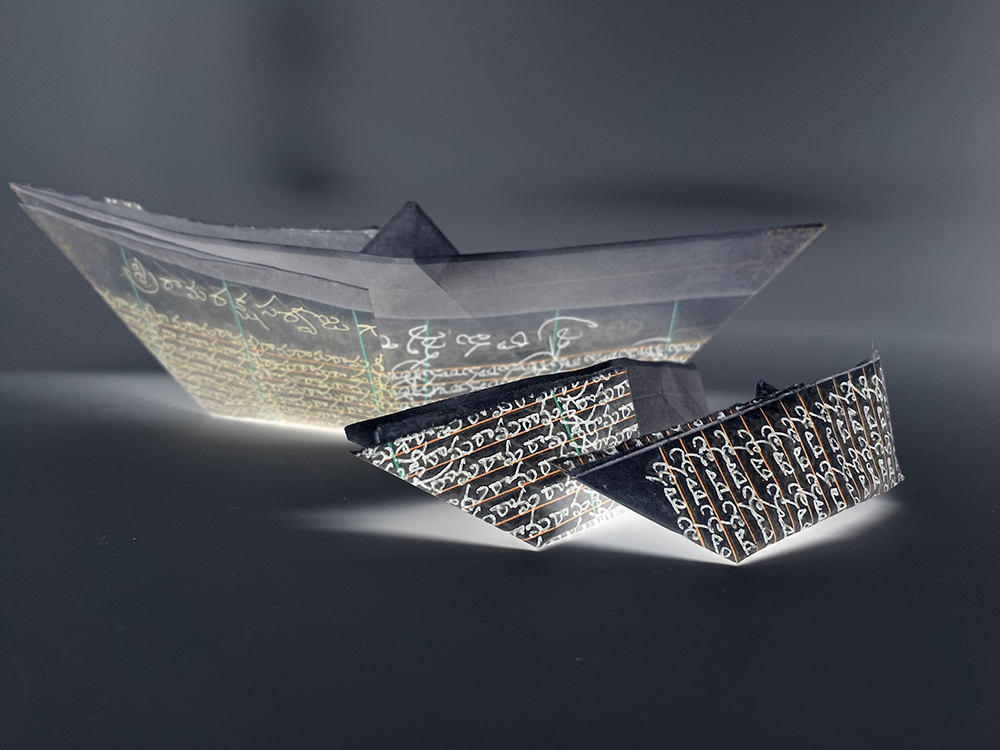 Bi-Lingering: Voices with mother tongues
PO Box 90432 Pasadena, CA 91109
Jul 25, 2 PM - 4 PM — ends Jul 31, 2021
Celebrate the culmination of the first phase of Bi-Lingering with artist duo Labkhand Olfatmanesh and Gazelle Samizay on Sunday, July 25th 2pm - 4pm PST LIVE on Zoom by registering today. It will also be available to watch through the Side Street Projects' Facebook page.
In celebration of the completion of their residency with Side Street Projects (SSP), "Bi-Lingering: Voices with mother tongues" will be a celebratory evening of candid conversations between the artists and fellow Bi-Lingerers, including readings of participants' submitted letters, sharing reflections on what it means to be a Bi-Lingerer, and a poetry reading video presentation by poet Sahar Muradi titled "Ghazal for Mothers and Tongues".
Bi-Lingering launched earlier this year as one of SSP's 2021 Artist Residencies for the program titled "re(VISION)s", which asked artists to, "Vision Revolutionary and Liberatory Realities rooted in Ancestral Inheritances and re(VISION)ed Technologies of Freedom".
Olfatmanesh and Samizay responded to the theme of "re(VISION)s" with Bi-Lingering, which explores the power of language and the duality of existing between cultures. It represents that in-between space where one belongs to two (or more) languages and cultures, and it investigates the way memories and trauma express themselves differently in one's native language vs. a second language. The project invites bilingual people (of any proficiency) to share their experiences of expressing themselves in more than one language by signing up to receive a "Dear Bi-Lingering Letter Kit" and write a letter to "Dear Bi-Lingering." As a thank you, the artists mail participants a limited edition art card of their choice.
The artists have received letters from all areas of Los Angeles County by individuals of different ethnic backgrounds sharing their funny and traumatic experiences of being Bi-Lingerers including recollections of bilingual and multilingual dreams and more.
In an effort to share Bi-Lingering with Pasadena residents, SSP and the artists have partnered with the Pasadena Transit office to install posters with intimate quotes written in English, Spanish, and "Pinglish" (Persian and English) from the letter submissions that are now on display on all Pasadena buses. "I often feel empowered by the fact that I speak multiple languages-- that I work, communicate, and make a living in a language that wasn't mine to begin with," reads one of the quotes by a Bi-Lingerer. The Bus Campaign will run through the month of July in an effort to engage riders in the experience of being a Bi-Lingerer, and to inspire individuals to share their stories as others have already.
If you would like to listen to more stories or meet fellow Bi-Lingers, join us for an afternoon of celebration Sunday, July 25th 2pm - 4pm PST by signing up today to save a spot!
For more details about the project, visit Bilingering's official website and sign-up to send your own letter to "Dear Bi-Lingering."
For more information on, Labkhand and Gazelle visit:
www.sidestreet.org/artistresidencies/labkhand-and-gazelle-bi-lingering
This project is made possible through the support of the California Art Council, and the City of Pasadena.