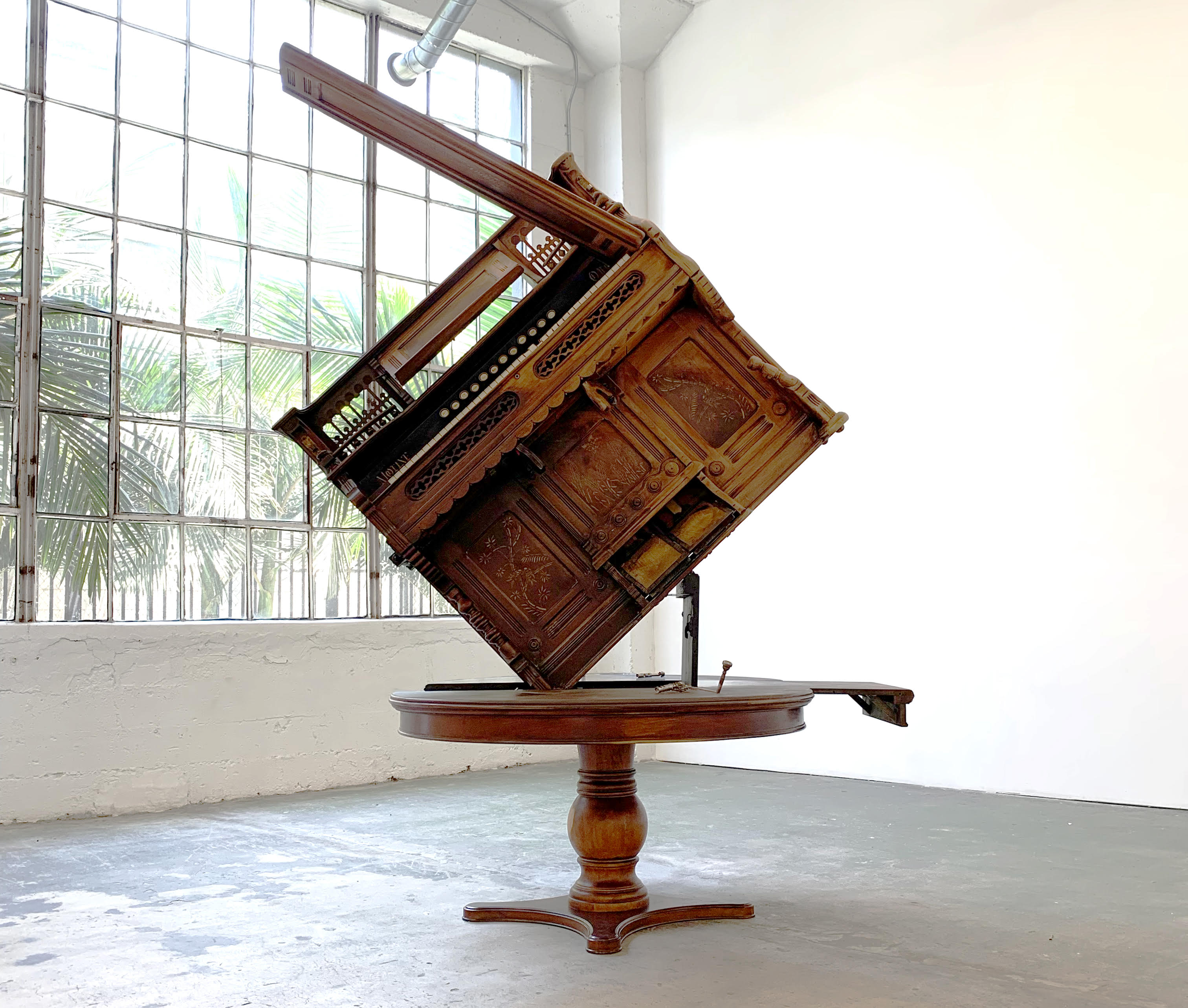 Jorge Peris: Desembarco en el País de Nunca Jamás | Michiel Ceulers: Scissor Valley People (Birds of a Feather Flock Together)
1700 S Santa Fe Avenue, #160, Los Angeles 90021
Jul 17, 5 PM - 7 PM — ends Aug 21, 2021
Jorge Peris: Desembarco en el País de Nunca Jamás
(Pictured)

Jorge Peris' practice is a collaboration between the buildings and spaces that will eventually house his work, his own body, and the many characters that populate the inside of his head. For his first solo exhibition with Nicodim, he transforms the gallery into a fantasy world in which all these figures have escaped: the columns within the high-ceilinged space remind Peris of the Parthenon, so he created a Trojan Horse. It centerpieces the installation, and serves as a vehicle to transport the sometimes dark, but often playful voices from inside himself into tangible reality, to gift them their own Neverland.

The chaos is immediate. An organ teters on the edge of a table, and recalls the classic piano-falls-from-the-sky cartoon trope from when liability laws were the exception, not the rule. A dresser defies gravity and balances on three legs while merging with another, larger dresser. Together, they resemble Tinkerbell about to take flight, or conversely, the downfall of scientist Seth Brundle in David Cronenberg's The Fly. The limbs of a tree link together and extend through the walking routes, either reaching for an embrace or to bludgeon the viewer.

Peris' forms embody an entropic architecture. The large-scale works are composed of found wooden modernist furniture and musical instruments. Each object is roughly the size of the artist. He sees them as avatars for himself—their bones are his bones, their insides are his guts. Drawing more from Baroque Spanish sculpture than Gordon Matta-Clark, he carves, slices, and subtracts the pieces past the point of functionality and grafts them onto and into one another until they inhabit a technicolored spectrum between balance and precarity. He follows the lines and veins in the wood of the original objects, tracing his own body into the context of human history, finding music and humor within the cycle of decay and rebirth.

Jorge Peris (born Alzira, Valencia, 1969) lives and works in El Palmar, Valencia, and Bucharest, Romania. Recent exhibitions include Michiel Ceulers and Jorge Peris: Endangered Species, Galeria Nicodim, Bucharest (2020); Dark Man a lomos del Pájaro de Fuego, IVAM Instituto Valenciàno d'Arte Moderna, Valencia (2020, solo); Adam's Resurrection, Sandwich Gallery, Bucharest, Romania (2019, solo); Al norte de la tormenta, MAXXI Museum, Rome, Italy (2019); Our Lady of the Flowers, Galeria Nicodim, Bucharest (2018); The Hierophant, Galeria Nicodim, Bucharest (2017); Olmo 2017, Luis Adelantado, Valencia, Spain (2017, solo); Portal del angel, Cantina Antinori, San Casciano Val di Pesa, Tuscany, Italy (2016, solo); Dolmen, Sinfonia nr. 7, Magazzino D'Arte Moderna, Rome, Italy (2015, solo); Tamaris, Chateau de Montbeliard, France (2012, solo); Micro, Aureo, Adela, MACRO, Rome, Italy (2010, solo).

---------------

Michiel Ceulers: Scissor Valley People (Birds of a Feather Flock Together)
ft Kaspar Bosmans, Wim De Pauw, Birde Vanheerswynghels, and Benjamin Verhoeven

Michiel Ceulers' third solo exhibition with Nicodim considers the proverbial "canary in the coalmine" with new painting and sculpture. Forever employed as a harbinger of imminent danger, Ceulers concurrently examines the tiny avian as a sympathetic figure, a totem for the most fragile, the vulnerable, the first to disappear or be disappeared. Ceulers sees Los Angeles, like other cities with immense urban sprawl, as akin to the cages that isolate those canaries in the coalmines in direct opposition to their behavior when free: the birds prefer to couple-up and travel in groups. Rather than dwell on their isolation, he manifested the attitude of a canary recently liberated from solitary confinement, and invited friends Kasper Bosmans, Wim De Pauw, Birde Vanheerswynghels, and Benjamin Verhoeven to contribute to the show.

The discourse within the exhibition is also informed by two fictional, forever-coupled birds: Edina "Eddie" Monsoon and Patricia "Patsy" Stone, the main characters in the classic BBC series Absolutely Fabulous, whom Ceulers sees as one of the most complex relationships of our time. (The title of his previous exhibition, A Condom Over A Zeppelin, was based on a Patsy zinger about Eddie's ill-fitting outfit.) Though not always moonlight and roses, they always come through for one another in the end.

Ceulers' art mirrors the artists' real-life and fictive relationships, reflecting and highlighting the similarities and differences between them. Mirrors, a favored medium in Ceulers' recent work, break the fourth wall of his paintings by allowing reality, if not the viewer, to occupy a place in the heart of their tableaus. In contrast with the tactile grid works for which he is best known, the mirror works act as a seduction and a distraction, they function almost as boobytraps; when you gaze at them you end up staring at yourself and not the work. In this way, the idea of a tableau-as-representation is sabotaged. The work pushes its viewer back into the real real, and not the depicted real. Akin to the smooth surfaces of the monumental skyscrapers of downtown Los Angeles that seduce our gaze while simultaneously repulsing it with their impenetrable exteriors, the audience is (somewhat more tenderly) encouraged to look back at themselves.

Text by Michaël Van Remoortere

Michiel Ceulers (b. 1986, Waregem, Belgium) lives and works in Ghent, Belgium and Berlin, Germany. Ceulers graduated from the Rijksakademie van Beeldende Kunsten, Amsterdam in 2011. Exhibitions include A Condom over a Zeppelin, Island, Brussels, Belgium (2021); Michiel Ceulers and Jorge Peris: Endangered Species, Galeria Nicodim, Bucharest (2020); A Fair Proposal, Barbara Seiler, Zurich, Switzerland (2019); Wenn es zittert wie ein Ente, DASH, Kortrijk, Belgium (2017, solo); LAURA (Ein bisschen Schnitzel in Magen war mir lieber als ein Vogel in den Himmel), Nicodim Gallery, Los Angeles, CA (2015, solo); 'The man who mistake his wife for a hat,' Juliette Jongma, Amsterdam (2014, solo); 'Der Charme einer vorbeigehenden Frau steht in der Regel in direktem Verhältnis zu dem Tempo ihres Ganges,' Nogueras Blanchard, Madrid (2014, solo); Rien de plus qu'un théâtre d'idées fluctuantes et des échos de développements future, Arts Club, London (2014, solo).