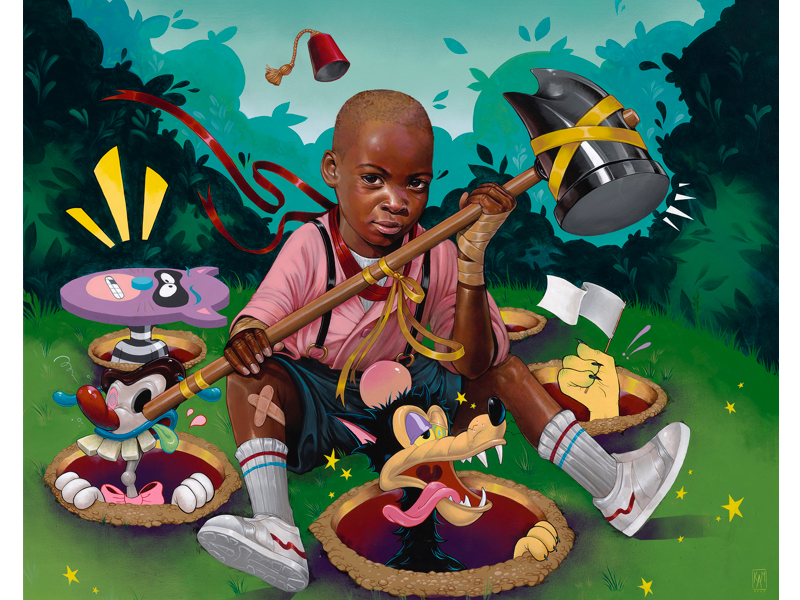 Kayla Mahaffey: Remember the Time | Roos van der Vliet: Mirrors of Your Soul
4217 W. Jefferson Blvd. Los Angeles, CA 90016
Sep 18, 6 PM - 10 PM — ends Oct 09, 2021
SEPTEMBER 18, 2021 - OCTOBER 9, 2021
Thinkspace Projects
4217 W. Jefferson Blvd. | Los Angeles, CA 90016
T: 310.558.3375 | Tues. - Sat. Noon to 6PM
Thinkspaceprojects.com

SATURDAY, SEPTEMBER 18, 2021
Opening Reception
Saturday, 6PM- 10PM
Masks and Social Distancing Required

---------------

Kayla Mahaffey: Remember the Time
(pictured)

Thinkspace Projects presents Kayla Mahaffey's latest solo show, 'Remember the Time.' Mahaffey examines the language of nostalgia in this collection of large-scale new works on canvas.

Summer days, children playing, neighborly love, peace…quiet. Nostalgia creates a shroud of positivity, coating childhood memories and glossing over the rougher moments. Though we are in the midst of a difficult time, heavily influenced by generations before, there is value in the sugar-coated nostalgia as well.

-----------------

Roos van der Vliet: Mirrors of Your Soul


Thinkspace Projects presents Roos van der Vliet's latest solo show, 'Mirrors of Your Soul.' Featuring an entirely new collection of the hyperrealistic depictions of hair she is known for, there is a piercing energy at the heart of each piece.

The body of work is the result of the recent pandemic, a return to portraits at a time of extreme isolation. Van der Vliet begins each painting with the eyes, bringing the subject to life from that first moment, a magnetic vitality that is immediately evident to viewers.