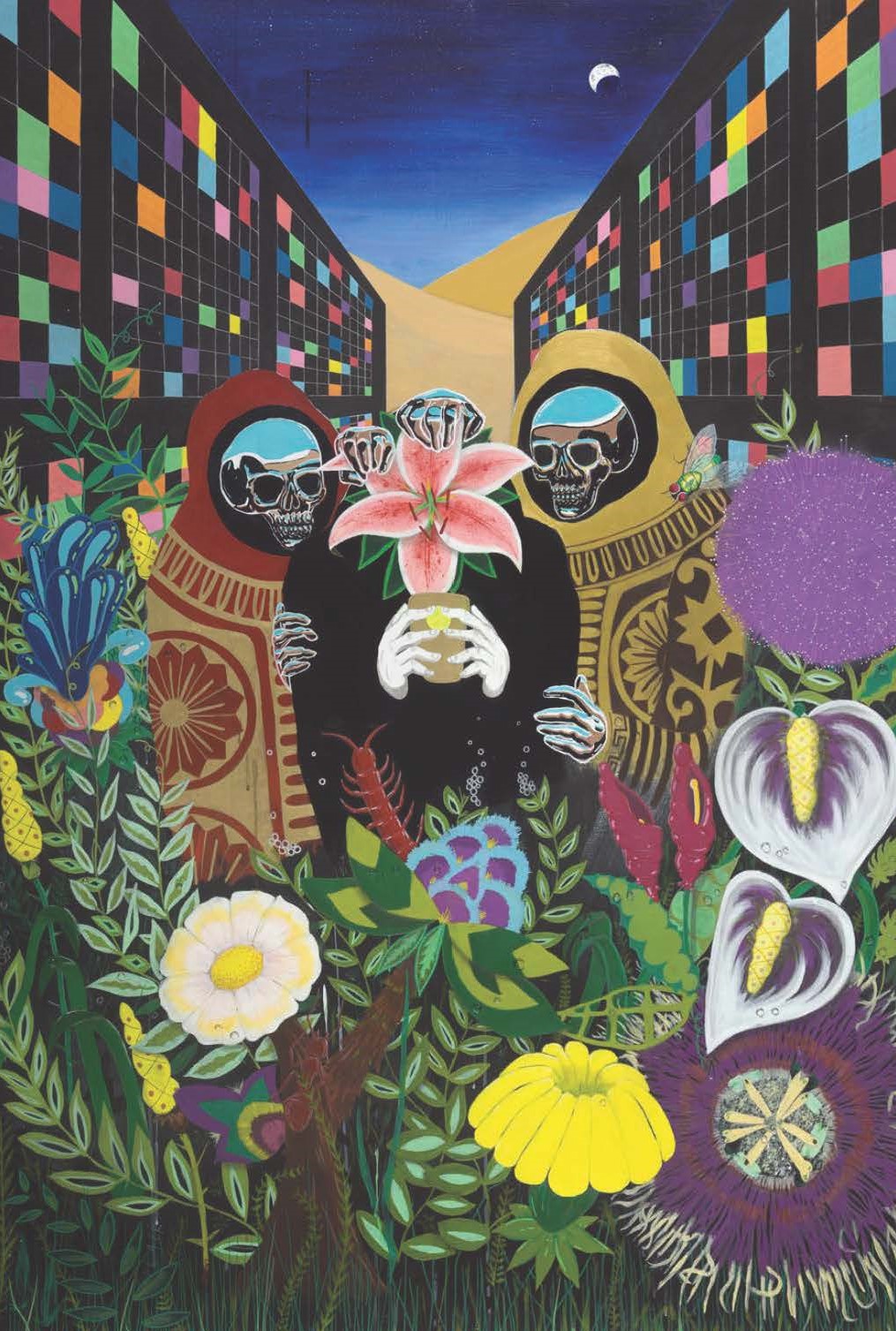 John Dwyer: Abandoned Outpost
👀
204 S. Avenue 19 Los Angeles, CA 90031
Aug 19, 7 PM - 11 PM — ends Sep 19, 2021
JOHN DWYER // ABANDONED OUTPOST OPENS WITH A SPECIAL EVENT ON THURSDAY AUGUST 19TH FROM 7-11PM FEATURING PERFORMANCES BY SHANNON LAY AND DAN RINCON // THE SHOW WILL BE ON VIEW EVERY SATURDAY & SUNDAY 1-6PM UNTIL SEPTEMBER 19TH AT SADE LOS ANGELES // 204 S AVE 19 // FOR INQUIRIES PLEASE EMAIL
SADE-LA@SADE-LA.COM
I love when nature reinstates it's hold on vacant buildings.
There are these munitions storage bunkers from World War II on a small island my parents would take me to off the coast of Rhode Island when I was young. My young imagination was so enchanted by the forest mess that had erupted thru the walls and floors of these cement fortifications. Dirty windows would sun-flake the small animal bones and dried shit speckled floors.
Stronger than two feet of reinforced concrete, roots slowly ruptured the slab until cracks appeared and relent for the passage of nature.
I believe the world to be stronger than the human race and long after we are gone nature will be the Godhead
I think about that often as there are more humans, more encroached on spaces, more e-junk, more plastics, more information, more contact, more opinions… more more more ..just more of everything.
Endless tides of connection and data.
It's exhausting
When the torrent relents there will be healing, growth, and perhaps some peace.
I can see the cracks forming everywhere
This year was particularly difficult for everyone.
I am an artist, its what I've always fought to be.
Filling my time with art…music, painting, printmaking etc etc
Art is the anchor to earth and to peace of mind.
These paintings represent some taken back spaces that were once tread upon unendingly by human things and are now reclaimed by quiet things of a peaceful nature.
A museum / mausoleum to the once mighty human.
–– JOHN DWYER