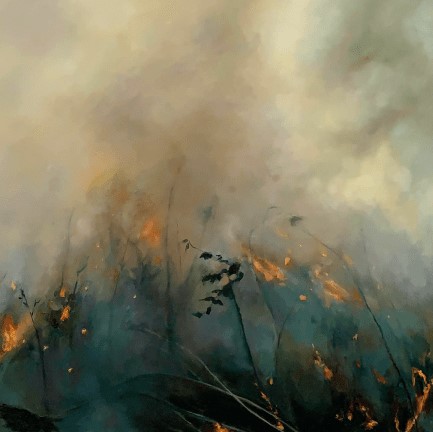 Elsa Muñoz, Mark Gleason, Mark Whiting, and S. Jordan Palmer: Clearing | Chris Uphues: Upsidaisium or The Wizard Biz
4633 Hollywood Blvd., Los Angeles, CA 90027
Sep 04, 11 AM - 7 PM — ends Sep 26, 2021
Exhibition: September 4-26, 2021
Group Exhibition featuring paintings by Elsa Muñoz, Mark Gleason, Mark Whiting, and S. Jordan Palmer
La Luz de Jesus Gallery is pleased to present Clearing, a group exhibition featuring paintings by Elsa Muñoz, Mark Gleason, Mark Whiting, and S. Jordan Palmer from September 4 – 26, 2021. Reception is TBD.
Clearing takes a closer look into the balance between a physical, mental, and ephemeral environment. Each painting presents a destructive challenge– impending loss from a tornado on the horizon, kindling burning in dry grass, a child uncomfortably extended as she balances precariously between two boulders– creating the space to contemplate escape from extreme elements. Together, the paintings' dangerous undertones reveal moments of uncertainty before a fatality, however small or large. Whether it's climate change, a spark, or one wrong step, how one approaches the face of nature's ambiguity will inevitably lead to a "clearing" both physically and mentally. Once accepted, a space for healing is created, and the life cycle begins again.
Elsa Muñoz is a Mexican-American artist born and raised on the south side of Chicago. She credits her interest in both nature and healing to her experiences growing up in an underserved and often unsafe community with little access to green spaces. Having to spend most of her childhood indoors led to the cultivation of a rich inner world in which she was able to find beauty and sanctuary. Muñoz writes, "Beyond any particular message in my work, I'm always fundamentally seeking to call upon and transmute my earliest encounters with the natural world–imaginary encounters which filled me with wonder and longing."
Mark Gleason was born in 1962 in Greenwich Connecticut. In 1984, he moved to New York to earn his Bachelor of Fine Arts in Studio Arts from Syracuse University. Gleason later moved back to Connecticut where he received a Master of Science in Art Education from the University of Bridgeport in 1989. Gleason has shown his work all over the world with galleries such as Gallery LeLe in Tokyo, Japan, Pence Gallery in Davis, CA, Storpunkt Gallery in Munich, Germany, and Mondo Bizzarro Gallery in Rome, Italy. Mark Gleason now lives and works in San Mateo, CA.
Mark Whiting is a native of the Great Lake State and a three-time Annie Award-nominated Art Director. He was the production designer of Warner Brothers' classic film, "The Iron Giant." Whiting has had an eclectic creative career, from writing, directing, and producing the award-winning film "Apple Jack" to being the original inspiration for the lifestyle brand Shinola, Detroit. His work has appeared around the world including MoMA in New York, NY.
More info and images coming soon.
Contact Gallery Director Matthew Gardocki for purchase info:
info@laluzdejesus.com
(323)666-7667
----------------
La Luz de Jesus Gallery is pleased to present a solo exhibition by artist Chris Uphues on view from September 4 – 26, 2021. Reception is Sep 4, 2021
Plain and simple, Chris Uphues is a serial optimist and wants to share his love and happiness with you. Inspired by nostalgic consumerist 1970s flower imagery, hearts, and the smiley face, Uphues renders intricately patterned ink and watercolor works on paper that include a multitude of mini-narratives when given a closer look. Whether it's a bottle of toothpaste smiling at a pyramid wearing a pyramid hat, or a smiling baseball traveling out of hearts and flowers, flying high alongside some airplanes, these absurdly cheerful, chirpy anecdotes offer a break from the stresses of everyday life. Uphues reminds you that happiness is a basic human right, and we all have the ability to turn our frowns upside down.
Uphues has been spreading his message for over a decade– creating large and small-scale works with his better half and their company, Better Days for clients such as Big Bud Press, Dark Matter Coffee, Dr. Martens, SOHO House, Mowgli, and General Mills. His murals can be seen throughout Chicago and Los Angeles.
The artist received a Bachelor of Fine Arts, The School of the Art Institute of Chicago in 1994 and has been included in many solo and group exhibitions in the Museum of Contemporary Chicago (solo), Brooklyn, New York, Los Angeles, and Hamburg.⁠
More info and images coming soon.
Contact Gallery Director Matthew Gardocki for purchase info:
info@laluzdejesus.com
(323)666-7667