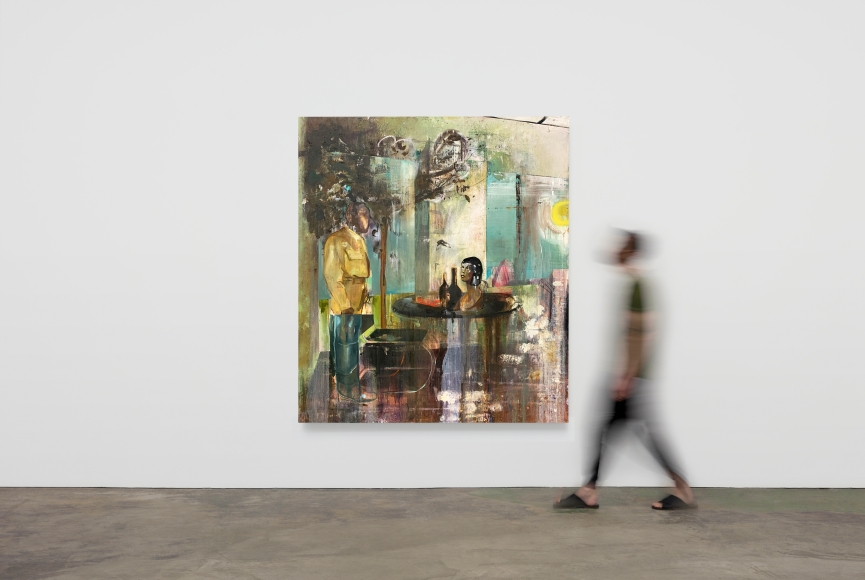 Devin B. Johnson: My Heart Cries, I Set Out an Offering for You
👀
1700 S Santa Fe Avenue, #160, Los Angeles 90021
Sep 04, 4 PM - 7 PM — ends Oct 16, 2021
Devin B. Johnson: My Heart Cries, I Set Out an Offering for You
Los Angeles • Opens September 4, 4-7pm
September 4 – October 16, 2021

Devin B. Johnson left New York for what was supposed to be a six-week residency at Kehinde Wiley's Black Rock, Senegal in February, 2020 under an umbrella of the status quo. Though there were whispers of a virus ravaging the East, it felt foreign, far away, and American politicians and their supportive media ecosystems have a penchant for saber-rattling and fear mongering, anyway. He had his paint supplies. He was excited to set foot in Africa for the first time, to walk barefoot on its beaches, to acclimate to life beneath the equator.

Then came the pandemic. Then the travel restrictions. Then the global awareness of George Floyd, Breonna Taylor, Ahmaud Arbery, and the countless others Johnson could only read about from several time zones away. Six weeks became twelve weeks of cancelled flights and news of devastation back home. Twelve weeks became five months, after which Johnson and his Black Rock colleagues were finally able to board a government-chartered jet home. But home didn't feel like home anymore. Home was boarded-up with plywood, vandalized, and overgrown. His own skin felt different, too. Everything felt different; everything felt abstract.

To readjust, Johnson underwent a seismic realignment of self. Inspired by Torkwase Dyson, Cullen Washington Jr, and the Dada movement's walkabouts, he sought to find his way underneath Black compositional thought, underneath the skin, to delve beyond representational articulations of memory and experience and render them haptically. He no longer wanted to paint bodies, he wanted to paint souls interacting in liminal spaces, to capture and amplify their spirit and energy. He no longer saw his body as skin and bone, but as a transitional vessel to temporarily house experience, with a certainty of change. The texture on his canvases became almost sculptural, and he began to incorporate ceramics and mediums from happy times, like ash from blunts.

Within My Heart Cries, I Set out an Offering for You, Johnson's third solo exhibition with Nicodim, forms are repeated and approached from alternate angles and varying scales until they mimic the reconstruction and reevaluation of remembrance and how he understands it. There is a graciousness in his range of composition and the way he presents them "tight, loose, and in-between." Johnson does not meet these bleak times with despair, this body of work is an offering of gratitude.

Devin B. Johnson (b. 1992, Los Angeles) obtained his BA in Fine Arts from the California State University of Channel Islands (2015) and received a Masters of Fine Arts at Pratt Institute (2019). He was one of sixteen artists from around the world selected for the inaugural year of the Black Rock Senegal residency, and was featured in the Northeast and MFA issue of New American Paintings (2019), and included in Cultured's "Young Artists 2021." Recent exhibitions include Long Walk, Galeria Nicodim, Bucharest (2021, solo); Melody of a Memory, Nicodim Gallery, Los Angeles (2020, solo); When You Waked Up the Buffalo, Nicodim Gallery, Los Angeles (2020); Hollywood Babylon: A Re-Inauguration of the Pleasure Dome, Jeffrey Deitch, Nicodim Gallery, AUTRE Magazine, Los Angeles (2020); Atmosphere of Certain Uncertainty, Residency Gallery, Inglewood (2019, solo); and Incognito, ICA LA, Los Angeles (2019).