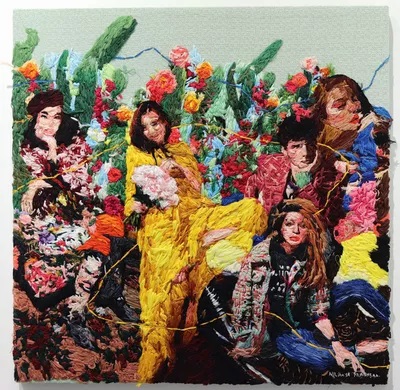 Portrait of Texture
7358 Beverly Blvd. Los Angeles, CA 90036
Sep 04, 10 AM - 6 PM — ends Oct 01, 2021
Kicking off the Fall season, our newest exhibition, "Portrait Of Texture" seeks to display how surface and material might transcend moments. Fusing these elements together, our featured artists tell a story about social status, intimacy, and domesticity.

Our human relationship with visual textures that exist in everyday life is complex and alluring. Whether it appears extremely tactile or a smooth subtlety, it establishes a relationship with the viewer and tempts them to break the rule of "do not touch the art"

One of Iqi Qoror's greatest strengths is his distinctive multi-media surrealism. Qoror's combination of different media merges not only different art practices such as painting and embroidery, but past and present as well. The combination of modern expressionistic style with pops of color render his artwork unforgettably visceral.

Italian painter Giuseppe Beddru has distinguished himself in contributing conceptual insight to the course of contemporary art by embracing experimentation of non-traditional materials, such as thick superposed Plexiglass panels. Many of Beddru's multi-media paintings include the visual motifs of classical Greek bas-relief sculpture flattened within the confines of Plexiglass.

Inspired by contemporary fashion, Nilraya Bundasak's colorful textile paintings celebrate adornment and individuality through the application of fabric and embroidery to canvas. Inspired by the beauty and uniqueness that fashion offers, as well as the emotional dynamism of femininity, she creates large scale works resplendent with bright luxurious fabrics and detailed stitching.