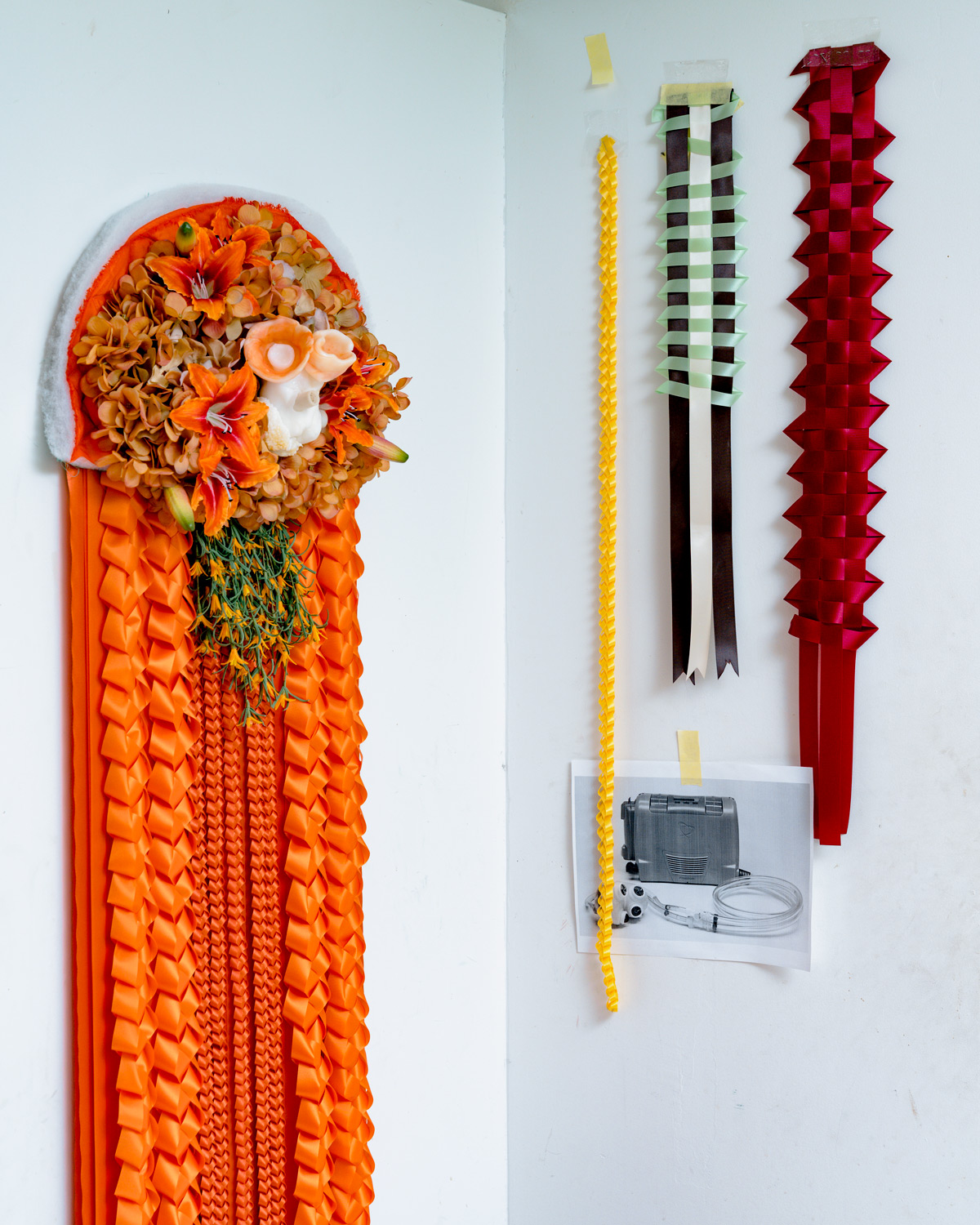 Wentrcek Zebulon: HOG TRAP
1545 West Sunset Blvd, Los Angeles, CA 90026
Sep 11, 5 PM - 8 PM — ends Oct 31, 2021
Marta is elated to host HOG TRAP, the first Los Angeles exhibition by New York-based artists Kristen Wentrcek and Andrew Zebulon, opening to the public on September 11 at Marta's Echo Park space, and on view through Halloween, October 31, 2021.

For HOG TRAP, Wentrcek and Zebulon tilt an instinctual focus and curiosity toward nostalgia and pageantry in regional traditions of the American South through seven wall-hanging sculptures resembling Homecoming mums: trophy-like floral wearables popularized in the early 20th century and used to commemorate Homecoming celebrations. Characteristics of these temporal objects are grafted into and onto works that scrutinize the preciousness and ephemerality of these obsessionally-crafted tokens. When lifted from their one-time use, these new forms teeter between macabre roadside memorial and inflated martial regalia . At each sculpture's center rests an artificial organ-like form, as if what has been won is the corporeal remnant itself, cushioned in excessive pattern and ornament.

These reconceptualized mums are displayed alongside still photographs from remote video cameras or 'game cams', used for surveillance by ranchers and hunters as a means of tracking pests, livestock, and predators. The notably sparse photographs and dearth of activity 'captured' within diverges from the excessive composition of the mums and their prized organs, lionizing otherwise unexceptional time-stamps.

These elements in concert, HOG TRAP builds upon the artists' ongoing investment in materials and ephemera kindred to America(na). Wentrcek and Zebulon's intuitive approach leads to new bodies of work hinging the mundane with the garish, insignificance with celebration, and surveillance with ceremony. They are works that remind one of the frantic attempts to memorialize or suspend moments in time.

Kristen Wentrcek (b. 1984, El Paso, TX) and Andrew Zebulon (b. 1984, San Diego, CA) are multidisciplinary artists based in New York City. Their work is wrought from an embrace of unlikely materials and reimagined craft and manufacturing processes. Recent work has been shown at Friedman Benda, and presented at NADA × Foreland by Larrie, where their inaugural solo exhibition, 'Crawl Space', opened in February 2021.