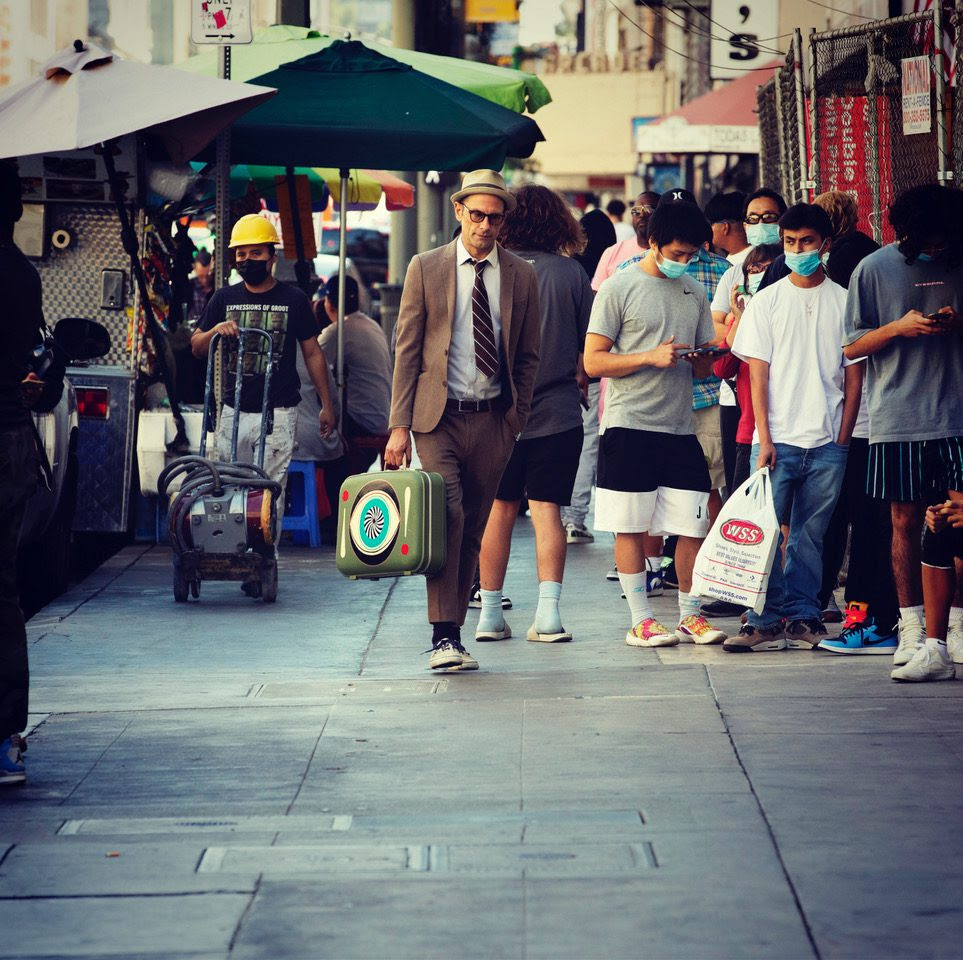 Aaron Rose: Suitcase City
👀
1024 N. Western Avenue Los Angeles, CA 90029
Sep 10, 12 PM - 6 PM — ends Oct 23, 2021
The Lodge is beyond thrilled for the opening of Aaron Rose's - Suitcase City this Friday 10th September - opening reception 7-9PM.
With special performance by Pacoima Techno.
We ask that you wear a face mask for COVID- 19 safety.
Suitcase City will be on exhibition until 23rd October.
✈
The Lodge is extremely delighted to be presenting Suitcase City. A long awaited solo exhibition by Aaron Rose in Los Angeles, California. On view from 10th September - 23rd October, 2021
Schedule a viewing appointment:
www.thelodge.la/
As with his previous work, symbols and iconography take centerstage, rooted in the tenets of sacred geometry. Influenced by recent travels in Taos, New Mexico and further South to Mexico City.
The contrast between ancient and ritualistic symbolism with meanings seemingly lost to time and the modern nature of his chosen surface to paint them on, suitcases, ask the viewer where they might have recently been, seen or what they heard. Be it either in the realm of dreams and fantasy or in an era of Covid free international travel.
Aaron's city is Los Angeles, the land of dreams and broken hearts. The land of celebrity and facade. Confused symbols whispering a secret language.
"Life is nothing more than a dictionary of symbols: We look for them everywhere to help us make sense of our existence. From the mundane to the mystical, symbols are totems that give order to the chaos and also help define ourselves as a tribe."
-Aaron Rose
From his very first works, symbology has played a major role within his oeuvre. However, rather than using them for their intended purpose, Aaron always preferred to decontextualise meanings in unexpected ways - creating abstract visuals composed of images invented and culled from the annals of visual history.
"Though I work in many mediums, the written word, curation, photography and film, I primarily consider myself a painter. I have always found an inherent beauty in things that society has discarded and thus began painting disused suitcases, guitars, lamps, chairs and other objects because in fact, to me, the use of canvas has always seemed a somewhat pretentious gesture. I love depth and the dimensionality of things, which is why I call my works "object paintings". The various angles and sides of an object reflect the numerous views and perspectives of life. All work in tandem to create the masterpiece that is existence. These works are all very personal to me, they illustrate my highest ideals and illuminate the darkest areas of my soul. Each piece contains a very specific narrative. There are sometimes mistakes, but no accidents. At times my works may seem masked behind a façade of filigree. The messages are in fact quite direct stories of man's search for his soul, the eternal re-definition of character, and a constant search for love."
Aaron Rose (born 1969 Portland, Oregon) currently lives and works in Los Angeles. He is well known as one of the cornerstones of the modern urban art movement. For ten years he was owner/director of the Alleged Gallery in New York. From 2006 – 2009 Rose co-curated the museum exhibition Beautiful Losers: Contemporary Art & Street Culture. As a film maker Aaron has directed the feature documentary film Beautiful Losers (Arthouse Films/Oscilloscope) as well as numerous music videos and commercials. In 2011 he co-curated (with Roger Gastman and Jeffrey Deitch) a large-scale exhibition titled Art In The Streets, which opened to record crowds at the Los Angeles Museum of Contemporary Art (MoCA). Rose is represented as a director by the Los Angeles production company, The Directors Bureau - along side Wes Anderson, Sofia Coppola, Nash Edgerton and Melodie McDaniel. His publishing imprint, Alleged Press releases hardcover books by contemporary artists including Ari Marcopoulos, Ed Templeton, Mike Mills, Barry McGee and Chris Johanson. Aaron is co-editor of ANP Quarterly, an arts and culture magazine published by skate/surf brand RVCA. And as the founder of Make Something!! a nationwide art education program for teens which partners world-renowned creative personalities with young aspiring artists to make their own journey visible.