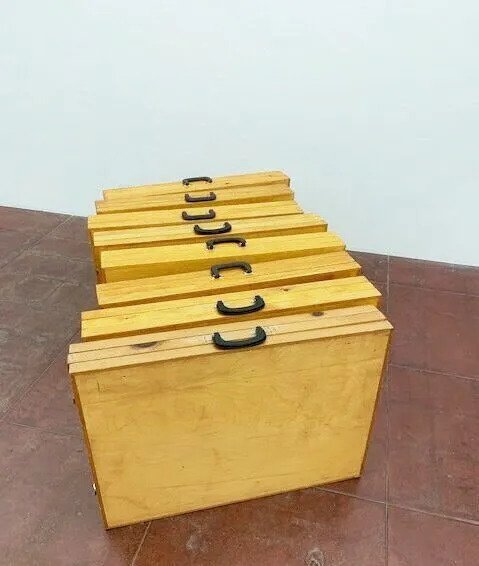 Merwin Belin: Condensed
1117 Venice Boulvard, Los Angeles 90015
Sep 11, 11 AM - 6 PM — ends Oct 23, 2021
Merwin Belin: Condensed

September 11, 2021 - October 23, 2021
Artist's Reception September 11, 2:00pm - 5:00pm

For his second show at as-is.la, veteran Los Angeles artist Merwin Belin returns to the themes, materials and procedures that have occupied him throughout his career. This time Belin has collected four years worth of news stories documenting the administration of President Donald Trump—January 2017 to January 2021–taken from three of the surviving giants of print journalism—the New York Times, Los Angeles Times and Wall Street Journal—and then, with scissors and glue, he has extracted, condensed and reformatted this historic narrative, fitting it into eight wooden sample cases of the sort once favored by door-to-door salesmen. Splayed open for reading, the carrying cases make a distinctive sculptural statement on the gallery floor even as their construction is little more than adequate for the job. Likewise the collaged contents which are neatly, if, indifferently applied. What then is the appeal of this system? Portability and ease of presentation, to be sure. But at a moment when even the priciest art is sometimes fated for long periods of storage, hidden away from human eyes, Belin's eight carrying cases—loaded as they are with grim reminders of our recent past—provocatively anticipate, perhaps even invite, that future.