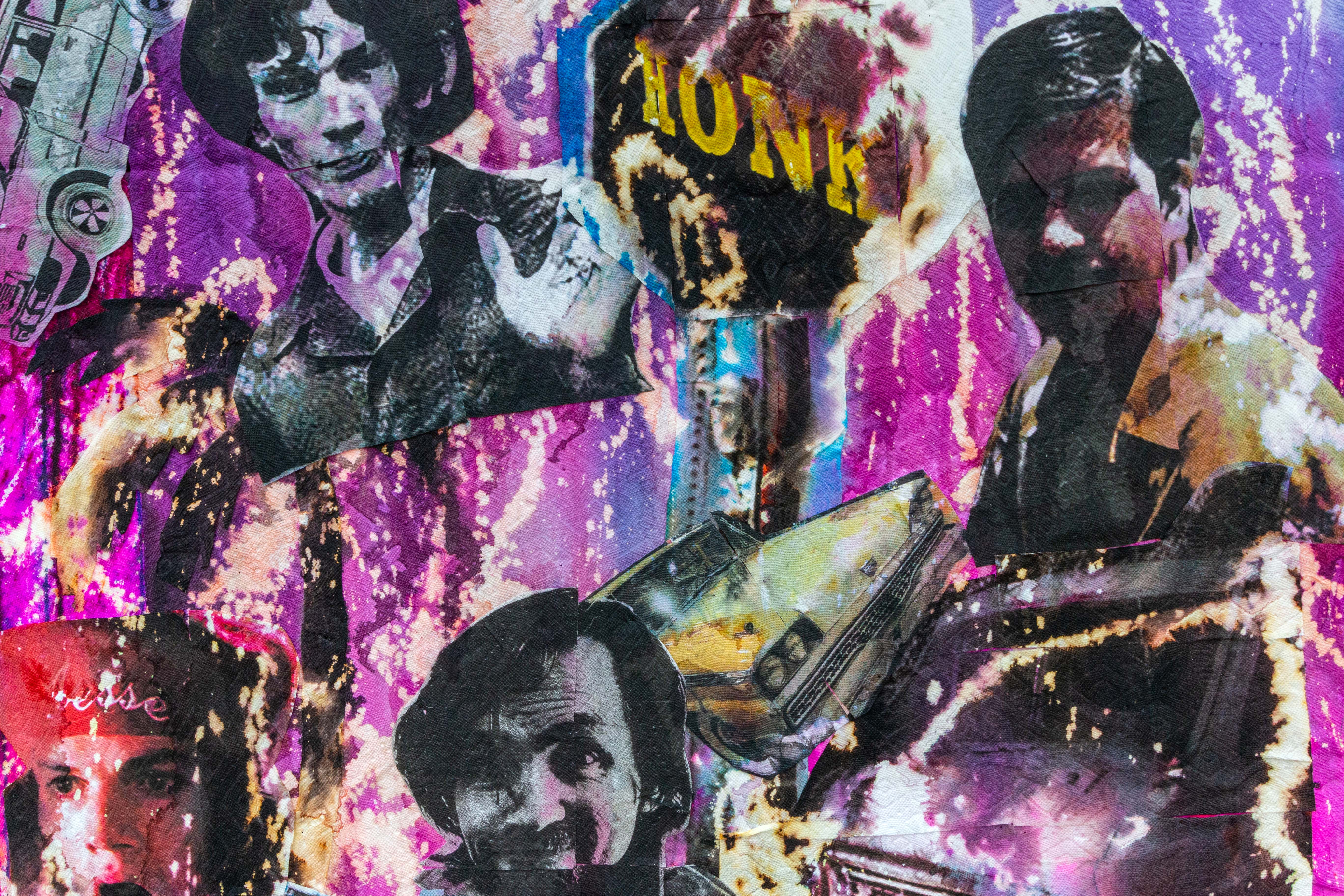 Monsieur Zohore: La Revenant | Michael St. John: The Passions
3311 East Pico Blvd, Los Angeles, CA
Sep 18, 5 PM - 10 PM — ends Nov 06, 2021
MONSIEUR ZOHORE: LA REVENANT
September 18 – November 6, 2021

Opening Reception: Saturday, September 18 (5-10PM)
Performance (6-8PM)

(Los Angeles, CA) de boer gallery is pleased to announce Le Revenant, a new exhibition by New York and Richmond based artist Monsieur Zohore. Utilizing all of the touchstones of Zohore's oeuvre, including painting, installation, performance, and video Le Revenant centers itself around the ideas of a return, revisition, and re-examination. Connecting the alluding concepts and figures of Hollywood within art history, Zohore examines the socio political and economic inequities present within both systems.

Un Revenant en français translates to "one that returns after death," the term is the present participle conjugation of verb revenir, "to return," like a ghost. It is also the title of the 2015 film that finally garnered Hollywood darling Leonardo DiCaprio his Academy Award who is depicted in Zohore's painting The Nine Leo's, 2021. In another painting, titled Dude, Where's My Car?, 2021, Zohore depicts images of Richard Ramirez, William Bonin, and Charles Manson and the cars they used to abduct their victims alongside Ashton Kutcher and Sean William Scott who played characters in the 2000 film of the same name. Set on a colorful background with palm trees and the famous Hollywood street signs that are also titles of famous films; Mullholand Dr. and Sunset Blvd., Kutcher and Scott are in a state of disbelief. Here, Zohore converges stardom or infamy with the idea of something, or someone missing.

Zohore's paper towel paintings embrace the materials used in domestic quotidian labor. Conflating domestic labor and art production. Printing and inking the paper towels and then physically and metaphorically removing color with bleach and affixes them to canvas with an archival, acid free and PH neutral sealant. The result is one that transforms the disposable material into something unmistakable and everlasting.

The theme of transfiguration continues in Le Revenant as Zohore reimagines the traditional gallery space in one room as a theater. In another space, an installation realized with his long-time collaborator New York based composer Joshua Coyne entitled Untitled (It's an Honor Just to be Nominated), 2021 consists of a red carpet that either laughs or applauds as it is activated by a viewer. This installation is paired with a performance entitled MZ.05 (Grâce), 2021 where-in a group of performers stand along the red carpeted steps at the entrance of the gallery, and applaud throughout the duration of the opening reception.

The video work included in the exhibition MZ.21 (Le Pirate), 2021 is a bootleg recording of a current movie in theaters that is visually and solely focused on a ghost that has gone to see the film. The ghost is shown laughing, crying, cheering, screaming, and eating popcorn while the audio from the film continues to clue the viewer into possible reasons for these reactions. MZ.21 (Le Pirate), 2021 is presented in it's own room of the gallery surrounded by furniture covered in sheets, and Untitled (Concession), 2021 a popcorn machine with unlimited popcorn also covered in a sheet similar to the one Zohore dons in the performance. Zohore effectively re-introduces the gallery to its audience as a new entity, one whose Lynchien effect is immediately familiar yet unsettingling.

In the wake of constant violence and loss in our communities, Zohore will debut a new research-based performance called Clock the Spook, that allows him to explore the horrors of both past and present. Within a historical context of artists such as Andrien Piper, Lorraine O'Grady, and Sharon Hayes who have worked under similar conditions, Zohore will disguise himself in a ghost costume to protect his body. Poetically transforming his queer black body into one that can move freely about space in disguise, this provocative work, asks the audience to confront truths about themselves and the society they live in.

A catalog will be published in conjunction with the exhibition.

ABOUT MONSIEUR ZOHORE
Monsieur Zohore is an Ivorian-American artist based in New York and Virginia. Through performance, sculpture, installation and theater, his practices explore queer histories alongside his Ivorian-American heritage through a multi-faceted lens of humor, economics, art history, and labor. Zohore has had solo and two person exhibitions in 2021 at; Springsteen, Baltimore, MD and Jack Barrett Gallery, New York, NY. Group shows include; New Release Gallery, New York, NY; One Trick Pony, Los Angeles, CA, 56 Henry, New York, NY; Canada Gallery, New York, NY; and The Baltimore Museum of Art, Baltimore, MD. Zohore will have a solo exhibition at de boer, Los Angeles in September 2021. His work has also been exhibited at Spurs Gallery Beijing, Galleria Bianconi Sito, Milan, Italy; Springsteen, Baltimore; Ethan Cohan, NY; Palo Gallery, NY: New Release Gallery, NY;, 56 Henry NY;, Canada Gallery NY;, and Jack Barrett Gallery NY;, also been invited to show at The Baltimore Museum of Art (Baltimore), Washington Projects for the Arts, and at The Columbus Museum of Art. In 2021, Zohore will present a site specific sculpture for Socrates Sculpture Park, NY. Zohore received his BFA from the Cooper Union and his MFA from the Maryland Institute College of Art. Zohore is the 2020 recipient of the WPA and Warhol Foundation Wherewithal Research Grant, as well as a 2021 Socrates Artist Fellowship.

- - - - - - - - - - - - - - - - - - - - - - - - - - - - - - - - - - - - - - - - - - - - - -
MICHAEL ST. JOHN: THE PASSIONS
with special guest Mark Verabioff

September 18 – November 6, 2021


Opening Reception: Saturday, September 18 (5-10PM)

(Los Angeles, CA) de boer gallery is pleased to announce a solo exhibition of new paintings by Michael St. John entitled The Passions. These paintings find their source imagery from identities of selected filmic characters and are all painted in grisaille⸺a method of painting in monochromatic grayscale. Focusing on the slippage that can occur between actors and their characters, St. John's portraits are predicated on the ever-so-slight prick or break in an otherwise seamless image. A catalog, with an essay by art historian Robert Hobbs will accompany the exhibition.

St. John's The Passions are inspired by Charles Le Brun's engravings of expressive heads, which illuminated ideas articulated in his 1668 lecture "Conférence sur l'expression générale et particulière" which aimed to represent human emotions nobly. In St. John's paintings, he confronts the subject of mass-media figures in his painted portraits in order to reveal breaks in their cinematic facades, disclosing hints of a more profound reality.

In one painting, St. John finds Gwyneth Paltrow's Margot Tenenbaum (from The Royal Tenenbaums) particularly evocative because of her ability to switch roles from performer to observer. Thus, his portrait depicts a fictional character, who also serves as a surrogate viewer. In The Passions, St. John has generated conditions for punctum by amplifying the number of roles some of his sitters have undertaken.

More straightforward, is a painting of the business card of Patrick Bateman, the superficial rich yuppie investment banker in American Psycho. St. John's predilection for metonymic connections is playfully implemented in works that also reference familiar art world tactics. St. John's painting of Gloria Wandrous's lipstick-written message "No Sale" in BUtterfield 8 can be construed ironically to refer to both this character, who ultimately sells herself, and St. John's continued use of the text in paintings over the past decade.

Painted at times in sharp photorealistic detail, along with pronounced brushwork, sometimes within the same work allows each painting an overarching abstractness and for the portraits to differ significantly, creating tension and distance. Removed from fandom's slavish idolization of fictionalized personalities, the work serves as the basis for layered meanings in which extrinsic facts either work in tandem with the fictive character he is portraying or to challenge it.

The main entrance of the exhibition will include a text-based floor installation by Mark Verabioff, titled, ANOTHER SUNNY&SINISTER 89 DEGREES IN LA, 2021.

ABOUT MICHAEL ST. JOHN
Michael St. John's work conveys a sustained commitment to observing and re-presenting experiences of the everyday. Confronting the failed promise of the American Dream and the divide between fame and anonymity, St. John gathers source materials by casting an inclusive and penetrating gaze on the world through which he moves. Underlying this recalibration of the growing circuit of visual information is an insightful and rigorous formal practice informed by Rauschenberg, Warhol, Ashcan School artists, and 19th-century American trompe l'oeil painting. With a dedication to recognize and commemorate the time we live in, St. John's work reflects on notions of violence, tragedy, narcissism, racism, and indifference, drawing stimulating connections that kindle new and compassionate perspectives on contemporary culture.

St. John has shown his work extensively over the past thirty years in museums, alternative spaces and galleries throughout the United States. He has presented solo exhibitions at de boer, Los Angeles, CA; Andrea Rosen Gallery New York, NY; team (gallery, inc.), New York, NY; Karma, New York, NY; Edward Cella, Los Angeles, CA; Ashes/Ashes, New York, NY; and Marvelli Gallery, New York, NY. Group exhibitions include Marlborough Contemporary, New York, NY; CCS Bard/Hessel Museum of Art, Annandale-on-Hudson, NY; The Rubell Family Collection/Contemporary Arts Foundation, Miami, FL; Tang Teaching Museum at Skidmore College, Saratoga Springs, NY; Rental Gallery, New York, NY; Greene Naftali, New York, NY; Weatherspoon Art Museum, Greensboro, NC; and Andrew Kreps Gallery, New York, NY. His work has been featured in The New York Times, Artnet, Art in America, Artnews, BOMB Magazine, W Magazine, and Cultured Magazine. St. John's paintings are held in numerous public collections, including The Rubell Family Collection, Weatherspoon Art Museum, MIT List Visual Arts Center, The Tang Teaching Museum, and the Zabludowicz Collection.

ABOUT ROBERT HOBBS
Author of over 50 books and major catalogues, Robert Hobbs specializes in twentieth- and twenty-first century art. He has served as associate professor of art history at Cornell University, long-term visiting professor at Yale University, and has held the Rhoda Thalhimer Endowed Chair of American Art at Virginia Commonwealth University. He was appointed U.S. Commissioner for the Venice Biennale for his exhibition "Robert Smithson, Sculpture," which had previously been shown at the Whitney Museum of American Art, and for the Sao Paulo Biennale where he curated Kara Walker: Slavery! Slavery!

ABOUT MARK VERABIOFF
Mark Verabioff was born in Kingston, Canada in 1963. He has been living and working in Los Angeles since 2001. Prior to his move to Los Angeles, Verabioff lived in New York City where he regularly performed guerrilla art actions and screened single-channel videotapes in museums and not-for-profits throughout the city. He was featured in the 2016 iteration of the Hammer Museum's Biennial exhibition: Made In L.A.: a, the, though, only. In addition to this, Verabioff has had solo exhibitions at team (gallery, inc.) New York, NY; M. LeBlanc, Chicago, IL; Art Cologne, Cologne, DE; Private Places, Portland, OR; 356 S. Mission Rd., Los Angeles, CA; and Night Gallery, Los Angeles, CA. His performances and work have also been included in exhibitions at O-Town House, Los Angeles, CA; ASHES/ASHES, New York, NY; Fierman Gallery, New York, NY; epoch.gallery ; Wil Aballe Art Projects, Vancouver, BC; François Ghebaly Gallery, Los Angeles, CA; The New Museum, New York, NY; J. Paul Getty Museum, Los Angeles, CA; Artists Space, New York, NY; and The Kitchen, NY. His work is included in the public collections of the Hammer Museum, The Oakland Museum of California, Eileen Harris Norton Foundation, LUX Collection (London, UK), Moderna Galerija, Museum of Modern Art (Slovenia), and Centre for Art Tapes (Canada), among others.