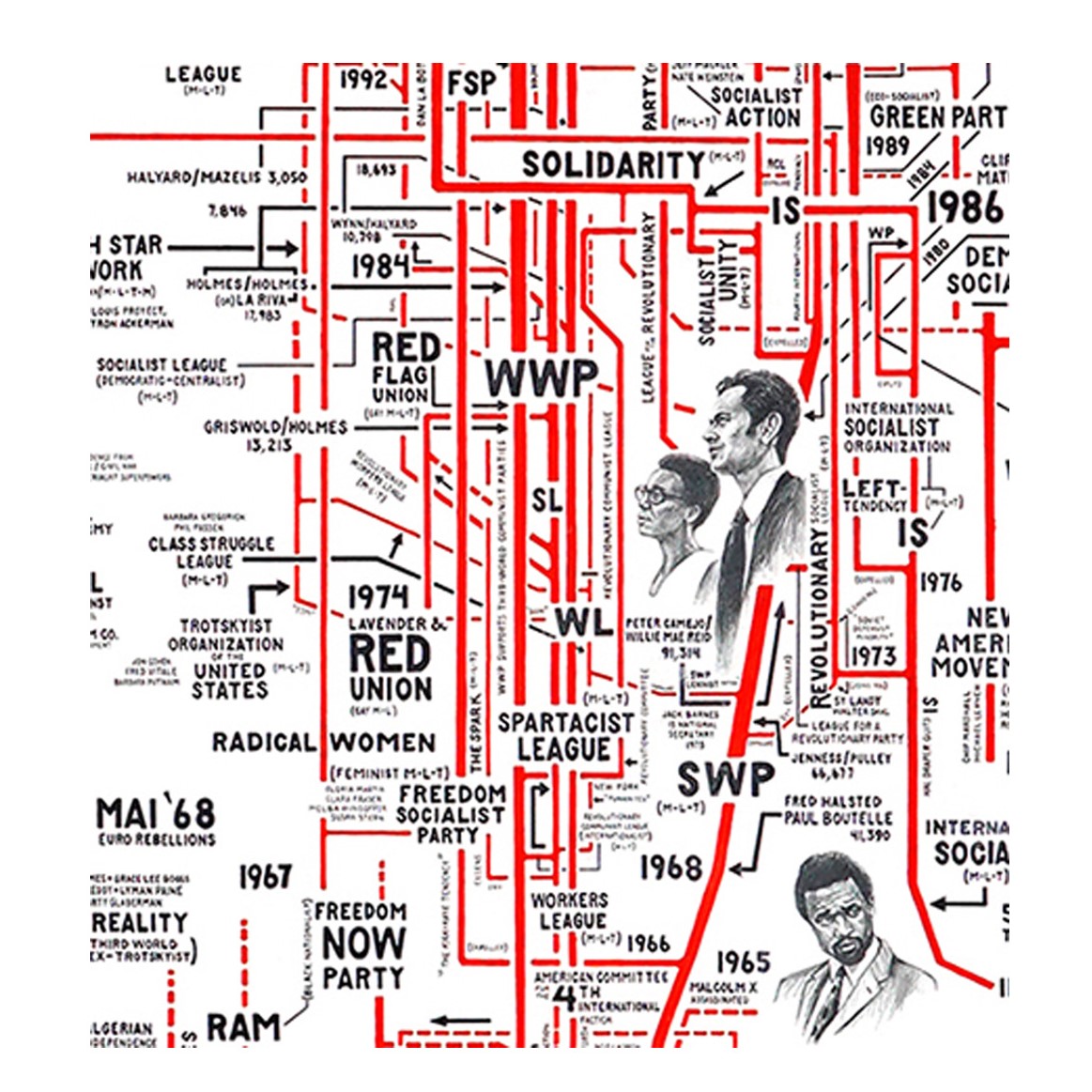 Keith Walsh: All Good Pictures Are About The Future
3209 W Washington Blvd Los Angeles CA 90019
Sep 18, 4 PM - 7 PM — ends Oct 16, 2021
Walsh's art is based on extensive research of the intertwined histories of liberation struggles and socialist activism, as it relates to the United States and Los Angeles. These marginalized histories, which are often discussed separately, are united in this exhibition through Walsh's synthesis of the material, creating one of a kind hand-drawn maps, inventories of political groups, graphic interpolations with historical political ephemera and documents, activist portraiture, optical aphorisms, and future-oriented iconography.

Political influences--whether historical, theoretical, or aesthetic—are fused into dynamic relation through Walsh's drawings. Linkages of revolutionary culture: past, present, and future are fused as well, forging a new paradigm of political art.

Walsh's labor intensive hand drawn artworks provide a rich historic context and foster a dialogue about America's socialist legacies within the contemporary context, a resurgent American political left, and the role of individual art production within the field of activism.

Keith Walsh is a recipient of a Cultural Trailblazer 2021- 2022 award by the City of Los Angeles Department of Cultural Affairs. His work is also currently included in the exhibition Angela Davis: Seize the Time at the Zimmerli Museum at Rutgers University. He has recently exhibited at the Dallas Biennial 2020, PRJCTLA, Kleefeld Art Museum, Long Beach, Los Angeles Municipal Gallery, Long Beach City College, Golden West College, Huntington Beach, South Los Angeles Contemporary, Gregory Escalante Gallery, and CB1 Gallery.

Walsh's work has been featured in Artforum, Artsy, Art and Cake, Artillery, Artweek, Hyperallergic, The LA Times, the LA Weekly, and Visual Art Source, among others.