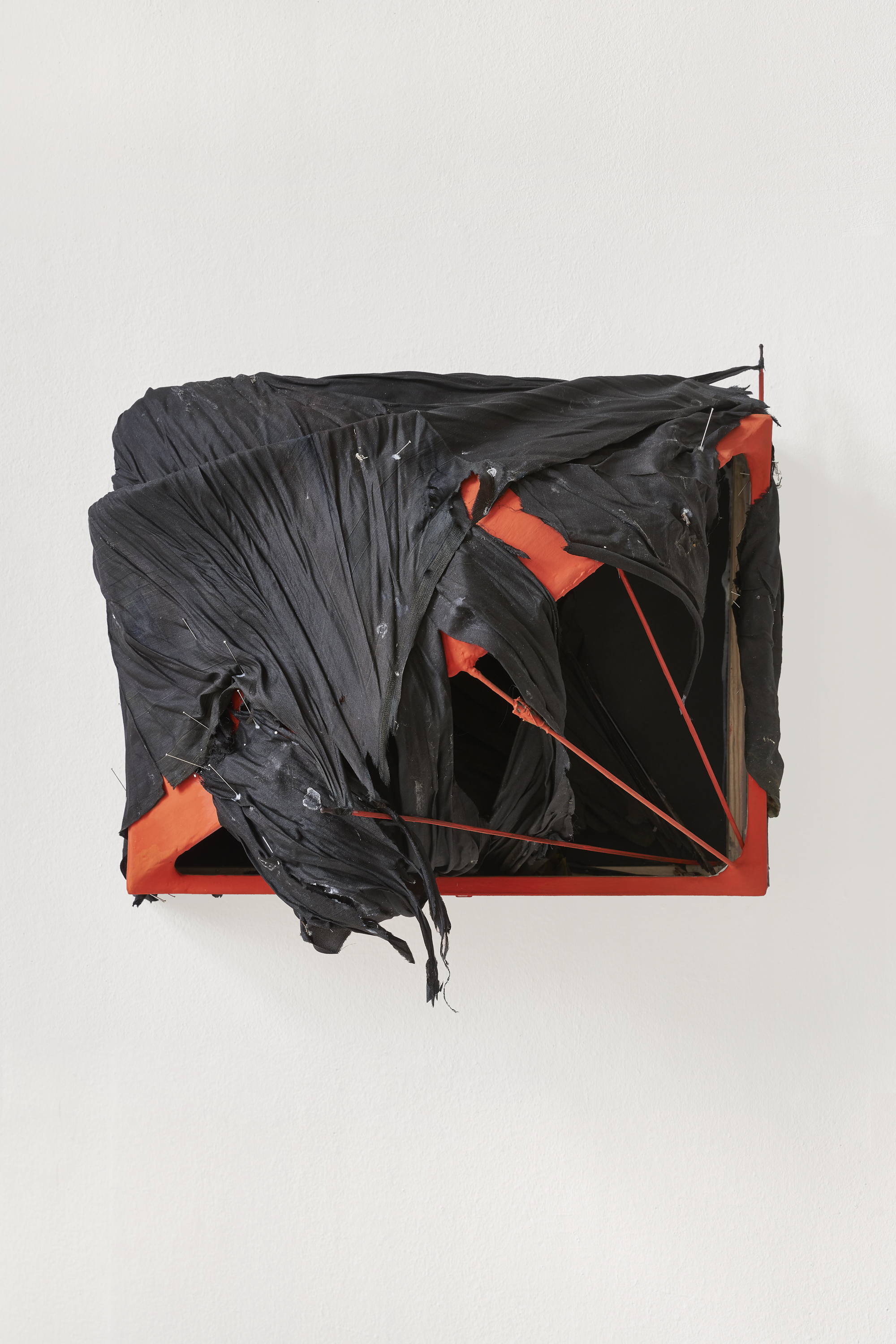 Clémence de La Tour du Pin: In Shade
1828 W Sunset Blvd. Los Angeles, CA 90026
Sep 25, 7 PM - 10 PM — ends Oct 30, 2021
SMART OBJECTS is delighted to present In Shade, a solo exhibition of new work by Paris-based artist Clémence de La Tour du Pin.

9.25 – 10.30 ~ Opening 9.25 from 7-10.

In Shade presents a series of works that are made using umbrellas that were found in a French countryside garden. Over years, they were exposed to varying weather conditions and became the homes to parasites. They slowly became ridden with holes and traces of dirt.

An umbrella is a folding canopy supported by wooden or metal ribs and usually mounted on a pole. Here, the umbrellas have been dismantled and stabilised in their positions on a concave cardboard form. These are presented in liminal positions and appear inverted from their functional states; neither open nor closed. The textile's graphic patterns seem to address geometric abstraction, even so this is countered by their washed-out tones and degraded condition. The organic quality takes over.

In other works from the exhibition, the umbrella's ribs have been used to create a domed sphere. From these, there are cardboard elements painted with an orange color suggestive of street signs. However there is no clear information legible, rather emptiness is framed. By restricting access to specified data, the subjects instead become intertwined in the roles of the grounds or supports.

A print on one canopy depicts seductive lips, hearts, and the handwritten word "Paris". These clichés promote a spoiled but constructed vision of an ever more generic experience, causing the void between the image and the reality to swell.

~

Clémence de La Tour du Pin (born in 1986, France) lives and works between Paris. Recent solo exhibitions include Femtensesse, Oslo (2021); 15 Orient at Balice hertling, Paris (2020) and 1857, Oslo (2017). Group exhibitions include Group exhibitions include Hagiwara Projects, Tokyo (2021), L'Inconnue, New York (2021); Centre d'art contemporain - la synagogue de Delme, France (2019); Centre d'Art Neuchâtel, Switzerland (2019); Dortmunder Kunstverein, Germany (2017); Salts, Basel (2015) and Musée d'Art Moderne de La Ville de Paris (2015). Next November, she will present Host, a screening, lecture and a performance at CAPC-Musée d'art contemporain de Bordeaux.