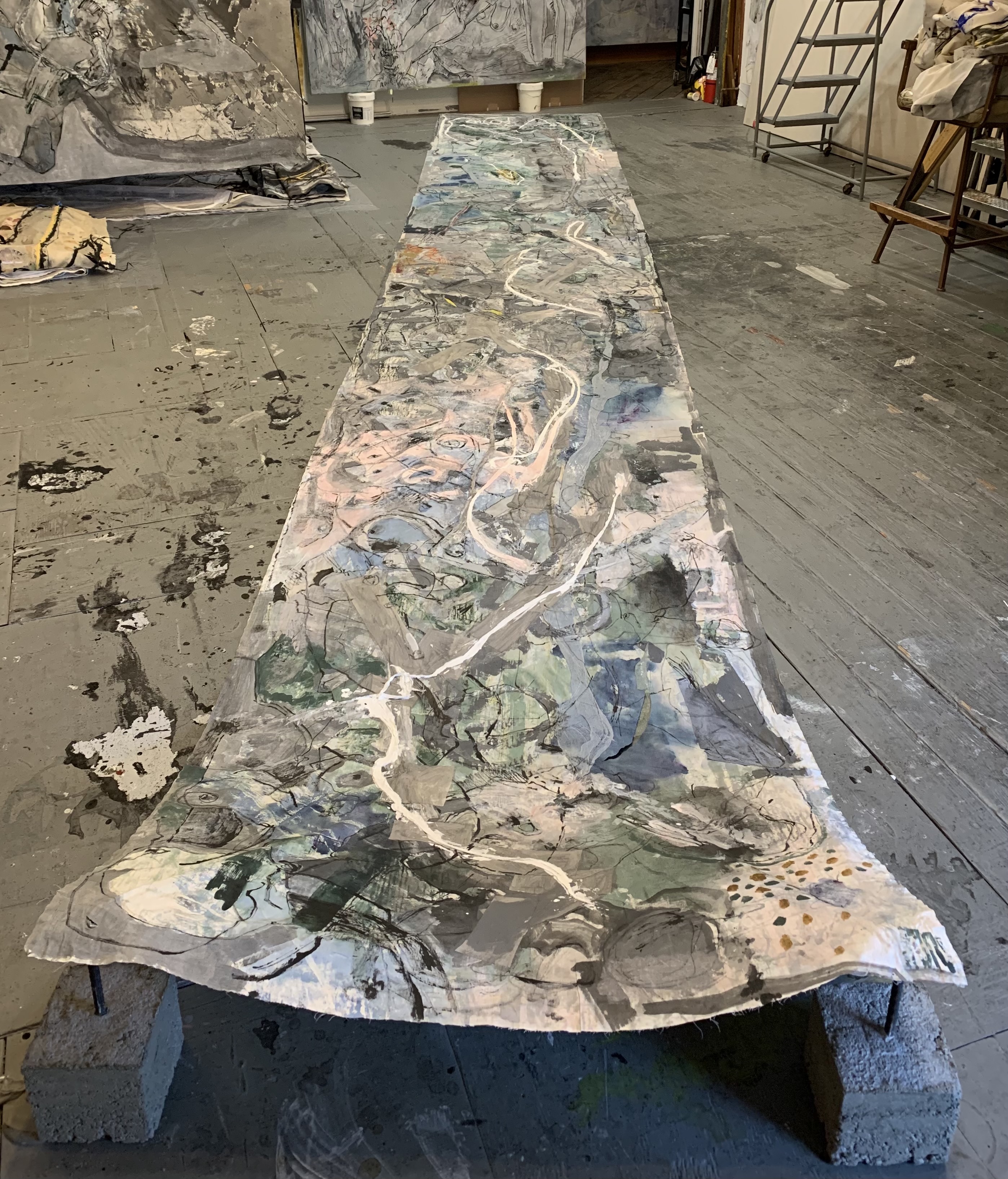 Elena Dorfman, John Emison, Josephine Wister Faure, Georgina Reskala, Iva Gueorguieva: Knot
👀
4654 West Washington Blvd. Los Angeles, CA 90016
Oct 01, 6 PM - 9 PM — ends Nov 27, 2021
"Knot" denotes a cluster of persons or things, a group, a protuberant lump or swelling in tissue.

Iva Gueorguieva's 25 ft. tapestry suspended on concrete and rebar runs the length of the gallery space splitting it in two, evoking the silhouette of a long dinner table; although the loose tapestry lacks rigidity, and a wine glass would instantly tip over and spill its nurturing contents. Gueorguieva has invited four artists: Elena Dorfman, John Emison, Josephine Wister Faure and Georgina Reskala to gather around this improbable table.

The work of this group of artists is intensely focused on physical manipulation and the disruption of surface. Through the act of interruption, the visual experience opens to the haptic, the historical and the metaphysical realms. Dorfman and Reskala crumple, prick and interfere with the photographic surface in various ways, each seeking, through intervention in materiality, evidences, echoes, whispers and glitches that marry the past with the present. Emison uses letter carving techniques to incise images in the flesh of found rocks, which are already sculpted and rounded by rivers and wind. Wister Faure pierces a wall with eyes that weep. Gueorguieva attempts to knot multiple iterations by which to visualize incomprehensible time, loss and memory. In each artist's work, an oscillation of meaning is inherent, as are the ephemeral, the receding and the unwitnessable. The collective artworks offer suggestions through method, proximity, juxtapositions, reversals and repetitions.

List of performers:

We have scheduled several performances during the 7-week course of the exhibition, providing further opportunities for shifts in focus, attention, and interpretation. With each happening the atmosphere will inevitably change, affecting the ambient qualities of the space, engendering varied and revived experiences around the works assembled in the exhibition.