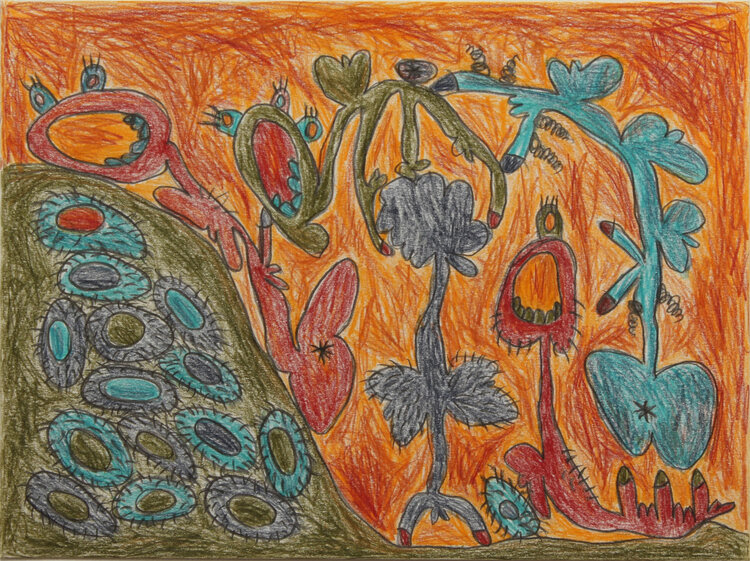 FEVER
1206 Maple AVE, 502B, Los Angeles, CA 90027
Sep 22, 12 PM - 12 PM — ends Nov 12, 2021
**PLEASE NOTE: WE ARE ONLINE ONLY FOR THIS EXHIBIT.
FEVER is now open online (scroll down to pink FEVER button to enter). For more information, please contact
info@ladiesroomla.org
or call/text 310.447.8021
WHAT: FEVER - Alison Blickle, Ari Salka, Bianca Juarez, Holly Topping, Jaqueline Cedar, Mich Miller, Nasim Hantehzadeh, Renée Gertler, Riikka Sormunen, and Sophia Allison (FEVER benefits Fund Texas Choice with 10% of all sales providing direct access to reproductive equity)
WHEN: On view at LADIES' ROOM online (exhibit runs September 22 - November 12, 2021)
WHERE:
www.ladiesroomla.org
MORE: Contact
info@ladiesroomla.org
or 310.447.8021 for more info
Click HERE for high resolution images and more information
The threshold between perfection and imperfection ruptures with the slightest misstep. With the constant working and reworking of material, an object or surface can quickly move from masterful to cluttered or precise to fussy. Yet, when intentionally bringing material to a breaking point, the overworked, the mistake, or the rupture become tools to embrace subconscious expression, to question the expectations of medium, and to examine the underbelly of formal representation. Embracing this ethos, the artists in FEVER apply obsessive and meticulous techniques while pushing up against failure, to both resist and accept it.
Referencing a form popularized during the European Renaissance and Greek antiquity, Alison Blickle's painting in tondo depicts a lover's embrace overlaid with classical vases in translucent silhouette. A complex read of gender and form emerges in the relationship between bodies to vessels, while the unnatural chartreuse skin tones hint at latent sorrows of ecstatic love. Likewise, the use of acrid color palates in Mich Miller's geometric paintings undermines an easy read of the immaculate and minimalist compositions.
With mixed media on canvas, Ari Salka's brightly rendered self-portraits engage layering to express the impossibility of a singular self-representation for their trans body and experience. Through figures overlaid and obscured, rendered whole and in parts, multifarious selves celebrate the simultaneous joys and anxieties of visioning identity. Addressing the visual assumptions of the ceramic medium, the layered surfaces of Bianca Juarez's vessels look as if they were recently excavated yet are produced in oxidation and multiple firings. Her works suggest a passing of time that has yet to occur; considering the process of history as a form of invention that is more subjective than objective.
In Holly Topping's meticulously rendered watercolors, a young woman is contraposed with figures of early human evolution, the perplexing relationship is made more unsettling through the impudent posturing of the female subject. Riikka Sormunen similarly creates intricately painted watercolors that contrast patronized images of the female form, posing her subjects with self-assured gazes that directly meet the viewer. In colored pencil, Jaqueline Cedar and Nasim Hantehzadeh construct detailed works on paper that combine thoughtful subject matter and structure to revive a medium often relegated to childhood. With repetitive and time-consuming processes, works by Renée Gertler and Sophia Allison merge organic forms with complicated adornment so that natural and quotidian objects become newly understood.
Each of the artists in FEVER have a pious obsession with surface, an organized and methodical mark making, and a fluidity between tightness and looseness that pushes against the expectations of mastery. Delineating the unattainability of perfection, the works reflect current states of uncertainty and shifting expectations. As the world has recentered itself around what previously seemed implausible, so too have these artists recentered their art and art making, embracing uncertainty to challenge their respective mediums and to find more pertinent and personal forms of expression. — Anna Garner, Mexico City
FEVER ARTISTS
ALISON BLICKLE has exhibited widely in the United States and Europe, with recent solo exhibitions at Over the Influence in Los Angeles, Kravets Wehby Gallery in New York and Five Car Garage in Los Angeles. Her work has been included in group exhibitions at MOCA Tucson, Nassau County Museum, Deitch Projects, LADIES' ROOM, New York University, The Hole, and Beers London. Blickle received an MFA from Hunter College in New York, and a BFA from California College of the Arts in San Francisco. Blickle lives and works in Los Angeles.
ARI SALKA (b. 1993 in Seattle, WA) is an LA-based artist. They hold a BFA from the School of the Art Institute of Chicago and MFA in Painting from UCLA. Salka studied at the Yale Norfolk Summer School of Art and received the Ellen Battell Stoeckel Fellowship. Recently, Salka exhibited at Torrance Art Museum, Durden and Ray, SaveArtSpace Public Art Show, QUEENS LA Gallery, and the Beacon Arts Building. Salka's publications include New American Paintings and Julie Schulte "Ari Salka: On Bodies Be(held) Trans Rights are Under Siege; This Artist Resists" Artillery Magazine.
BIANCA JUAREZ lives and works in Southern California. She studied at the Heathfield School in Ascot, Beechlawn College in Oxford, and Byam Shaw School of Art in London. Solo shows include Bourdon Hill Gallery, London, Minsky's Gallery, London, Jordan Galler, London, Sculptures at Frank Gallery, Los Angeles, and Ceramics at Flow Modern Palm Springs. Group shows include German Institute of Culture, London, Lad Lane Gallery, Dublin, Zella 9, London, Chenil Art Gallery, London, Roder Beckett Fine Art, Sheffield, Neal St. Gallery, London, Gallery 39, Manchester, Spacex Gallery, Exeter, Thumb Gallery, London, Neal St. Gallery, London, Casa Pupo Art Gallery, London, Graffitti, London, The Gallery, Palm Desert.
HOLLY TOPPING is a painter and faculty member at Orange Coast College. Topping has an MFA in Studio Art from University of California, Irvine. She has had solo shows at Orange Coast College, Angles Gallery, University of California, Irvine, and Helen Bolsky Gallery. Group exhibitions include Bass Museum of Art, Coastline Community College, Copper Mountain College, Saddleback College, Torrance Art Museum, University of California, Irvine, The Soap Factory, Pasadena City College, San Bernardino Valley College, Kansas City Art Institute, and Cerritos College. Public collections include Hammer Museum, Bass Museum of Art, The Museum of Sex, and The Norton Family Foundation.
JAQUELINE CEDAR was born in Los Angeles, CA in 1985 and currently lives and works in Brooklyn, NY. In 2009 she received an MFA in Visual Arts from Columbia University. Recent exhibitions include solo shows at Keene State College, Cat Head Press, Indiana University, Crush Curatorial, Steven Zevitas Gallery, and 106 Green Gallery. She has also been included in exhibitions at Hesse Flatow, Drawer, David Risley Gallery Velvet Ropes, Zero Zero Velvet Ropes, Underdonk, The Hole Velvet Ropes, LADIES' ROOM, and Ortega y Gasset. Press includes Huffington Post, New American Paintings, Gorky's Granddaughter, Painters' Table, and The Boston Globe. In October 2019 Cedar launched the curatorial exhibition space Good Naked Gallery.
MICH MILLER (b. 1992, New York) is a Los Angeles-based interdisciplinary who works in the mediums of painting, printmaking, design, and installations as part of their practice. Miller earned their BFA from School of the Artist institute of Chicago and recently graduated with an MFA at Yale University. In 2018 they co-founded The Print Shop LA. Miller has exhibited work in both solo and group shows at various spaces nationally, including New Image Art Gallery, RV Gallery, Neon Raspberry Art House, and All Star Press Chicago. Most recently, their work has included installations and murals for major media brands such as Pitchfork Music Festivals, Vans Skateboarding, and Facebook (through their artist-in-residence program).
NASIM HANTEHZADEH (b.1988) is an artist based in Los Angeles, CA. She studied a BA at the Art and Architecture Tehran Center University, received a BFA from the School of the Art Institute of Chicago , and an MFA from the University of California, Los Angeles. Hantehzadeh has had residencies at Skowhegan School of Painting and Sculpture, Madison, ME, and Vermont Studio Center, Johnson, VT, among others. Exhibitions include Nina Johnson Gallery Miami, FL, Shulamit Nazarian, Los Angeles, CA, The Pit, Los Angeles, CA; New Release, New York, NY Paramo Galeria, Guadalajara, Mexico, Lefebvre & Fils, Paris, France. Hantehzadeh's work has been published in the Art Maze Mag, New American Paintings, and Art & Cake. She is the recipient of Resnick Scholarship, D'Arsy Hayman scholarship, and was awarded a MacDowell fellowship.
RENÉE GERTLER holds a BFA and MFA in Sculpture from California College of Arts. She studied landscape architecture at Harvard University's Graduate Studies of Design. Her work has been exhibited at the Headlands Center for The Arts, San Francisco Arts Commission Gallery, Di Rosa Preserve, San Jose Institute of Contemporary Art, New Langton Arts, Spaces Gallery, Southern Exposure, Eleanor Harwood Gallery, Patricia Sweetow Gallery, and Romer Young Gallery. She has been awarded the Anthony and Cadogan Fellowship, a Danish Arts Council Grant and artist residencies at the John Michael Kohler Arts/ Industry program, Spaces, Cleveland Ohio, Vermont Studio Center, Pilchuck School of Glass Emerging Artists Fellowship, The Macdowell Colony and Kala Art Institute.
RIIKKA SORMUNEN (b. 1987) is a self-taught Finnish artist. She studied fashion design briefly, but dropped out to focus on painting. She has had exhibitions at DE Studio, Antwerp; Estonian Museum of Applied Art and Design, Tallin; Gumbostrand Konst & Form, Sipoo; Kosminen, Helsinki; Lokal, Helsinki; SOMArts Cultural Centre, San Francisco; Somerset House, London; Spazio Paraggi, Treviso; Think Tank Gallery, Los Angeles; and Vertical Gallery, Chicago. She is the recipient of 5 years of fine art grants from Centre Taike in Finland. She is featured in a monograph called Big Mother, published by Nobrow Press, London. She lives and works in Helsinki.
SOPHIA ALLISON (MFA, University of Wisconsin-Madison; BFA, East Carolina University; AFA Brevard College) Allison's work has been shown in exhibitions within the U.S and abroad including France, Seoul, Korea, the Palm Springs Art Fair, the San Jose Institute for Contemporary Art, Los Angeles International Airport, the Morgan Conservatory (OH), Craft Contemporary (LA) and Brevard College, NC. She is the recipient of a Pollock-Krasner Foundation grant. Allison's work has been featured in New American Paintings, Los Angeles Times, and MAKE magazine. Allison organizes and produces Parlor, a unique domestic art exhibition and event project located in domestic spaces in Los Angeles.
CLICK HERE TO VIEW FEVER:
ladiesroomla.org/fever
FEVER will be open through November 12, 2021. PLEASE CONTACT:
INFO@LADIESROOMLA.ORG
or TEXT: 310.447.8021 FOR CURATOR TOURS OR MORE INFO.
LADIES' ROOM is a tiny IRL space with a larger URL reach. All genders are welcome at LADIES' ROOM. Located in DTLA's historic Bendix Building, a nexus for artist studios, galleries, and performance spaces, we are dedicated to the research and exhibition of women and non-binary artists in Los Angeles. We encourage you to sign up on our mailing list to receive updates on our programming, and follow us on Instagram. For more information, please visit our FAQ page.
**PLEASE NOTE: WE ARE ONLINE ONLY FOR THIS EXHIBIT.
Image: Nasim Hantehzadeh, Untitled, 2019, Color pencil and graphite on paper,