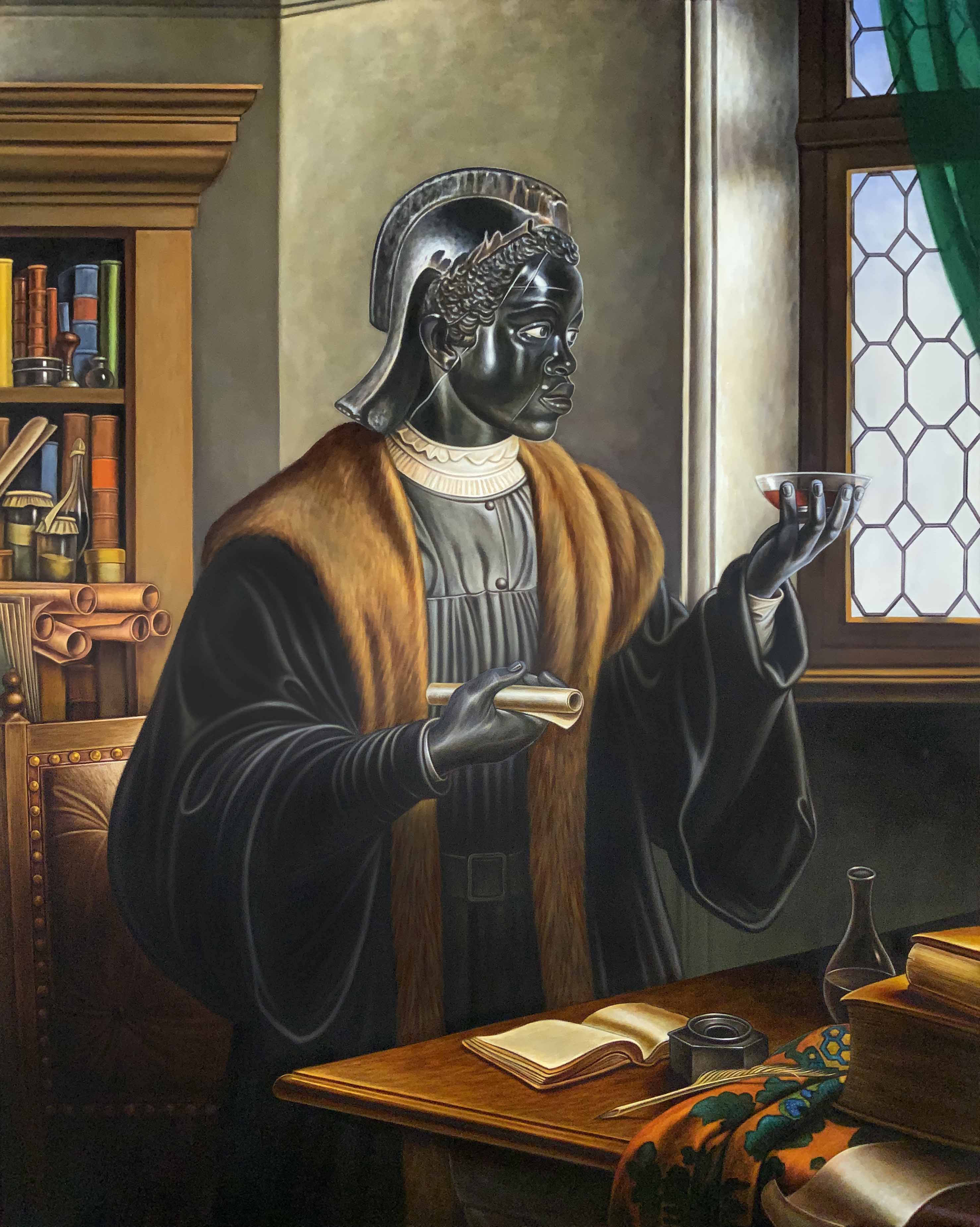 Kajahl: Tabula Rasa
2525 Michigan Ave., Santa Monica, CA 90404
Oct 09, 4 PM - 6 PM — ends Nov 13, 2021
Richard Heller Gallery proudly presents Kajahl: Tabula Rasa. This will be Kajahl's second solo exhibition with the gallery.

It is said that race is a social construct. So too are our identities, as we negotiate our self-understanding within the shifting frames of our experience. Scaled up, history is itself an "assemblage" of collective narratives that we create then use to connect ourselves to the past – or it to us.

In this exhibition,Tabula Rasa, Kajahl lures the viewer into these disorienting truths by using the blank slate of the canvas to write and rewrite art history and histories of representation. Kajahl gives us an intimate glimpse into a mythical (fictional) royal court where a council of dignitaries behold unfinished manuscripts. Taking on the endeavor as an artist commissioned by the highest court in the land, Kajahl is tasked with painting a council of philosophical dignitaries. Each figure, often isolated in opulent interior settings, appears to be in deep contemplation as if frozen in time before putting quill pen to paper. The blank scrolls and manuscripts represent a literal Tabula Rasa, or clean slate, with an absence of preconceived ideas or predetermined goals which we as the viewer may prescribe upon them.

Each figure is held in high regard for their diverse analytical capability, philosophical discourse and cerebral endeavors. Books and quills are symbolic instruments of the subject's interests. Curtains in the paintings intentionally obscure and conceal information. Natural light illuminates each scene as a metaphor for the subject's gaining enlightenment through their varied and highly-valued pursuits. Large rolls of paper suggest maps, schematics, or plans, intimations of grand-scale civilizational thinking, just as tapestry maps in Vermeer's interiors do. But to what end, and on whose behalf, or even where, are these unnamed visionaries working?

Kajahl was born in Santa Cruz, CA in 1985 and received his BFA in painting from San Francisco State University in 2008. He spent his final year studying at the Accademia di Belle Arti di Firenze, Tuscany, Italy. In 2012 Kajahl received is MFA in painting from Hunter College, New York, NY. Kajahl was a recipient of the Joan Mitchell Foundation Painters and Sculptors Grant in 2013. He was also a 2016 Artist in Residence at the Joan Mitchell Center, New Orleans, LA. Kajahl was recently awarded an Artist-in-Residence at Lower Eastside Printshop New York, NY in 2019. Kajahl is represented by Richard Heller Gallery in Los Angeles and Monique Meloche Gallery in Chicago.

Recent solo exhibitions include Obscure Origins at Tillou Fine Arts Brooklyn, NY, curated by Larry Ossei-Mensah, Unearthed Entities at Richard Heller Gallery in Los Angeles, CA, and Royal Specter Monique Meloche Gallery in Chicago, IL. Public collections include the Beth Rudin DeWoody Collection, The Dean Collection, The Studio Museum in Harlem, Colección Solo, and 21c Museum Hotel: Art Museum.