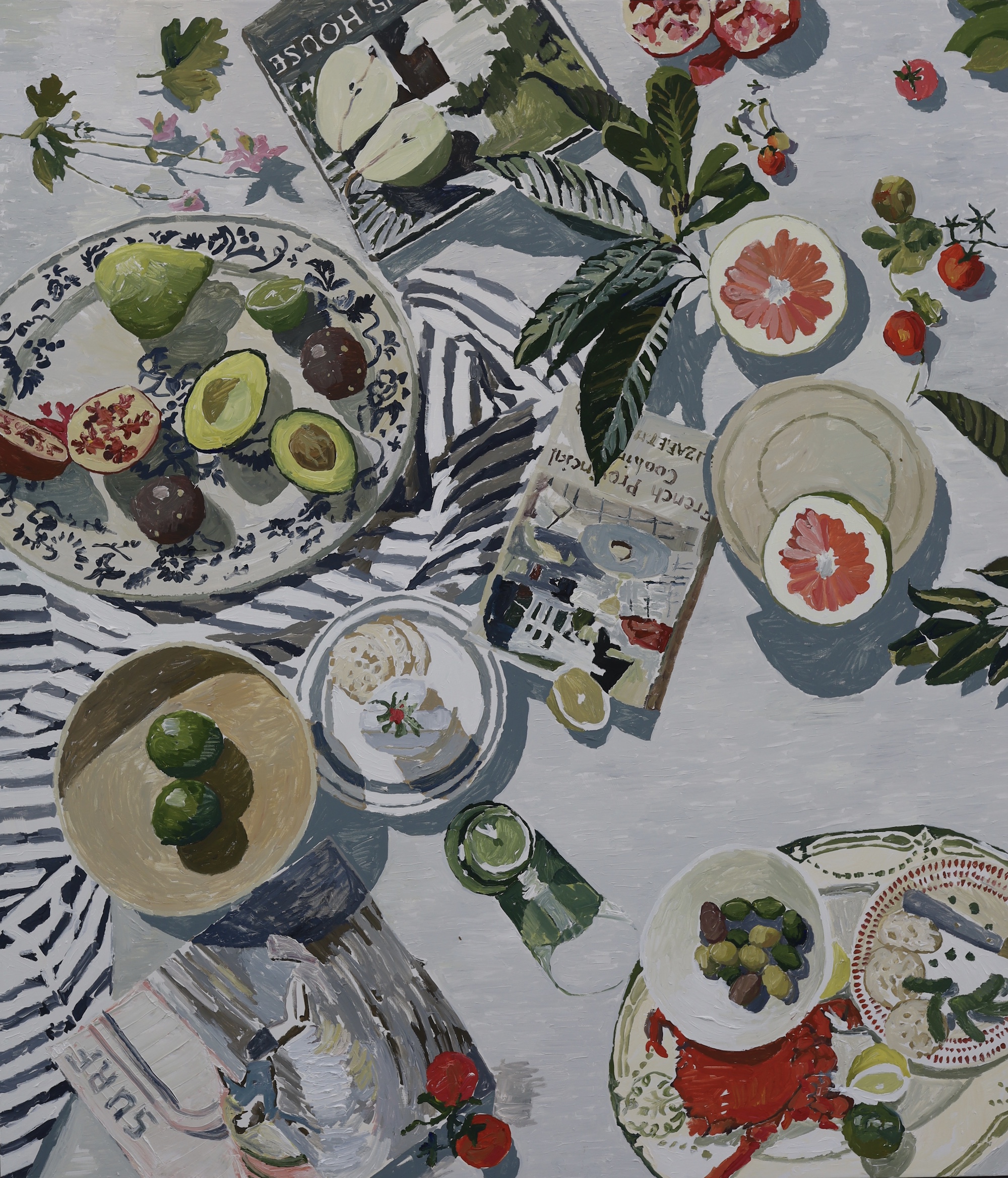 Zoe Young: Still.Life.
4859 Fountain Avenue Los Angeles, CA 90029
Oct 15, 6 PM - 9 PM — ends Nov 15, 2021
ZOE YOUNG — Still. Life.
Opening Friday, October 15th, 2021 from 6-9pm
Exhibition through November 15th
By appointment:
domicile.as.me
or
info@curatedbymargot.com
To view catalogue:
primer.gallery/gruin-gallery-zoe-young
domicile (n.) is pleased to present Zoe Young's first solo exhibition in LA in collaboration with Gruin Gallery. The exhibition features large-scale acrylic paintings that depict imaginary dinner party scenes in Hollywood that the artist created while in lockdown in Australia.
Still. Life. is Zoe Young's sophisticated imagining of the complex reality of human life - what it is, and what it may or may not be again. One of Australia's leading contemporary painters, Zoe Young has always infused her work with evolving dialogues around contemporary culture, art history and the world of nature.
Moments of joy are set to an underlying fantasy of moods, tastes and experiences that exist in an alternate universe. That Zoe Young can't fly to Los Angeles for this ground-breaking exhibition, only serves to highlight the reality of this fundamental fantasy.
Zoe Young captures these ethereal moments in a distinctive and declarative style. She executes her paintings with a practiced and knowing economy of palette which stands in contrast with the opulent subject matter. Her education in sculpture is reflected in the way that her line creates architectural elements and space.
Zoe Young currently works from her studio in the Highlands on the east coast of Australia.
In the past, she has established studios and exhibited in Europe and Asia, bringing a depth of color and character she weaves through her paintings. A graduate of The National Art School and Artist in Residence of The Sturt School of Craft and most recently shortlisted for the Sovereign Art Prize in Hong Kong. Young is a rising talent, having won the Portia Geach Women's Art Prize (2018), the Calleen Art Prize (2020), and the NSW Women's Leadership Rural Scholarship (2021). Her work was featured in the Sydney Contemporary Art Fair (2018), The Sulman Prize (2019) and the Archibald Prize Exhibition (2013, 2017).
GRUIN GALLERY:
Gruin Gallery is a contemporary art gallery established in Los Angeles in 2021 by Emerald Gruin. Previously based in New York, the gallery works with American and Australian artists and has staged critically acclaimed exhibitions.
DOMICILE GALLERY:
Created by Site Specific Projects' principal Cyrus Etemad and Manola Studio's founder Jessica Pell, domicile (n.) makes its inaugural incarnation at the Merrick Building in collaboration with curator Margot Ross. Domicile is a space that offers a home for the spurring of multi-modal artists' ideas, a container for the spawning and dissemination and exhibition of creative projects. Gallery, residency, generator. Though an impermanent physical home, an ephemeral visit, the intent of Domicile is to allow an artist a return to their creative and spiritual dwelling place.
VISITOR INFORMATION
domicile (n.) is located in the Merrick Building in East Hollywood at 4859 Fountain Avenue.