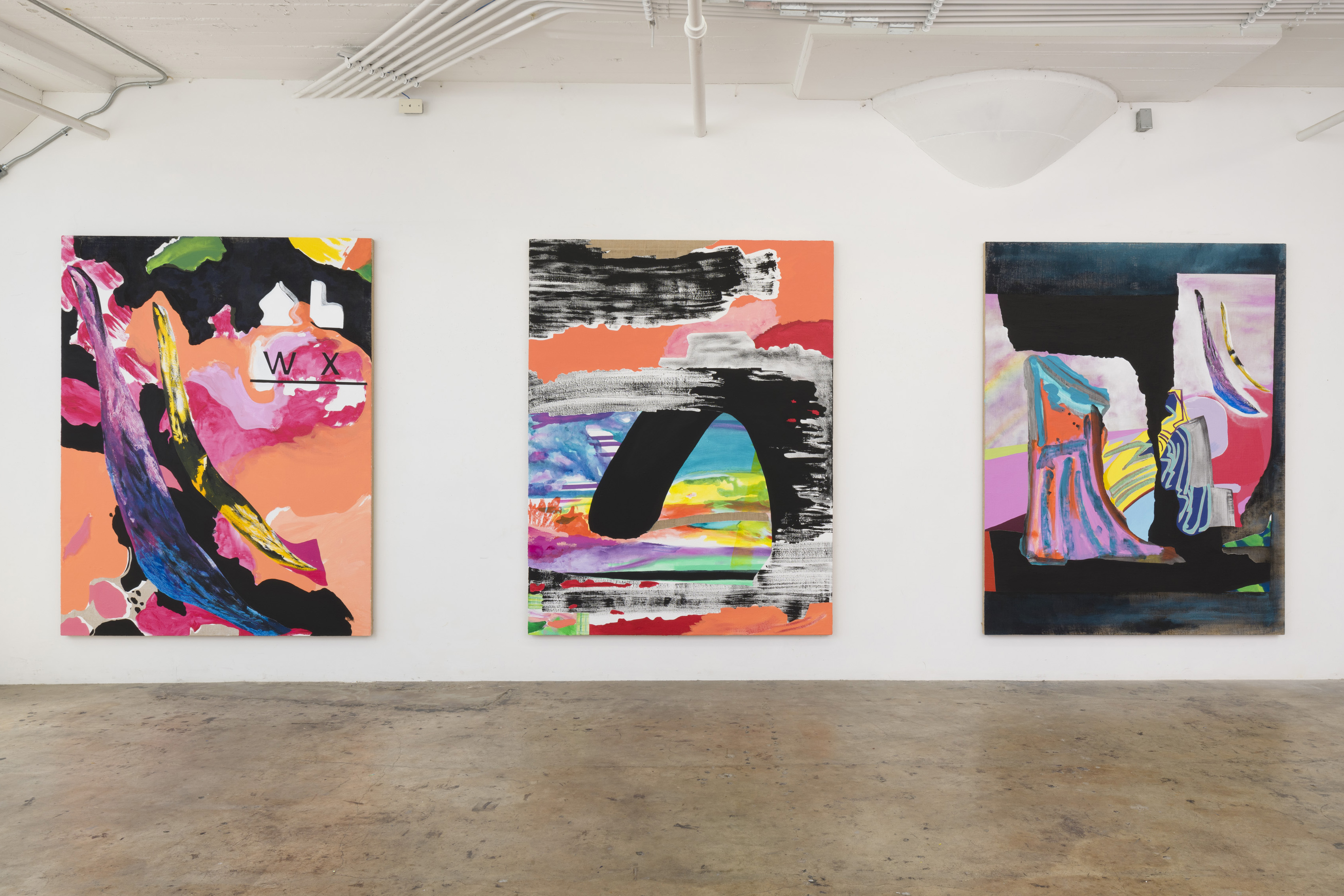 Lindsay August-Salazar: There's No Place Like No Place
4619 West Washington Blvd. Los Angeles, CA 90016
Oct 30, 4 PM - 7 PM — ends Dec 11, 2021
Lindsay August-Salazar
There's No Place Like No Place
October 30 - December 11, 2021
Opening Reception: Saturday, October 30th, 4-7pm
Lowell Ryan Projects is pleased to present an exhibition of new works by Lindsay August-Salazar titled There's No Place Like No Place. Informed by August-Salazar's conviction in the power of language to shape our interactions and expand our consciousness, the exhibition will include six large-scale paintings and a series of recent works on paper.
Influenced conceptually by Russian Constructivism and Lettrism, merged with a Surrealist approach to landscape, August-Salazar's own background as a commercial hip-hop backup dancer reveals itself in her choice of bold, bright colors and robust brushwork. The works in the exhibition are informed by a lexicon of visual signs created by August-Salazar titled Abstract Character Copy, abbreviated to ACC. These characters, apparent in the works and referenced in their titles, emerge first through a practice of repetitive, exploratory movements. The artist continues this exploration first on paper using color and shape—the act of painting and gesture serving to record these instances of choreography. August-Salazar's concept of language and communication is not limited to purely written and verbal cues, but takes into account our ability to communicate through movement, gesture, color and form. Through the process of creating her own system of communication the artist's works reveal portals to a heightened state of enlightenment and entrance into her conceptual exploration of utopia.
The six paintings in the exhibition are each 78 x 60 inches and grounded on burlap. Through a series of now instinctive acrylic brushstrokes and shapes executed in vibrant chromatic pinks, oranges, blues, greens and purples juxtaposed against swaths of black forms and strokes, an architecture of space that alludes not just to landscape but also a sense of levitation is created. In (Tangled Narrative Overlays) a series of characters from the ACC float through a series of animated brushwork in August-Salazar's energetic palette. The work includes the letter 'd' and 'e' acting as signifiers to the origins of the artist's new vocabulary and the ability of language to transform and evolve. With August-Salazar's works on paper, her exuberant brushwork and use of collage further expand a sense of immediacy, time and exploration.
Lindsay August-Salazar was born in Los Angeles, CA, in 1986, received her B.F.A. from the University of California, Los Angeles, and her Master's of Fine Art from The University of California, Irvine. Her multifaceted artistic practice, informed by a conviction in the power of language to invoke political, psychological, and philosophical change, growth, and wellbeing, is articulated through the creation of August-Salazar's Abstract Character Copy lexicon. Through this lexicon and drawing from artistic disciplines, including abstraction, postmodern dance, and typography, a unique, personal form of expression and conceptual exploration of utopian ideas is envisioned. August-Salazar's works have been exhibited at galleries and institutions including Stene Projects, Stockholm; Bel Ami, Los Angeles; LACA, Los Angeles; Ghebaly Gallery, Los Angeles; The Los Angeles Municipal Art Gallery, Los Angeles; and Fellows for Contemporary Art, Los Angeles. She is the recipient of the Rema Hort Mann Foundation Emerging Artist Grant, the Joan Mitchell Foundation Award, the State of California & The Regents of the University California Grant, and The Claire Trevor School of Arts Graduate Research and Travel Grant. Her works have been discussed in publications including The New York Times, Art in America, and Modern Painters.
For more information please contact:
info@lowellryanprojects.com