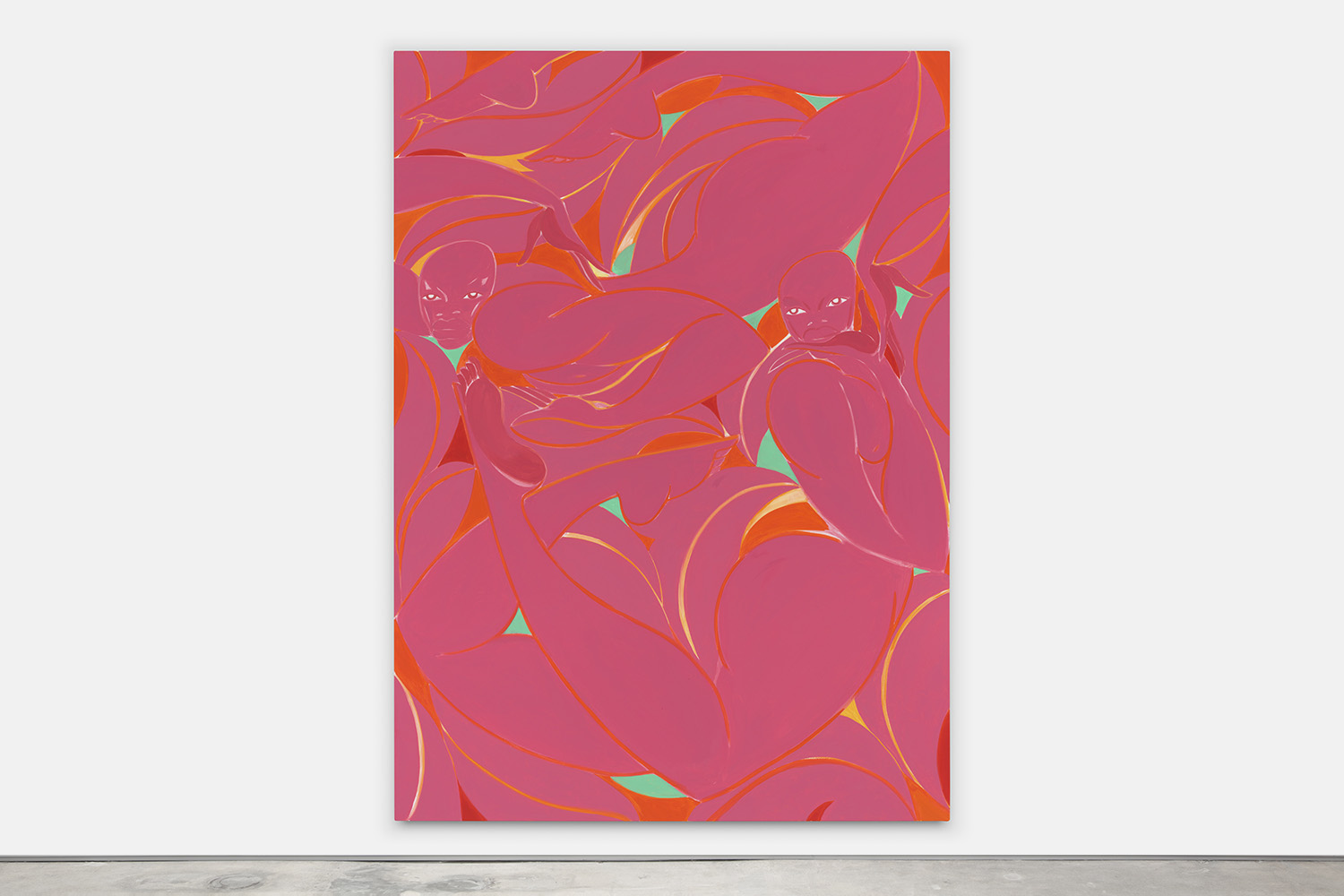 Tunji Adeniyi-Jones: Melodic Virtues
👀
641 N. Western Avenue Los Angeles, CA 90004
Oct 28, 6 PM - 8 PM — ends Dec 18, 2021
Tunji Adeniyi-Jones
Melodic Virtues
DATES
OCTOBER 28 - DECEMBER 18, 2021
Opening reception
Thursday, October 28
6pm - 8pm
Morán Morán | Los Angeles
641 N. Western Avenue
Los Angeles, CA 90004
Morán Morán is pleased to announce Tunji Adeniyi-Jones' first solo exhibition with the gallery, titled Melodic Virtues, composed of ten large-scale paintings that exemplify the artist's individualized realm. Within this series we discover an optic progression as each canvas moves us through colors and movements that elicit myriad impressions. The paintings advance between periods of time, spanning a geography of hues, and ultimately course along a passage of emotions.
We experience a tension between anachronism and afro-surrealism as the works signal traditional West African aesthetics while they also traverse an otherworldly domain that is undeniably mystical. However, Adeniyi-Jones' world feels grounded and potent perhaps because of this ancient historical value which he supplants with his personal history. The quasi-androgynous forms he creates have a distinct African physicality that in these new works enmesh with a backround that is medievally inspired.
Influenced by illuminated manuscripts, Adeniyi-Jones foliates his canvases with repeating patterns, much like rinceaux, in modulating colors. These decorative flourishes envelope the dynamic bodies making them appear like Lombardic uppercase letters in their posturing so that they in turn read like illuminated figures. This melding of cultural references synthesizes the artist's experience, translating that multiplicity to the observer so that the more we regard these paintings the more relatable the scenes become. But, just as we begin to feel familiar and each element comes into focus, his method of depiction blends the bodies and the background making everything fluid again, hypnotic.
Regardless of the ambiguity that develops from the artist's visual devices, we can still locate his reverie for tradition, heritage, and ritual within these works. As the exhibition's title suggests, these paintings move to image virtues and ideals, with the figures presenting portraits of endurance, balance, and integrity. Adeniyi-Jones translates affirmational messages as his transcendent guardians dance across a seasonal expanse, wading through colors made more vibrant through life experience and phases, chanting to history, humanity, and the splendor of a varied existence.
Tunji Adeniyi-Jones (b. 1992, London, England) lives and works in New York, NY. He received his BFA from The Ruskin School of Art, University of Oxford in 2014, and his MFA in Painting and Printmaking from the Yale School of Art in 2017. He had solo exhibitions at White Cube, London, UK (forthcoming); Charleston, East Sussex, UK; Nicelle Beauchene, New York, NY; and The Cabin, Los Angeles, CA. His work is included in the traveling exhibition Young, Gifted, and Black: The Lumpkin-Bocuzzi Family Collection (2020-2022), and was included in recent group exhibitions at CFHILL, and Loyal Gallery, in Stockholm, Sweden; and at Deitch Projects, Los Angeles, CA. He was an inaugural recipient of the Black Rock Residency, in Dakar, Senegal (2020), and was a La Brea Studio Resident at The Cabin, Los Angeles, CA (2018). Adeniyi-Jones is in the public collections of the Birmingham Museum of Art, Birmingham, AL; Dallas Museum of Art, TX; and the Pérez Art Museum Miami, FL.
For press inquiries, please contact
info@moranmorangallery.com
For available works, please contact
sales@moranmorangallery.com
Image: Tunji Adeniyi-Jones, Pink Virtues, 2021, Oil on canvas, 72 x 52 inches (182.9 x 132.1 cm). Courtesy of the Artist and Morán Morán.