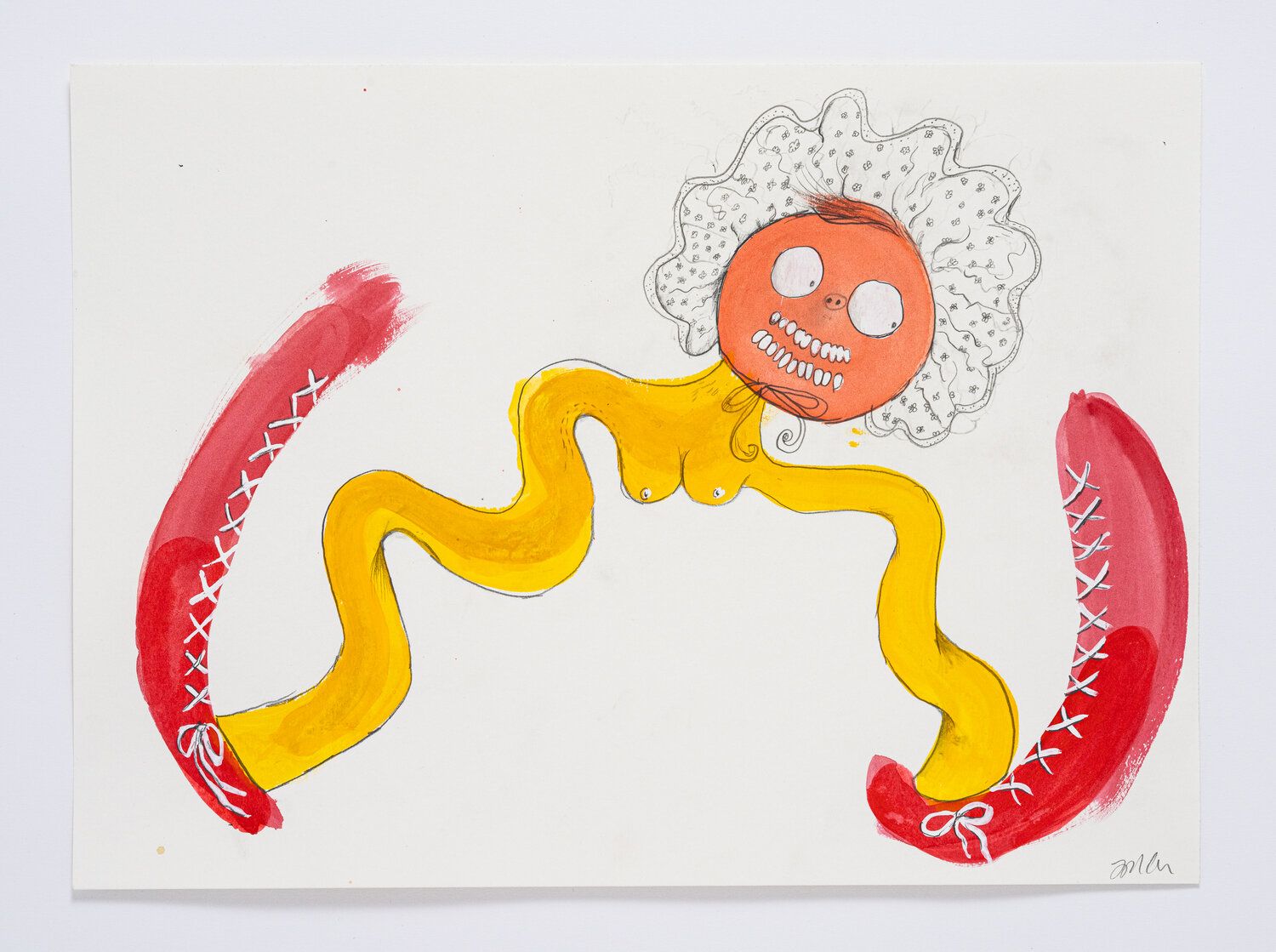 Jibz Cameron, Jackie Rines, Babara T. Smith: Holy Squash
👀
2011 South Santa Fe Avenue Los Angeles, CA 90021
Nov 06, 5 PM - 7 PM — ends Jan 08, 2022
Holy Squash: Jibz Cameron, Jackie Rines, Babara T. Smith
Curated by William J. Simmons
NOVEMBER 6, 2021 – JANUARY 8, 2022
Cirrus Gallery & Cirrus Editions, Ltd.is pleased to present Holy Squash, a show of drawings by Jibz Cameron, ceramics by Jackie Rines, and prints by Barbara T. Smith curated by William J. Simmons. The exhibition is the second in a series of shows that elaborate on "figuration" in the 21st century. These three feminist, LA-based artists approach the fragility and power of the body in different media, seeking ultimately to squash structures of normativity.
For Cameron, the humor and frenetic energy of her drawings are a form of empathy. Indeed, they are portraits of all of us with our unwieldy, failure-prone selves as we look optimistically for connection in a world that seeks to harm us. Jackie Rines's sculptures likewise represent a form of care and humor that is deepened by the artist's formal and technical rigor and skill. Scale becomes a means of softening and denuding art historical norms. Finally, the Cirrus prints by the legendary feminist performance artist Barbara T. Smith evince beauty in change and the endurance of touch. Indeed, all three of these artists seek to touch differently, to touch history itself with queer and feminist gestures.
Jibz Cameron is a performer, visual artist, and actor. Her multi-media performance work as alter ego Dynasty Handbag has spanned over 15 years and has been presented at arts venues such as the New Museum of Contemporary Art, the Broad Museum, the Hammer Museum, REDCAT, The Kitchen, BAM, Centre Pompidou, and others. She has been heralded by the New York Times as "the funniest and most pitch perfect performance seen in years" and "outrageously smart, grotesque and innovative" by The New Yorker. Jibz produces and hosts Weirdo Night, a monthly comedy and performance event in Los Angeles, and she had a solo show of her drawings at Maccarone in 2021. She is a 2020 Creative Capital Grant awardee and a 2021 United States Artist Award recipient. Her film Weirdo Night, directed by Mariah Garnett (a movie version of the live show) is a 2021 Sundance Film Festival selection. She lives in Los Angeles.
Jackie Rines moved to Los Angeles from Detroit, Michigan, and earned her MFA at UCLA in 2017. Her work in clay is often extremely large in scale, weaving together a myriad of themes, such as interiors, power, and funk. Rines was awarded a Jerome Fellowship at the Northern Clay Center in Minneapolis, and was an artist-in-residence at Henry Street Settlement in New York. She is a member of Tiger Strikes Asteroid, Los Angeles, and her work has been shown in Berlin and Vienna, as well as extensively across the United States.
Barbara T. Smith is a foundational figure in West Coast performance art. She was born in 1931 in Pasadena, did undergraduate work in painting, art history, and religion at Pomona College and received her MFA from the University of California, Irvine in 1971. She installed her iconic Field Piece at Cirrus in 1971—one hundred eighty "blades of grass" molded from translucent fiberglass. Smith's work has been featured in multiple exhibitions, including in WACK! Art and the Feminist Revolution (2008–09), The Radicalization of a '50s Housewife at UCI, and State of Mind at OCMA and the Bronx Museum. Her retrospective The 21st Century Odyssey Part II: The Performances of Barbara T. Smith was held at Pomona College Museum of Art in Claremont and Kennedy Museum of Art, Ohio University.
For all inquiries contact Cirrus Gallery & Cirrus Editions
e:
info@cirrusgallery.com
p: +1 (213) 680-3473
w:
www.cirrusgallery.com