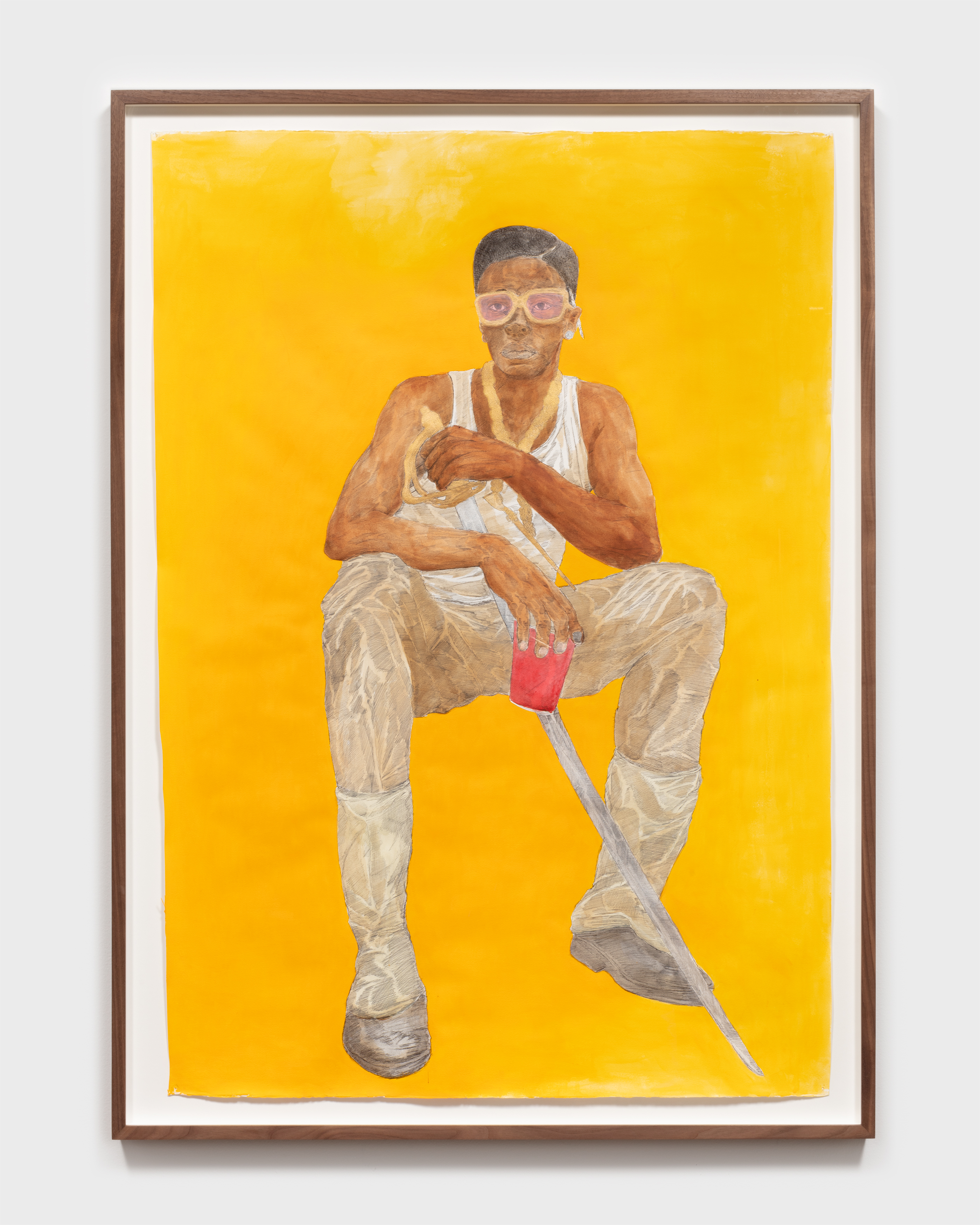 Umar Rashid: En Garde / On God | Sonia Gomes: When the Sun Rises in Blue | Penny Slinger: 50/50
👀
2727 S. La Cienega Blvd., Los Angeles, CA 90034
Nov 06, 10 AM - 6 PM — ends Dec 18, 2021
Umar Rashid: En Garde / On God
(pictured)

Blum & Poe is pleased to present En Garde / On God, Umar Rashid's first solo exhibition with the gallery. In new paintings, drawings, and sculptural work, Rashid presents a new chapter in his fifteen-year-long project of documenting the fictitious history of the Frenglish Empire (1648-1880). Informed by the storylines that are encoded into the canonical narratives of empires and their colonies, and even more so by those that are marginalized and omitted from the historical record, Rashid conjures a world replete with complex iconographic languages that use classifying systems, maps, and cosmological diagrams. Channeling the visual lexicons of hip hop, ancient and modern pop culture, gang and prison life, and revolutionary movements throughout time, in these works Rashid seeks to underline the roles of race, gender, class, and power in the problematic history of recounting history.

---------------

Sonia Gomes: When the Sun Rises in Blue

Blum & Poe is pleased to present the first U.S. solo exhibition of work by São Paulo-based artist Sonia Gomes. This presentation serves as an introduction to her practice, spanning key bodies of work integral to the artist's oeuvre, and new site-specific installation.

---------------

Penny Slinger: 50/50

Blum & Poe is pleased to present Los Angeles-based artist Penny Slinger's third solo exhibition with the gallery. This presentation coincides with the fifty-year anniversary of Slinger's iconic 1971 artists' book and collage series 50% The Visible Woman and celebrates the milestone with a new and expanded edition of the publication. With never before exhibited selections from this historical body of work, alongside new compositions, Slinger shares her long-standing investigation into the mapping and unveiling of the feminine subconscious.