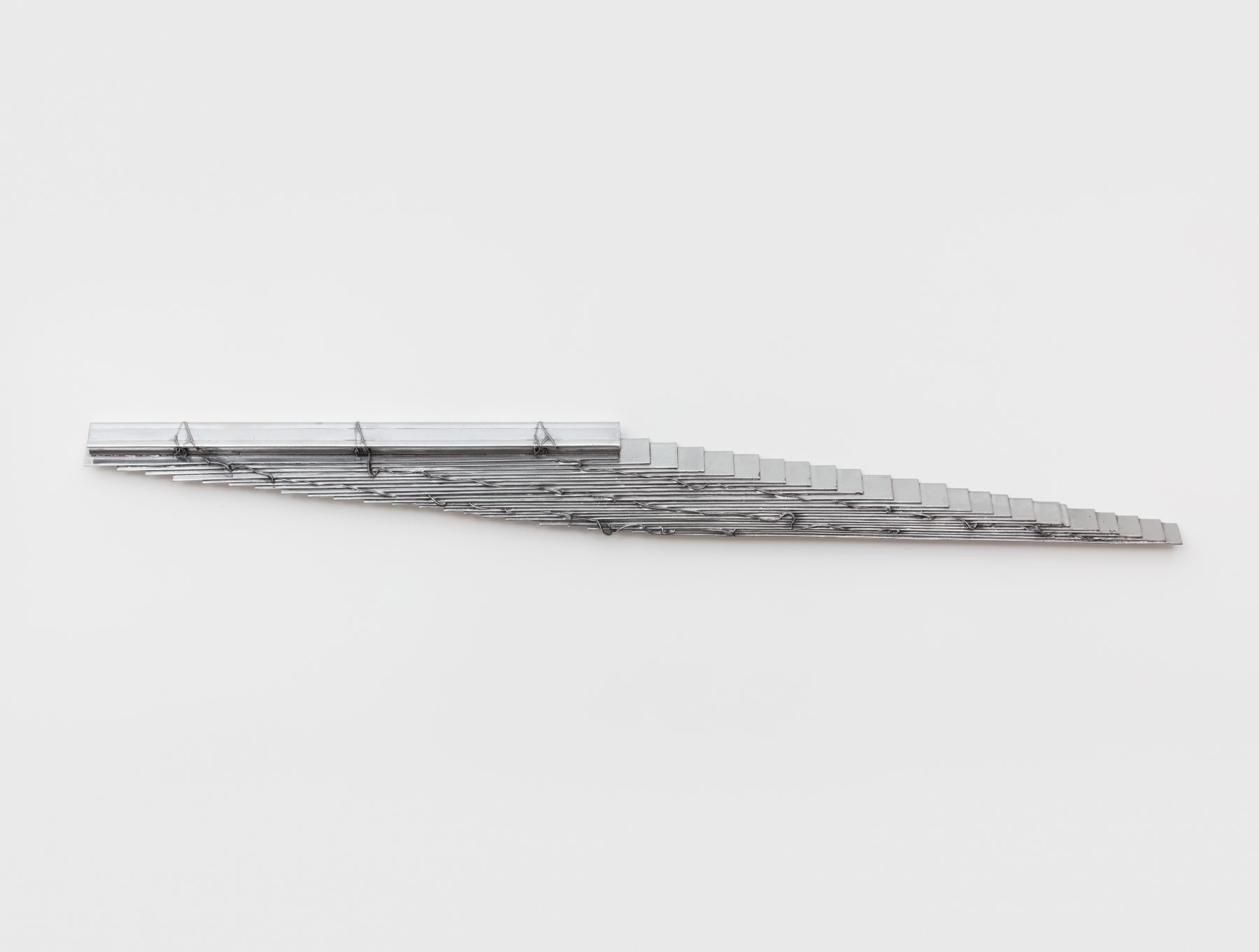 Anne Libby: See Me So | Paul Heyer: Naked | Grant Levy-Lucero: Reflections | Elizabeth Jaeger: Piece of Cake
👀
2276 East 16th Street, Los Angeles, CA 90021
Nov 06, 11 AM - 6 PM — ends Dec 11, 2021
Anne Libby: See Me So
(pictured)

Night Gallery is pleased to present See Me So, an exhibition of new works by Anne Libby. This will be the artist's third solo exhibition with the gallery, following Marrow into Moxie in 2015 and Earthflash in 2018.

Anne Libby's work reconfigures materials from domestic interiors, building forms that reference the architectural and technological structures that dominate both our contemporary environments and psyches from the details of our most intimate spaces. These forms confuse the macro and micro of the viewer's environment while creating something uniquely vulnerable from the industrial and corporeal elements of our surroundings. In this newest body of work, the artist explores the subject of windows in several forms, using this theme to distort our perception of both the public and private.

In the series These Days, Libby casts window blinds in polished aluminum. Frozen in balletic gestures, these works are presented both mounted on the wall and as free-standing sculptures. Here, window blinds, which we use daily to mediate privacy and light, become reflective moments of stasis that refract light and allow the viewers to see glimpses of themselves in their mirrored surface. As these ephemeral and malleable objects are given permanence, Libby produces space for us to consider what we reveal and conceal within ourselves.

Elsewhere in this exhibition, Libby has created large, quilted tapestries from textiles with varyingly reflective qualities. These wall works reference the glass facades of skyscrapers and depict the exterior reflections in their towering stories of windows. Delicately sewn together, her patchwork abstractions transform the cold and inhumane urban landscape into a familiar and comforting object.

Collectively, Libby's works prompt examinations of both interior and exterior worlds while meditating on the thin veil that exists between them.


Anne Libby (b. 1987, Los Angeles, CA) lives and works in Los Angeles. She has mounted solo and two-person exhibitions at Magenta Plains, New York, NY; Del Vaz Projects, Santa Monica, CA; Soft Opening, London, UK; and Ribordy Thetaz, Geneva, CH, among others. Her work has been featured in many international publications, including Artforum, Art in America, Mousse Magazine, and Architectural Digest.

--------------

Paul Heyer: Naked


EXHIBITION IMAGES
PRESS RELEASE
ABOUT
BACK
Night Gallery is proud to announce Naked, a solo exhibition of new work by the Chicago-based artist Paul Heyer. This is Heyer's fifth solo exhibition at Night Gallery.

Heyer's new body of work explores the spectacle of nature beyond human comprehension—elemental joys of the everyday. Iridescent apples, a once common motif, have shape-shifted into glowing persimmons, each appearing to hold a world within their thin blue membrane. The fruits hint at the infinite found in every object or being, dissolving the difference between self and the swirling microcosms embedded in everything around us.

Soft blue twinkles also appear behind the chance meeting of a skeleton and turtle in Turtle in Purple Grass. The radiant backdrop appears to extend forever, the world seemingly paused while the two opposing figures gaze at each other. The painting's sumptuous colors mimic orbs of light streaking by dilated eyes on the dance floor, blurring street lights in the dim of dusk, or light seen through tightly closed eyelids.

The remaining skeleton figures in the exhibition are partially obscured by trees, forcing the audience into the position of a voyeur. Stripped bare, the skeletons perform their role as human at a primitive level—captivated by the cascading leaves of a Weeping Willow or transfixed by the lick of a flame. Unaware of our gaze, they are immersed in their act of looking, caught in a moment of awe.

Like the hypnotizing quality of fire, the orange swirls and untamed blotches of black in Sunflowers seduce the viewer into a mesmerized state. Heyer's heavy-headed flowers gaze down on the audience like oracles against a dystopian blaze. Along with the other paintings in Naked, Sunflowers complicates the relationship between viewer and subject, reminding us that the act of looking can be an electric game of give and take.

Paul Heyer (b. 1982, Chicago, IL) has had solo exhibitions at Chapter NY, New York, NY; Mickey, Chicago, IL; and Night Gallery, Los Angeles, CA. His solo exhibition Chicago Works: Paul Heyer was on view in the spring of 2018 at the Museum of Contemporary Art, Chicago, where he has participated in multiple group shows. Other recent group shows include Chapter NY, New York; Night Gallery, Los Angeles; Perrotin Gallery, New York; MX Gallery, New York; Galería Agustina Ferreyra, Mexico City, MX; Park View Gallery, Los Angeles; HOME, Manchester, UK; and What Pipeline, Detroit, MI. His work belongs in the permanent collections of the Museum of Contemporary Art, Chicago and the Brauer Museum of Art, Valparaiso University, Valparaiso, IN. His work has been written about in Art Agenda, Artforum, the New York Times, and FlashArt, among others. He lives and works in Chicago.

--------------

Grant Levy-Lucero: Reflections

Night Gallery is pleased to present Reflections, an exhibition of new ceramics by Grant Levy-Lucero. This is the artist's second exhibition with the gallery.

In this presentation, the artist continues his exploration of the Greco-Roman amphora vessel. In his past works, Levy-Lucero has consistently reanimated brand logos and imagery sourced from the hand-painted signs that are ubiquitous in Los Angeles. However, recent shifts in the artist's life have motivated him to push the form into new aesthetic and conceptual territories. A reflection is also a transposition; as one gazes at their own image, they are confronted with where—and who—they've been in the past, and possibilities for the future. In Reflections, Levy-Lucero enacts a simultaneous turn inwards toward the self and an expansion outward into the world.

To create this new body of work, Levy-Lucero found early inspiration in Claude Monet's water lily series. As the artist's previous works have centered around the reappropriation of brand logos, he noticed that the widespread dissemination of Monet's water lilies has produced a similar phenomena. Like the brand logo, the water lilies occupy a place in the collective consciousness vis-à-vis mass circulation and recreation. Further, as the water lily paintings symbolized a move into expressionism, Levy-Lucero makes a similar gesture to consider our relationships to self, nature, and art. Color and texture extrusions stimulate sensory responses as each vessel transports viewers elsewhere, from the Musée de L'Orangerie in Paris to the streets of Los Angeles to unnamed scenes of nature. Fencing and brick motifs foreground idyllic landscapes, evoking the sensation of breaking through one's confines to reach a place of peace. Liquid and silver glazes give certain pieces the qualities of a mirror, in which viewers' likenesses and surroundings are interpreted and returned by the ceramic object. Through the sensory nature of Levy-Lucero's work, viewers transcend their position of spectatorship and into one of agency.

In his ceramic vessels, Levy-Lucero illustrates the new dynamics that emerge through acts of de- and re- familiarization. These processes activate us in various ways; we are compelled to observe with renewed diligence and curiosity. The clay pot becomes an experience in and of itself, functioning like a channel for narratives to develop and shift. As self-analysis reveals and Levy-Lucero's Reflections suggests, nothing is static. Everything moves if you look at it long enough.




Grant Levy-Lucero (b. 1981, Los Angeles, CA) has had solo exhibitions at Woaw Gallery, Hong Kong; White Columns, New York, NY; VNH Gallery, Paris, France; Night Gallery, Los Angeles, CA; and Henry Taylor's, Los Angeles. His work has been featured in group exhibitions at Jeffrey Deitch, New York; Arsenal, New York; Musée des Arts décoratifs de Paris, Paris; Gagosian Gallery, Geneva, Switzerland; Art Toronto, Toronto, ON; 356 Mission, Los Angeles; Sans Titre, Paris; and Club Pro LA, Los Angeles. He has collaborated with Acne Studios on the 2021 Fall/Winter collection and the 2019 Grant Levy-Lucero x Acne Studios collection. He lives and works in Los Angeles.

--------------

Elizabeth Jaeger: Piece of Cake

Piece of Cake is an exhibition of new ceramic works by Elizabeth Jaeger. This is the artist's first presentation with Night Gallery and her first solo exhibition in Los Angeles.

In her new series of ceramic sculptures, Jaeger chronicles the arc of a heteronormative marriage in the form of a three-tiered wedding cake and cake slices. The bottom tier has been separated into five slices, while the top two remain intact with a topper. The topper, entitled i hate Men and Men hate me, is viewers' first indication of marital bliss skewing off-course: an undressed man and woman are caught in a moment rife with awkwardness, rather than euphoria or contentment. Elsewhere, slices of cake depict various scenes from the married life of a pair of strawberries—humanoid figures living out the American dream, societal pressures notwithstanding.

As viewers move through Jaeger's intimate chronology, the cake slices offer glances into the moments that comprise a shared (straight) life: a wedding, children, family road trips, a graduation. Yet there is an insidious tension built into each of Jaeger's scenes, a mild sense of the dysfunction that exists within every nuclear family. Tinged with self-aware humor, each slice captures the emotional intricacies that are folded into the everyday.

Piece of Cake is love told slant; its sentiment complicates sentimentality. By representing the minor antagonisms and cultural expectations within traditional gender roles, Jaeger illuminates their absurdity without disavowing them altogether.



Elizabeth Jaeger (b. 1988, San Francisco, CA) lives and works in New York, NY. She has exhibited widely in the United States and internationally. Her solo exhibition Holes is on view through November 20, 2021 at Jack Hanley Gallery, New York, NY, and she recently presented an exhibition at Klemm's, Berlin, DE. She has also participated in numerous group shows, most recently at Jeffrey Deitch, Los Angeles, CA, and the Sprengel Museum, Hannover, DE. Additionally, her work has been exhibited at the Whitney Museum of American Art, New York; MoMA PS1, New York; SculptureCenter, Long Island City, NY; and the Aspen Art Museum, Aspen, CO. Her work has been featured in numerous publications, including Vitamin C: Clay and Ceramics in Contemporary Art (Phaidon, 2017), Dream-ers Awake (White Cube, 2017), Eros C'Est La Vie (Totem, 2013), and How Other People See Me (Publication Studio, 2011).