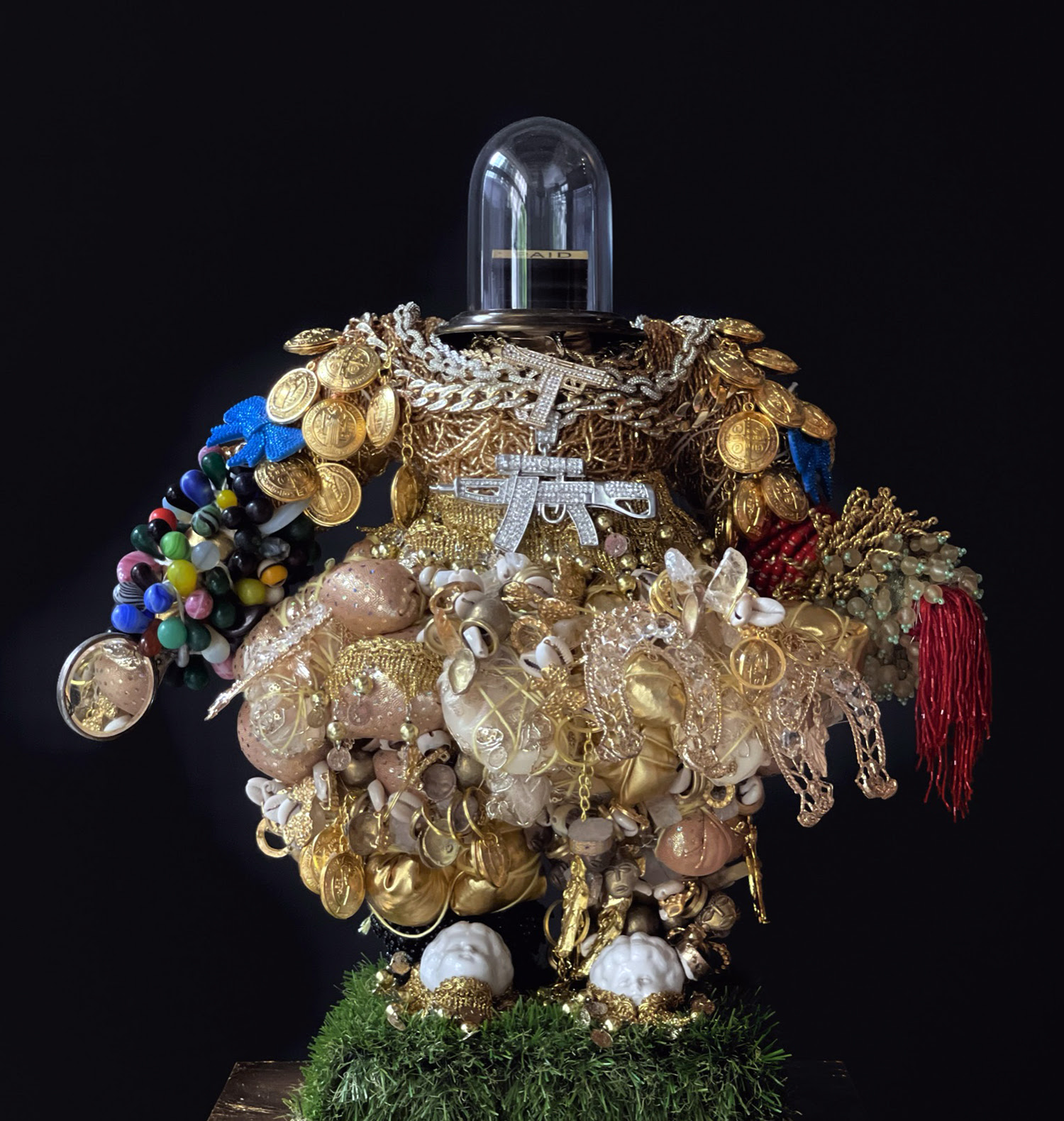 The Artist Channels 33 Intimate Technologies of Soul
👀
410 South Spring Street Los Angeles, CA 90013
Nov 18, 6 PM - 9 PM — ends Jan 08, 2022
Transformative Arts is honored to present vanessa german's exhibition, The Artist Channels 33 Intimate Technologies of Soul, opening November 18, 2021 through January 8, 2022.


The Artist Channels 33 Intimate Technologies of Soul opening reception on Thursday, November 18, 2021 begins at 6p with a conversation between the artist and jill moniz, Transformative Arts founder. vanessa german will give a performance on Saturday, November 20 at 1p.

About This Exhibit
The Artist Channels 33 Intimate Technologies of Soul consists of power figures german made in Los Angeles as life saving devices that allow viewers to reframe their own bodies and narratives against the destabilizing and often punitive American life. Recognizing that art is an instrument of freedom, these specific aesthetic tools enable our consciousness as black people to enter a loving and safe realm that shifts the way we live in wholeness of ourselves without waiting for justice.

vanessa german offers these radical, liberating technologies through the invocation of ancient practices that recognize the medicine inside of us. Her focus on consciousness is a focus on instructive, healing and empowering language attuned to that esoteric knowledge that she makes visual through her sculpture and performance. Her gift to us is the arc of her practice – the mining and surfacing of this medicine as a strategy for collective action of connection, love and power.

Finding the mean of perspective, german balances consciousness above and beyond the dehumanizing realities of disassociation and reductionism. She notes "To be free in America requires more ingredients that America can give." So german returned to her roots to channel the capacity of the conjuncture of body and spirit. She grew up in Los Angeles, and during 2021 came to the city, the ocean and the spirit of the land of so many narratives and materials to engage her process of looking and listening to objects to assemble these consciousness driven figures.

To emancipate us from the soul crushing system of American brutality, german makes space for Black people to thrive. The works are talismans and portals to our more creative and connected selves, and contain all the necessary magic to breathe into life better futures. On view at Transformative Arts, a Black woman-led project, The Artist Channels 33 Intimate Technologies of Soul is an adventure filled with objects for our world to come.