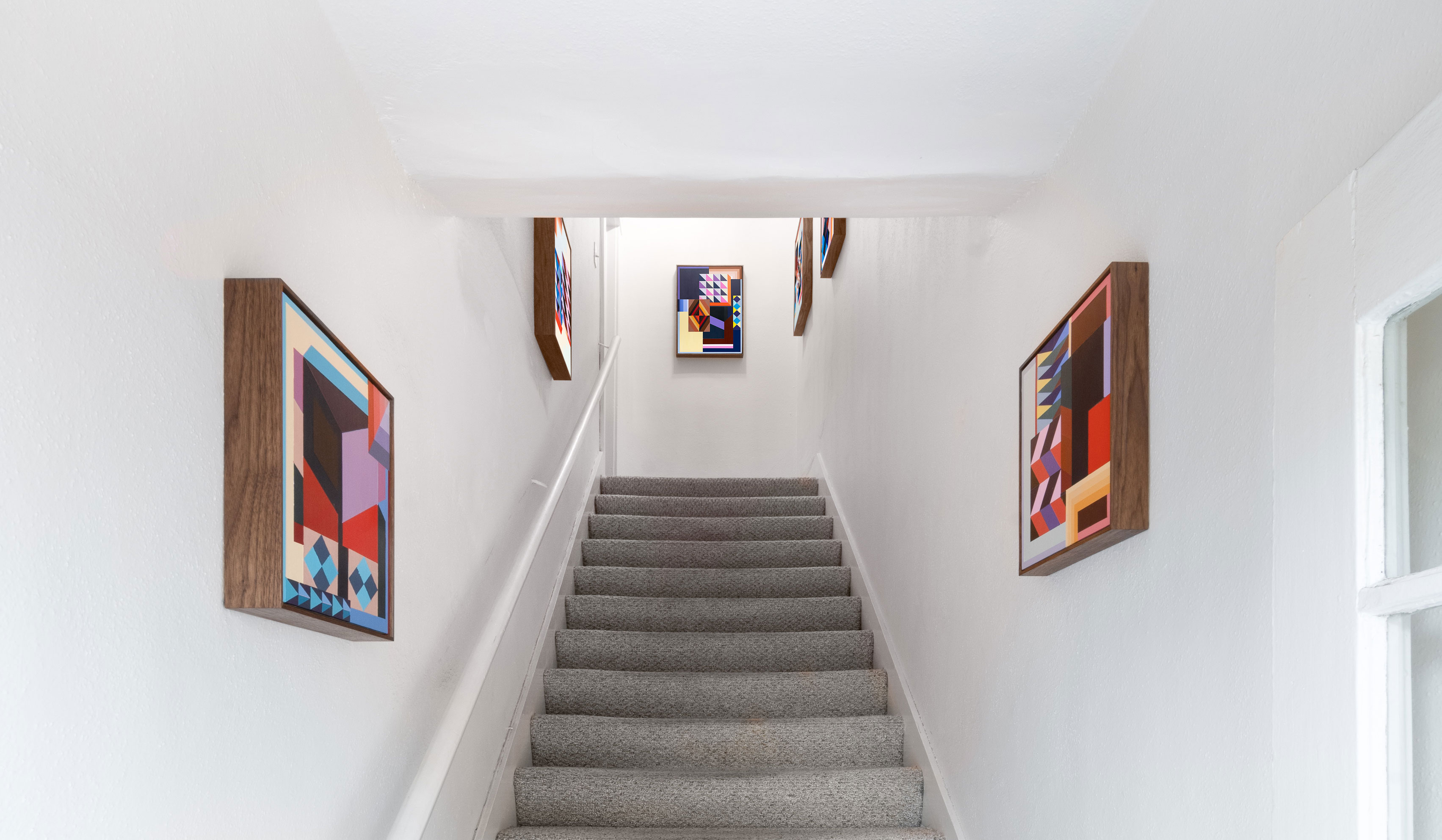 Leonardo Bravo: Constant Relation
Los Angeles, CA
Nov 07, 11 AM - 5 PM — ends Dec 05, 2021
Leonardo Bravo
Constant Relation
November 7 - December 5, 2021
Los Angeles, CA--Stairwell LA presents Constant Relation, a series of works by Leonardo Bravo that explore metaphoric mappings of a collision of histories, voices, imaginings, and incantations.
Bravo's paintings evoke modernist geometric abstraction through complex structures and systems in saturated colors that suggest a constant state of becoming and unfolding. The entanglement of these structures alludes to an architecture of time and space in which forms continue to build and collapse upon each other, emanating new relationships, and suggesting pathways that open up to limitless possibilities, questions, and complexities.
Inherent in the works is a visual tension suggested by the relationship of each color form to the other, and the way negative space becomes a counterpoint to each fixed shape. Bravo's searching and indexing create a push and pull between color, pattern, and form, alluding to states of fluidity, transition, and continuous movement making references to moments and places--sometimes deeply personal and vulnerable, and sometimes longing for a certain time and place. The individual works could be seen as portals --some to the nostalgia of the past--some to newly imagined futures.
"They conjure a deep attunement to my sensation of joy and wonder, of unfettered liberation, of boundary traversions, and the ultimate freedom of shapeshifting."
The visual influences in Bravo's work echo symbol systems and patterns seen in Andean and Mapuche textiles collected by his father in Chile, as well as cues from a variety of sources including: Bauhaus master weavers Gunta Stolzl and Ani Albers, and the Tropicália movement in Brazil embodied by Jorge Ben Jor, Caetano Veloso, and Helio Oiticica.
This work will continue to develop through a residency at Stairwell where new works will be created on-site. The gallery is open Thursdays, Fridays and Saturdays, from 11 AM to 5 PM by appointment only. Please call or text stairwell at 213.700.0700 or email
stairwellgalleryla@gmail.com
. For more information visit stairwell.org
Leonardo Bravo is a Los Angeles based artist who grew up in the South of Chile. Bravo earned his BFA from OTIS Institute of Art & Design and MFA from the University of Southern California. Over the last few years, his works have been exhibited at Elephant Gallery, Los Angeles, Charlie James Gallery, The Architects Collective, BKB Art & Design, Palm Springs, Mount San Jacinto College, Cerritos College Art Gallery, and Luis De Jesus Gallery, Los Angeles. Bravo is also founder of Big City Forum, an interdisciplinary, social practice and curatorial research project that brings attention to emergent practices across design, architecture, and the arts. Big City Forum provides an ongoing exploration of the intersections between these creative disciplines and new ways of knowledge making within the context of public space and social change. As a programming and curatorial platform it has developed collaborations and partnerships with Art Center Media Design Practice program, the Armory Center for the Arts in Pasadena, Cal State University Dominguez Hills – College of Arts and Humanities, Camino Nuevo Charter Schools, and Woodbury University School of Architecture among many others.