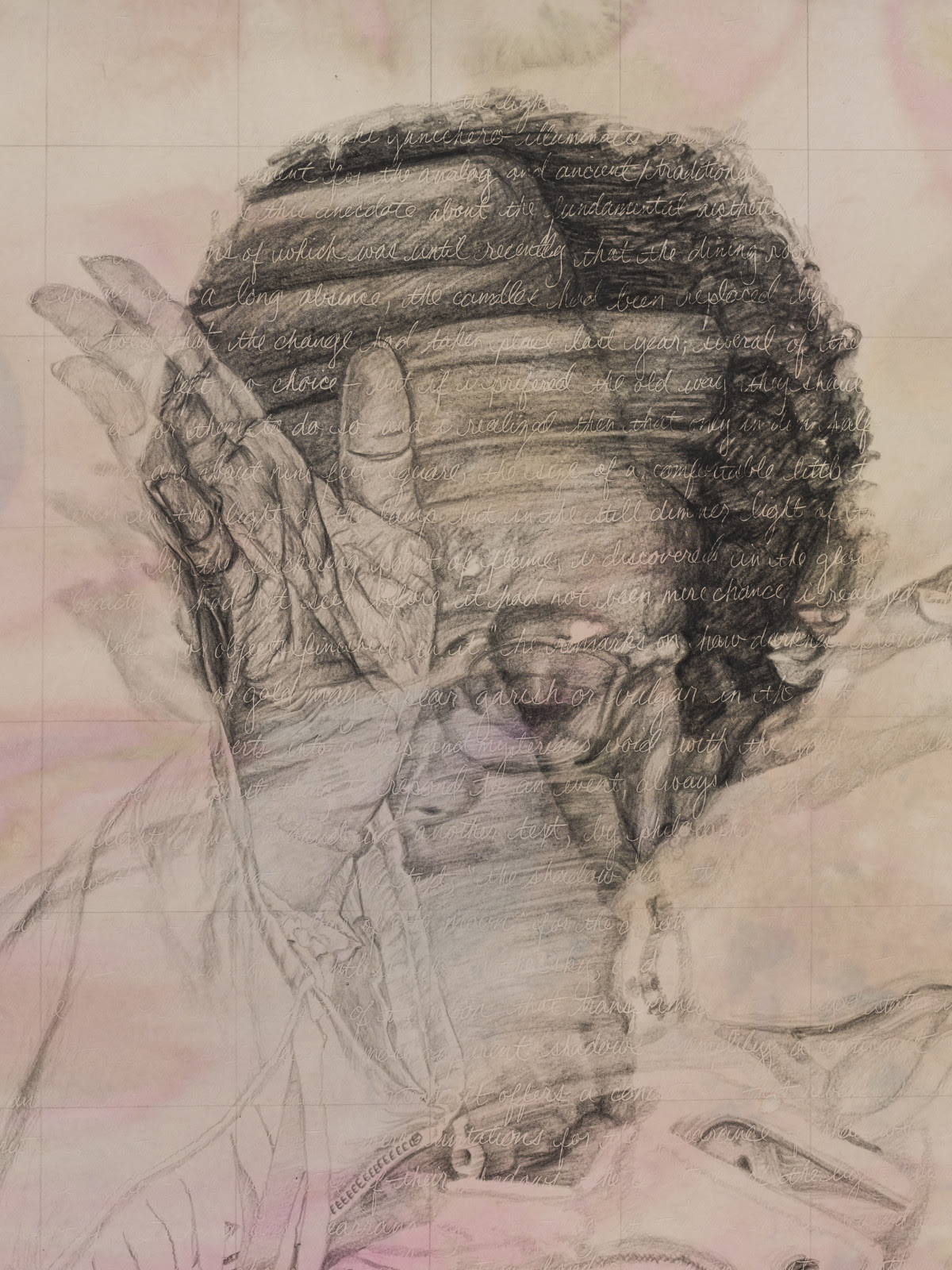 Kenturah Davis: apropos of air
👀
633 N. La Brea Los Angeles CA 90036
Nov 13, 6 PM - 9 PM — ends Dec 11, 2021
apropos of air is Kenturah Davis's second solo exhibition with the gallery.

The artist lives and works between Los Angeles, CA and Accra, Ghana. Davis earned her BA from Occidental College, CA and MFA from Yale University School of Art in 2018.

Davis's work is currently included in Black American Portraits at the Los Angeles County Museum of Art (LACMA). In 2020, Davis presented her first solo museum exhibition, Everything That Cannot Be Known at the Savannah College of Art and Design Museum (SCAD). Recent institutional exhibitions include Plumb Line: Charles White and the Contemporary, curated by Essence Harden and Leigh Raiford at the California African American Museum (CAAM), Los Angeles, CA (2019) and Afrocosmologies: American Reflections, at the Wadsworth Atheneum Museum of Art, Hartford (2019).

Other notable institutional exhibitions include: Linked in Tradition, Inspiring in Vision: A Selection of Works by African American Women Artists, Robert and Frances Museum of Art, San Bernadino, CA (2017); Black Joy, Yale University, New Haven, CT (2016); We Must Risk Delight, organized in collaboration with the 56th Venice Biennale, at the Accademia di Belle Arti di Venezia, Venice Biennale (2015); The Silence of Ordinary Things, The Mistake Room, Los Angeles (2015); i:23, The Yokohama Triennial, Yokohama, Japan (2014); An American Water Margin, Ucity Museum, Guangzhou, China (2014); Mass Attack, Torrance Art Museum, Torrance, CA (2013); and Mis-Design, Ian Potter Museum, Melbourne, Australia (2011).

Recent solo and two-person exhibitions include (a)Float, (a)Fall, (a)Dance, (a)Death, Jeffrey Deitch, New York (2021); Blur in the Interest of Precision, Matthew Brown, Los Angeles (2019); a two-person exhibition with Desmond Lewis at Crosstown Arts, Memphis in coordination with the traveling venue, Seed Space (2019); and Narratives and Meditations (2014) and sonder (2013), Papillion, Los Angeles.

Davis was commissioned by the Los Angeles Metro Rail to create large-scale, site-specific work that will be permanently installed on the new Crenshaw/LAX rail line (2021). Other public projects include Four Women, a commissioned mural by Alliance Francaise to commemorate International Women's Day, in Accra, Ghana and Metamorphose, comprised of five portraits commissioned by architect Elliott Barnes, featured in Barnes' installation at the Lâ Exposition AD Interieurs, Paris, France.

The artist was an inaugural artist fellow at NXTHVN in New Haven, founded by Titus Kaphar and Jonathan Brand. Davis was selected as a DAMLI fellow at the Cleveland Museum of Art. She took part in the 2020 Artist In Residence Program at the Headlands Residency, Sausalito, CA.