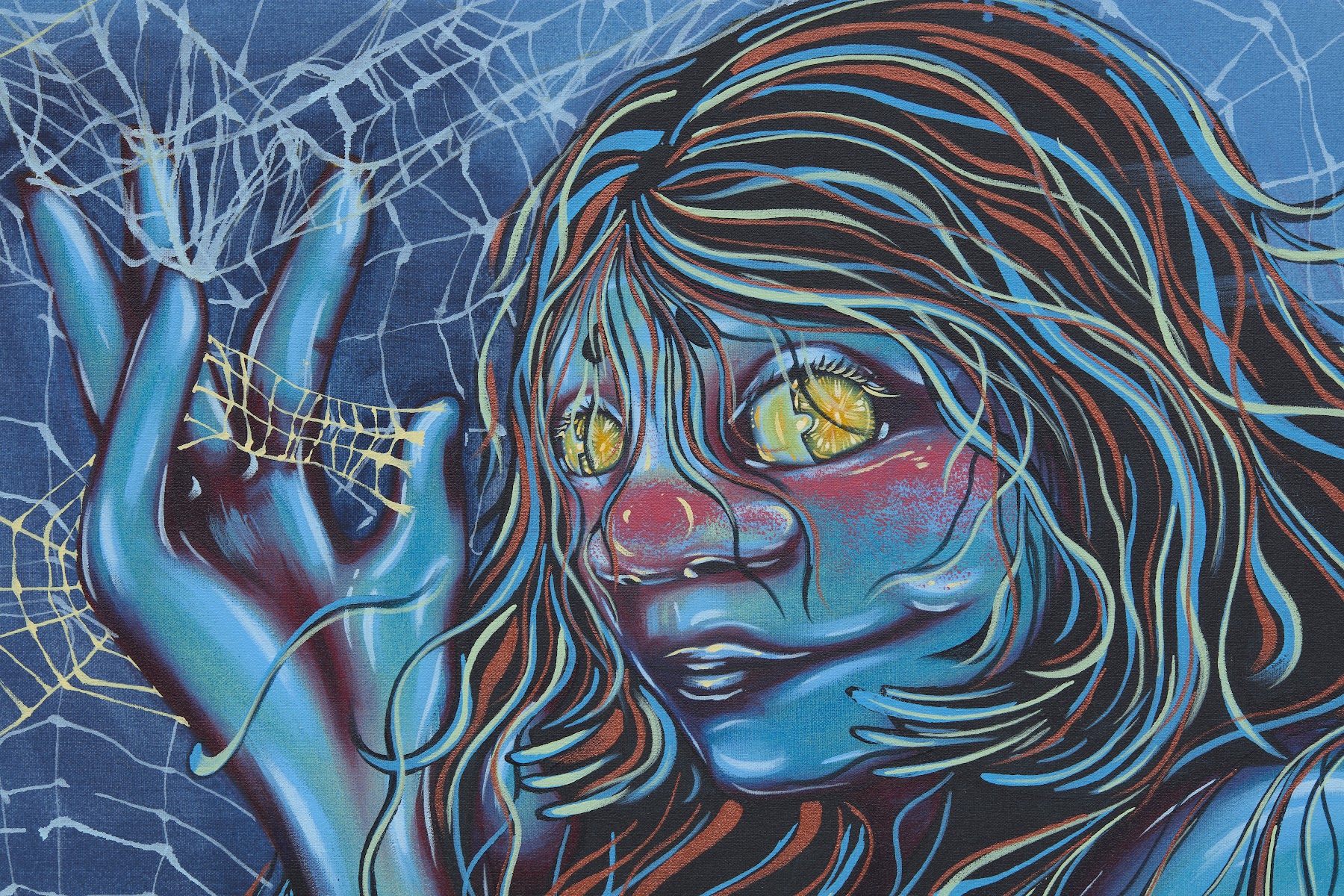 Zoé Blue M: Sea Swallow | Amanda Wall: Angel Food
👀
6150 Wilshire Blvd, Los Angeles, CA 90048
Dec 11, 5 PM - 7 PM — ends Jan 29, 2022
Anat Ebgi is pleased to announce Sea Swallow, an exhibition of new work by Los Angeles artist Zoé Blue M.. On view at 6150 Wilshire Blvd, opening Saturday, December 11, 2021. This is Blue M.'s second solo exhibition with the gallery.

Blue M's paintings address characterizations of Asian women in both western and eastern popular culture drawing upon a range of source materials from Anime, advertising, art history, and ukiyo-e, as well as personal memories and photographs. For this exhibition, Blue M. examined Jorōgumo, a supernatural entity of Japanese Yōkai folklore.

Possessing a cunning intelligence and a cold heart, Jorōmugo is a spider-like creature who lives near water and feeds on men. Skillful deceivers, they can shape-shift into beautiful, young women whose mission can often be perceived as to witness the downfall of a man. Though the story of Jorōgumo provided the spine of her thinking, the exhibition breaks apart this story. Blue M. elevates the central character by presenting an open narrative that incorporates moments of innocence alongside scenes of villainy.

Atmospheric exterior paintings with dramatic skies and water are playful such as the siren-esque girls swimming in No Shipwreck Needed or the girl walking along the seashore in Playcate. These moods are contrasted by the psychological and contained interior compositions of Waiting for Tomorrow or Behind the Fall. Together these depictions, consider the complexities of emotional burdens, family history, adolescence, and depictions of East Asian women throughout time and their stereotyping as a way of making sense of her own multicultural identity.

Zoé Blue M. (b. 1994, Los Angeles, CA) Blue M. received a BFA from Rhode Island School of Design and has attended residencies at Vermont Studio Center and Anderson Ranch, Texas. Her work has been exhibited in solo exhibitions at Anat Ebgi, Los Angeles, CA; Page NYC, New York; The Gallery @ El Centro; In Lieu, Los Angeles (2019) and group exhibitions include Another Scorcher, Martha's Contemporary, Austin; Three Oh One, Memorial Hall Gallery, Rhode Island (all 2019). Blue M. lives and works in Los Angeles, CA.

__

Anat Ebgi is pleased to announce Angel Food, an exhibition of paintings by Los Angeles artist Amanda Wall. On view at 6150 Wilshire Blvd, opening Saturday, December 11, 2021. This is Wall's first solo exhibition with the gallery.

Amanda Wall's sensuous paintings evoke the physicality and gestural spontaneity of Abstract Expressionism, while capturing color and light that feels distinct to Southern California. The self-taught artist frequently depicts exposed or prone subjects giving an air of intimacy and fetishistic quality to her paintings. Using a palette ranging from bright blues and pulsing pinks to deep blacks her paintings have an intuitive intensity that defies singular readings.

In Wall's recent works, figuration and abstraction are not opposite parts, rather they are complementary elements, which produce a delicate uncertainty; forms, moods, and attitudes becoming something else—pointing to phenomena real or emotional. Energized through mystery and withholding, her repetitive themes and subjects include: cigarettes, glasses of water, cherries, and portraiture. The artist's use of containment, distorted perspective, and concealment introduces a freshness which heightens the eroticism and psychological spaces she explores.

Wall's paintings feel instantaneous, like polaroids or snapshots. In this way her works seem to comment on contemporary portraiture, image making, and our ever-expanding digital repository. As viewers, we are made to feel like voyeurs, observing isolated characters, without companions, for our own pleasure or gratification. Her portraits and still lifes are composed of conflicting layers and erected boundaries, subjects revealed through cups or bouquets of flowers, eyes and faces are obscured. These fragments coalesce into a unified whole, addressing sexuality, the body, image making, vision, and a kaleidoscopic range of human emotion.

Amanda Wall (b.1985, Hood River, OR) has shown her work in group and solo exhibitions internationally at galleries including, Anat Ebgi, Los Angeles; The Cabin, Los Angeles; Köning Galerie, Berlin; Almine Rech, New York and Brussels; Nino Mier, Los Angeles; and Gana Art, Seoul. Her work is in the public collection of the X Museum, Beijing. Wall lives and works in Los Angeles, CA.