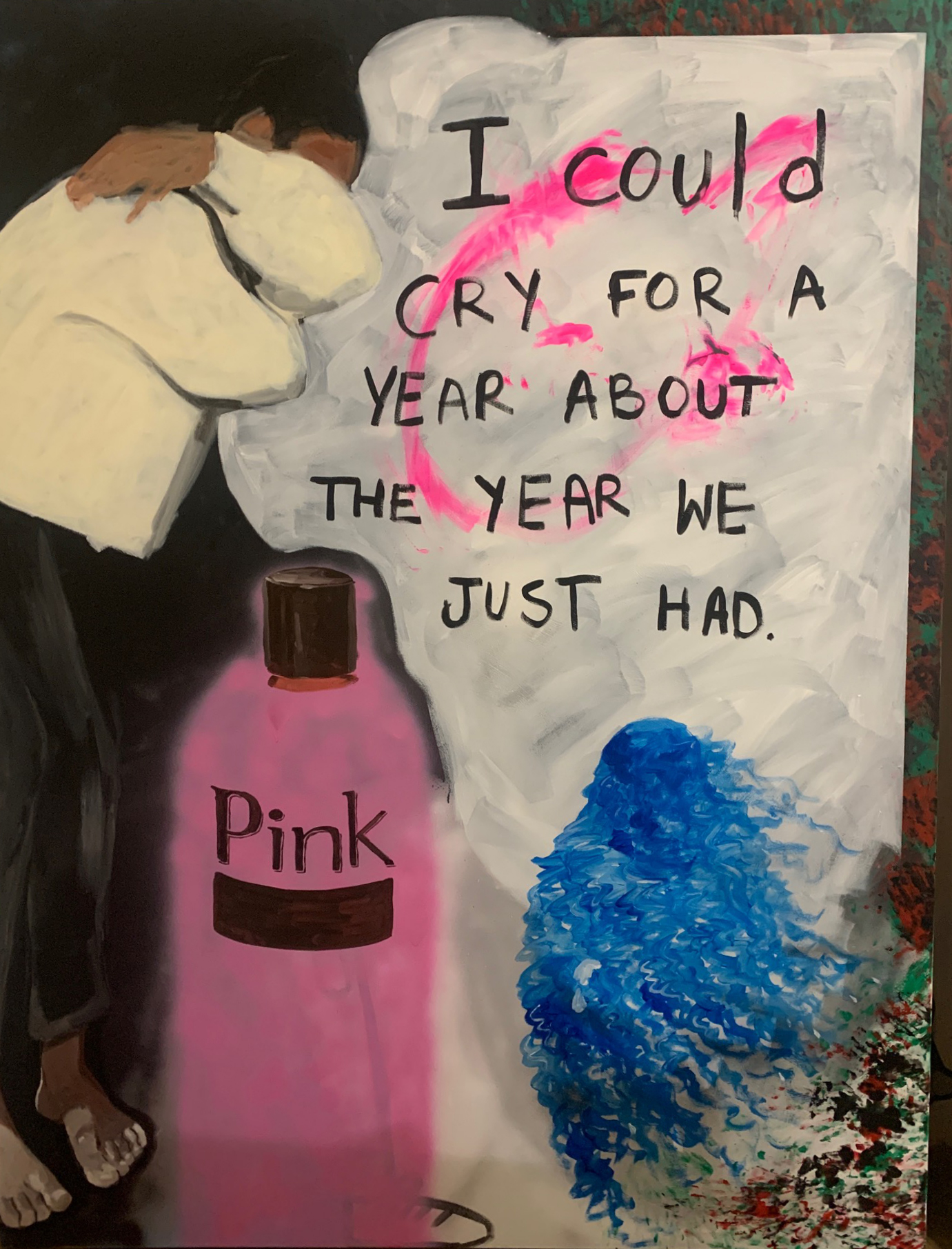 Brittany Tucker: Burnout | Richard Wyatt Jr. | Linus Borgo: I'll Grow Back Like A Starfish
6830 Santa Monica Blvd. Los Angeles, CA 90038
Jan 08, 6 PM - 8 PM — ends Feb 05, 2022
Steve Turner is pleased to present Burnout, a solo exhibition by Vienna-based Brittany Tucker featuring new large-scale loosely rendered paintings, half of which incorporate text that was spray-painted on in a street-tag manner. Tucker's works of the past few years often juxtaposed a realistic likeness of the artist interacting with cartoon-like characters. In these works, her principal cartoon nemesis of the past, a smiling, often taunting white man, is featured in but one canvas, where he is spilling black paint off the bottom edge of the canvas. Hand prints and foot prints mark the background around him, but Tucker is otherwise absent from the scene. When Tucker's likeness appears in other works, she appears to be uncomfortable, contorted, or obscured. According to the artist, these works represent her desire to shut out the world's expectations of a Black female artist and to work more impulsively. As a consequence they represent an unrestrained portrait of her psychological state as an expat living, working and studying in Vienna in which confusion, sadness, emotional fragility, self-reflection, honesty and ultimately courage and optimism are portrayed.

Brittany Tucker (b. 1996, Brooklyn) received a BA at Bard College (2018). She has had solo exhibitions at Steve Turner, Los Angeles (2019 & 2020) and DWDS, Bregenz, Austria (2021). Tucker has also presented works at September Gallery, Hudson, New York (2021) and at The Armory Show, New York (2021, with Steve Turner). She lives and works in Vienna.

__

Steve Turner is pleased to present Loss, Healing & Restoration, a solo exhibition of recent drawings by Los Angeles-based Richard Wyatt Jr. The drawings are deeply personal to Wyatt and include depictions of himself, his eighty-eight year-old father, his wife of forty-three years, his youngest daughter and Kobe Bryant, the talented former basketball player who was tragically killed in a helicopter accident in January 2020. There also are two drawings that depict "Paul's Work Clothes," a reference to the Apostle and his story of redemption and healing. For Wyatt, drawing has been a way of life for over fifty years, beginning with his studies with the legendary Charles White when he was a teenager. He describes his process as one of observation, not copying, and uses abstract lines and marks to interpret his subjects. As his drawings require months of work, he only chooses subjects that are important to him so that his drive and interest will not diminish. Big themes always motivate Wyatt, and in this case, his drawings relate to the unavoidability of loss, the possibility of healing and the inevitability of a new day.

Richard Wyatt Jr. (born 1955, Los Angeles) has been a presence in the Los Angeles art scene since the 1960s when he studied at the Watts Towers Art Center and attended the Saturday Tutor Art Program at the Otis Art Institute. Wyatt later obtained a Bachelor of Fine Arts from the University of California, Los Angeles (1978) and has taught drawing and painting at the University of California, Irvine; Otis Art Institute, Los Angeles and the Watts Towers Art Center, Los Angeles. His work has been regularly exhibited since 1971 with solo exhibitions at Steve Turner Gallery, Los Angeles (2005) and group exhibitions at LACMA, (2022, 2019 & 1972); Salon 94, New York (2020); Frye Art Museum, Seattle (2001); California African American Museum, Los Angeles (2016, 2011, 2006 & 1992) and Santa Monica Museum of Art (1992 & 1991). Wyatt has also created notable public art works including those at the Robert F. Kennedy Monument, Los Angeles (collaboration with May Sun); Capitol Records Building, Hollywood and Spike's Joint, Los Angeles.

__

Steve Turner is pleased to present I'll Grow Back Like A Starfish, a solo exhibition by New York-based Linus Borgo featuring three paintings he created in 2021. All derive from Borgo's autobiography and his lifelong interest in Italian Renaissance painting. While a freshman at RISD, he was seriously injured in an electrical accident resulting in the amputation of his left hand and in the ensuing years he has undergone gender transition.

All three paintings are self-portraits, two of which are close to Borgo's own height while the third one is nearly double that. In one the artist is lying in bed, naked but for his socks; in another he is dressed in winter clothes while a close friend kneels to tie the lace of his shoe and in the third, his unconscious body is held by a surgical team. Each work features bright colors including the lapis lazuli of Renaissance paintings and two of them have compositions that are based on specific paintings. As a group, they conflate Borgo's physical changes with biological phenomena and religious doctrine. The title of the exhibition (and the title of one of the works) refer to the way a starfish can regrow a lost limb and the process by which a lizard or crab lets go of one of its limbs when under threat. In one work, he alludes to the process by which his right hand grew in muscle mass and neurological capacity after his left hand was amputated. Borgo describes the relevance of his Renaissance inspiration with respect to his work entitled Noli Me Tangere (Nick Ties My Shoe):

Although there are many of versions of "Noli Me Tangere" paintings, I was specifically looking at the one by Correggio. It tells the story of Christ after his resurrection, where he appears to Mary Magdalene who kneels before him. When she reaches out to touch him, he pulls back because he no longer exists in physical form and their relationship must become spiritual rather than physical. I was very interested in this idea of bodily transformation where corporeal materiality becomes something intangible. I was thinking about how that applied to my body, with my accident, my surgeries and my transition.

Linus Borgo (born 1995, Stamford, Connecticut) received his BFA from Rhode Island School of Design (2018) and will receive his MFA from Columbia University (2022). I'll Grow Back Like A Starfish is Borgo's debut solo exhibition and it will be accompanied by a generously illustrated monograph with texts by Jack Halberstam and the artist (due out Spring 2022).