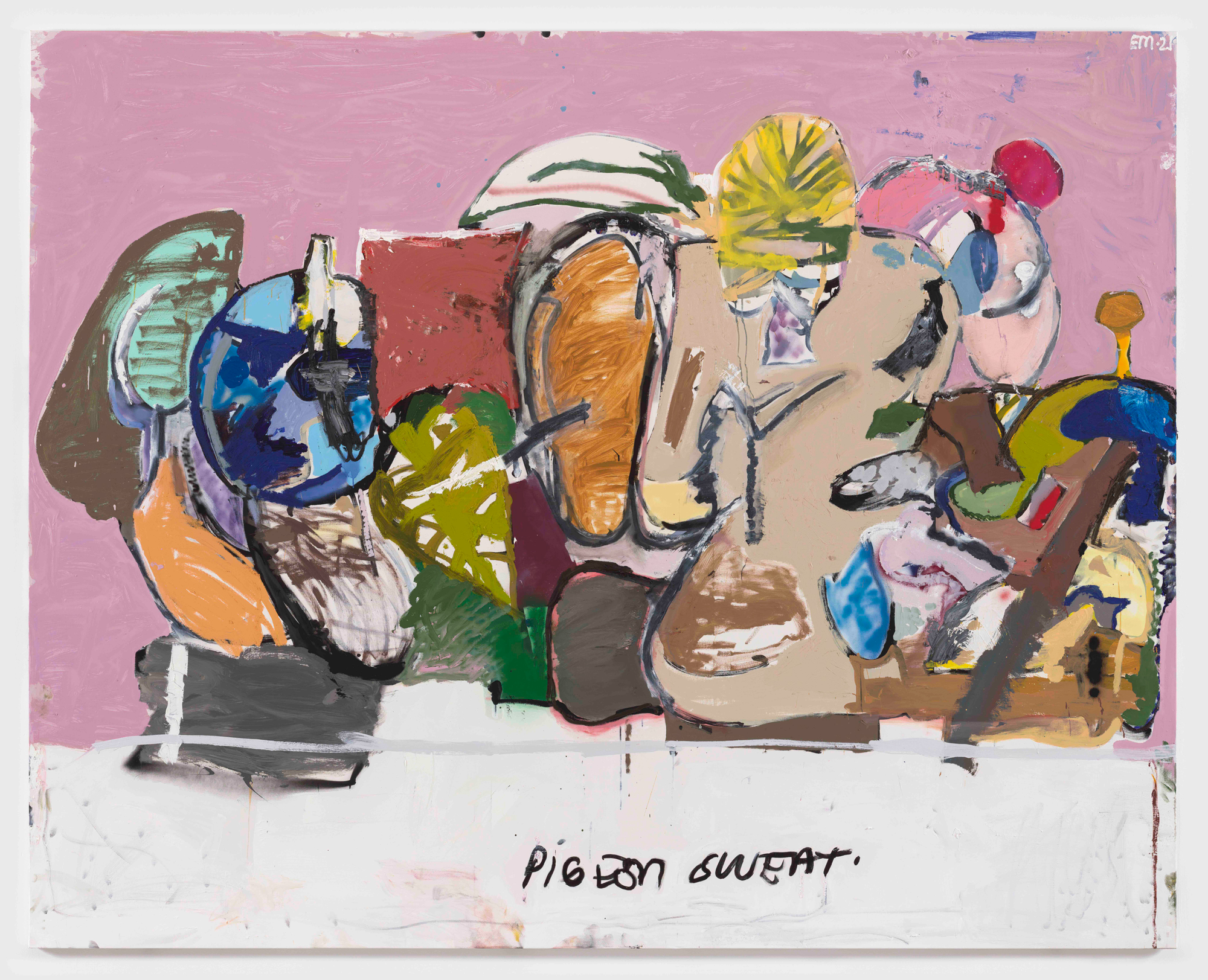 Eddie Martinez: Pigeon Sweat | Theodora Allen: Syzygy | Kishio Suga: Paper
👀
2727 S. La Cienega Blvd., Los Angeles, CA 90034
Jan 15, 5 PM - 7 PM — ends Feb 26, 2022
Blum & Poe is pleased to present Pigeon Sweat, the gallery's second solo exhibition with Brooklyn-based artist Eddie Martinez.

This new suite of large-scale paintings captures Martinez's mastery of revealing the representational through abstraction. He channels speed, impulse, and automatism in combination with tradition and art historical precedents, manifesting compositions that are simultaneously journalistic and autobiographical. With Pigeon Sweat, Martinez records snippets of life as it happens—quotidian vignettes in which Raid cans aim at wasps, foliage crawls a loggia wall, and toys litter a toddler's floor. Variously combining oil, enamel, and spray paint on canvas, Martinez also often layers unexpected materials from the studio in his collaged surfaces—perhaps a discarded baby wipe lending dimension to the wing of a butterfly painting.

The exhibition's eponymous artwork, Pigeon Sweat (2021), is a still life with vibrant blocks of color and expressive strokes. Against a strawberry-milkshake-pink background, cartoonish forms cluster together at the painting's center with imagery that conjures loose associations and dreamlike meanderings. Sneakers, plant leaves, a clown's profile? With color planes peeking out from layers of overpainting, these shapes serve as vehicles for surfing one's own subconscious. The title itself is scrawled beneath as part of the composition, defining the painting architecturally.

The painting Loggia (2021) belongs to Martinez's ongoing Whiteout series—with densely packed landscapes and animated flora painted over in white, his rich signature hues washed over in white. The bulbous and biomorphic plant forms depict the loggia of the Los Angeles gallery's garden and in this tonal range and state of partial-erasure appear pale, delicate, almost ghost-like. All Space (2021) exemplifies Martinez's robustly active and spontaneous pseudo-representational painting style, replete with various signifiers from the artist's personal iconographic lexicon. The checkered blockhead, a longstanding caricature from the Martinez-verse, makes an appearance within a landscape of thick brushstrokes and energetic, gestural mark-making. Rendered with bold forms, strong lines, highly textured surfaces, and a distinctive personal visual vernacular honed over many years, each body of work in this presentation conceals and reveals that which lives under the surface.

Eddie Martinez (b. 1977, Groton Naval Base, CT) lives and works in Brooklyn, NY. Martinez's unconventional practice has received growing institutional support with five museum solo shows in the last four years, including at the Museum of Contemporary Art Detroit, MI and the Yuz Museum, Shanghai, China in 2019, a show of new sculptures and paintings at the Bronx Museum of the Arts, Bronx, NY in 2018, an exhibition that featured a rotating display of his recent works on paper at the Drawing Center, New York, NY in 2017, and an exhibition at the Davis Museum at Wellesley College, Wellesley, MA in 2017. His works are represented in international public collections including the Aurora Museum, Shanghai, China; Bronx Museum of the Arts, Bronx, NY; Davis Museum at Wellesley College, Wellesley, MA; Hiscox Collection, London, UK; La Colección Jumex, Mexico City, Mexico; Marciano Collection, Los Angeles, CA; Morgan Library & Museum, New York, NY; National Gallery of Art, Washington, D.C.; RISD Museum, Providence, RI; Saatchi Collection, London, UK; and the Yuz Museum, Shanghai, China, among others.

__

Blum & Poe is pleased to present Syzygy, the gallery's third solo exhibition with Los Angeles-based artist Theodora Allen. This presentation follows the artist's first institutional solo exhibition, Saturnine, which was held at Kunsthal Aarhus, Denmark in 2021. A book launch for the correlating monograph, edited and authored by curator Stephanie Cristello, will be hosted at the gallery in February.

We know we are supposed to make a wish, or capture them, if we see them fall. Hope you may, hope you might. Fast fire imparted with volumes of unspoken scripts (wishes should be made silently) gone in a flash. If our eyes could see desire, its pattern would decorate the sky where it sliced through—like the jagged lattice embedded in ice when it hardens too quickly. The slower water heals from liquid into solid, the more crystalline it becomes.

In the paintings of Los Angeles-based artist Theodora Allen on view in Syzygy, the motif of shooting stars alongside stars in various evolutions—either burning out, exploding, or falling—measure acts of metamorphoses that inhabit spaces of flux. Allen's visual lexicon, comprised of emblematic, esoteric, and personal sources, engages with themes surrounding cycles and regeneration—the making and unmaking of nature. Her paintings come into being through a process of removal; paint lifted off a surface to reveal the white ground beneath, before gradually introducing layers polluted by the addition of color, value, and opacity—a paradox of creation through deficit. As ciphers for introspection, the symbols of desire composed within Allen's recent paintings reference the extremities of an inward and outward gaze.

The exhibition title, which refers to a term shared across fields of astronomy and psychology, speaks to the alignment of three celestial bodies in conjunction, or the harmony of contradicting forces. In the collection of five works on view, ranging from a large-scale triptych to more intimate distillations, Allen presents reflections and deflections: symbols of infinity interlock with the outline of an hourglass, hearts are transposed and divided by a bow and arrow, a shield is formed from the trails of a comet. The elemental opposites of fire and water, earth and air permeate all. Across the series there are allusions to the first genus of Narcissus flower (N. Poeticus), inspired by the myth of the hunter who remained ensnared in his double. Various permutations within the works—as well as the approach to their installation—are mirrored: they look for, and into, their likeness.

In Ovid's Metamorphoses, Narcissus drowns. In other versions of the tale, he dies of starvation and thirst. In each, narcissi flowers grow in his place along the water's edge—trumpet-like centers of paperwhite petals bending forward toward the pool. In Syzygy (Narcissus), 2021, the tripartite centerpiece of the exhibition, two shooting stars encircle each other against a firmament of glinting indigo—the clockwise movement of the stars, here as diamond portals, is marked by a trail of flames. In the center panel, a star burns in place. The scale of the canvases gives the impression of a series of doorways, or the panes of a dividing screen; proportions that delineate spaces either meant to be entered or hidden from view. Across deserts and forests, each of the subjects within Allen's stars is a hunter. Illuminated in a silver blue cast—the light of a sky at dusk or dawn, of fire at its hottest point—these seekers point toward an inward prey.

In the artist's series of distillation paintings—compositions that correspond to themes within the exhibition in their most reduced and succinct form—emblems of time and devotion are woven out of intersecting lines to exact an emotional index of geometry. The collection of compositions reads as either a diagram or coat of arms—a shape that evolved from its use as personal protection in battle into a signet of one's origins. Likewise, the Syzygy chapter revisits the artist's foundations of the Shields (2018) series, which featured hallucinogenic plants once used as poisons or medicine, sacraments or drugs (often both) throughout history. The antidote was the toxin, a therapy of curing same with same.

In his Sonnets to Orpheus, Rainer Maria Rilke writes, "Even the starry union is a fraud. Yet gladly let us trust the valid symbol / for a moment. It is all we need." In times of great uncertainty, certain symbols emerge as something to confide in—like the superstition of spotting a shooting star spreading before the dawn of the industrial era in America, or the heart as the organ of the mind in ancient Rome. In deciphering the signatures (within us) that compose these external signs, there lies the instinctive need for reflection: of the self, of the self in others. We look toward the future regardless of the condition of the present. We find patterns in the past to understand our current moment. We remain on the hunt for shooting stars, those vehicles of desire, emitting their last light, brilliantly falling toward earth's surface before they expire.

—Stephanie Cristello

__

Blum & Poe is pleased to present an exhibition of Kishio Suga's work on paper. His fifth solo presentation with the gallery, this show is the first comprehensive survey of his work in this medium, which has rarely been exhibited outside Japan. Suga's investigation of paper has been an integral part of his practice since the beginning of his artistic career, occurring in parallel with the large-scale installations and wall-mounted assemblages for which he is best known.

The earliest work in this exhibition, Untitled (1968), was made shortly after Suga graduated from Tama Art University, when he worked for one year as a part-time studio assistant to Sam Francis in Tokyo. Watching Francis create his Edge paintings by moving around large canvases laid on the floor, Suga was inspired to think about the relationship of center and periphery in his own emerging practice. Painted with bright acrylics sourced from Francis' studio, Untitled (1968) consists of rectangular fields of vivid red and blue, permeated with English words in various states of obfuscation and erasure. These colliding fields of color and fragments of negated language reflect Suga's incipient interest in the discrepancies between words and meaning, and the need to allow material to speak for itself. Only months after creating Untitled (1968), Suga turned away from painting and toward making site-specific installations out of natural and industrial materials such as paraffin, concrete, wood, branches, metal, rope, and wire. He and a small number of other artists who worked in similarly ephemeral modes became known as Mono-ha ("School of Things"). Deeply immersed in the theoretical writings of Jean Baudrillard, Gilles Deleuze, Kitarō Nishida, Keiji Nishitani, and Mahāyāna Buddhism since his university years, Suga developed his own idiosyncratic philosophy of matter and space, which he articulates in terms of a holistic "interdependence" (izon) of all "things" (mono) "being left" (hōchi) in the "situations" (jōkyō) that unite them.

As with Suga's installations and assemblages, his works on paper show the evolution of the artist's thought over the last five decades. During the 1970s, Suga experimented with various forms of mark-making and manipulation on different types of paper. In Situation of Boundary (1971) Suga applied diagonal strokes of white chalk to conjoined sheets of black sandpaper, emphasizing a unifying field that traverses the borders of multiple units within a greater whole. Suga also created geometric compositions out of tape, marker, ink, and torn edges, such as Lateral Realm—174 (1974) and Corner at Phases (1975). By contrast, in Quantity of Territory in Position (1976) he employed frenzied, diagonal ballpoint pen strokes to counter the gridded order of graph paper.

The early 1980s saw Suga continue to explore minimal interventions such as scoring corrugated cardboard in Towards Order (1981) and folding white paper to demarcate zones of space that he filled with gestural waves of pencil marks, as in Things that Traverse—11 (1982). Later in the decade, he resumed the use of brilliant fields of paint interspersed with pencil lines as a means of deconstructing the white expanse of the paper support, such as Few Variations, Many Transitions (1985). Untitled (1988), in which only the corners are demarcated with blue and orange streaks of acrylic, recalls Sam Francis' Edge paintings and yet is firmly rooted in Suga's conceptual vernacular.

Suga further expanded his repertoire of painted interventions and types of support during the 1990s, creating more sprawling configurations of acrylic and mixed media on used envelopes and densely patterned wrapping papers. In Peripheral Spaces, Enclosed Scene (1992), the red diagonal grid printed on the wrapping paper is overlaid with thin spokes of green and orange paint that radiate out from pools at the top and bottom edges and intersect in the middle. Since the 2000s, Suga has highlighted the duality of presence and absence by leaving geometric voids of unpainted space amid finely streaked grids of paint, such as in Things that Go Against the Flow (2007). Similarly, in Oscillating Scenery (2011), Suga dragged a ball of crumpled paper saturated with dark blue ink over a sheet of paper's white expanse and affixed the ball to the end of the meandering line that it had traced. The work presents three-dimensional evidence of movement across a two-dimensional field—an almost calligraphic revelation of the fusion of material, line, gesture, and space.

This presentation at Blum & Poe in Los Angeles coincides with a major solo museum exhibition in Japan and the release of an anthology of Suga's essays translated into English. The Iwate Museum of Art is celebrating its 20th anniversary with Kishio Suga: The Existence of "Things" and the Eternity of "Site," a survey focusing on the artist's relationship with his home region of Iwate Prefecture. Meanwhile, Skira Editore, Blum & Poe, and Mendes Wood DM have published Kishio Suga: Writings, vol. 1, 1969–1979. Edited by Andrew Maerkle, Ashley Rawlings, and Sen Uesaki, this is the first of an ambitious three-volume anthology that makes Suga's thinking accessible to English readers as a comprehensive body of work for the first time. In spring 2023, Suga's work will be included in Sam Francis and Japan: Emptiness Overflowing at the Los Angeles County Museum of Art, the first exhibition to explore Francis' work in relation to ma and other aspects of Japanese aesthetics.

Kishio Suga was born in Morioka, Iwate Prefecture, in 1944 and lives and works in Ito, Shizuoka Prefecture. In recent years, he has had major retrospectives at Pirelli HangarBicocca, Milan, Italy (2016); Dia: Chelsea, New York, NY (2016); and the Museum of Contemporary Art, Tokyo, Japan (2015). Suga is frequently included in global survey exhibitions. Most recently, a re-creation of his groundbreaking outdoor installation Law of Situation (1971) was displayed in the Gaggiandre shipyard at the 57th Venice Biennale (2017). His work is featured in many institutional collections, including the Dallas Museum of Art, Dallas, TX; Glenstone Foundation, Potomac, MD; Guggenheim Abu Dhabi, Abu Dhabi, UAE; Long Museum, Shanghai, China; M+, Hong Kong, China; Museum of Contemporary Art, Tokyo, Japan; Museum of Modern Art, New York, NY; National Museum of Art, Osaka, Japan; National Museum of Modern Art, Tokyo, Japan; Pinault Collection, Venice, Italy; Rachofsky Collection, Dallas, TX; Tate Modern, London, UK; Tokyo Metropolitan Art Museum, Tokyo, Japan; and the Yokohama Museum of Art, Yokohama, Japan.

In accordance with Los Angeles County guidelines, all visitors 12 and over must show proof of COVID-19 vaccination. Masks are required for all visitors inside the galleries.