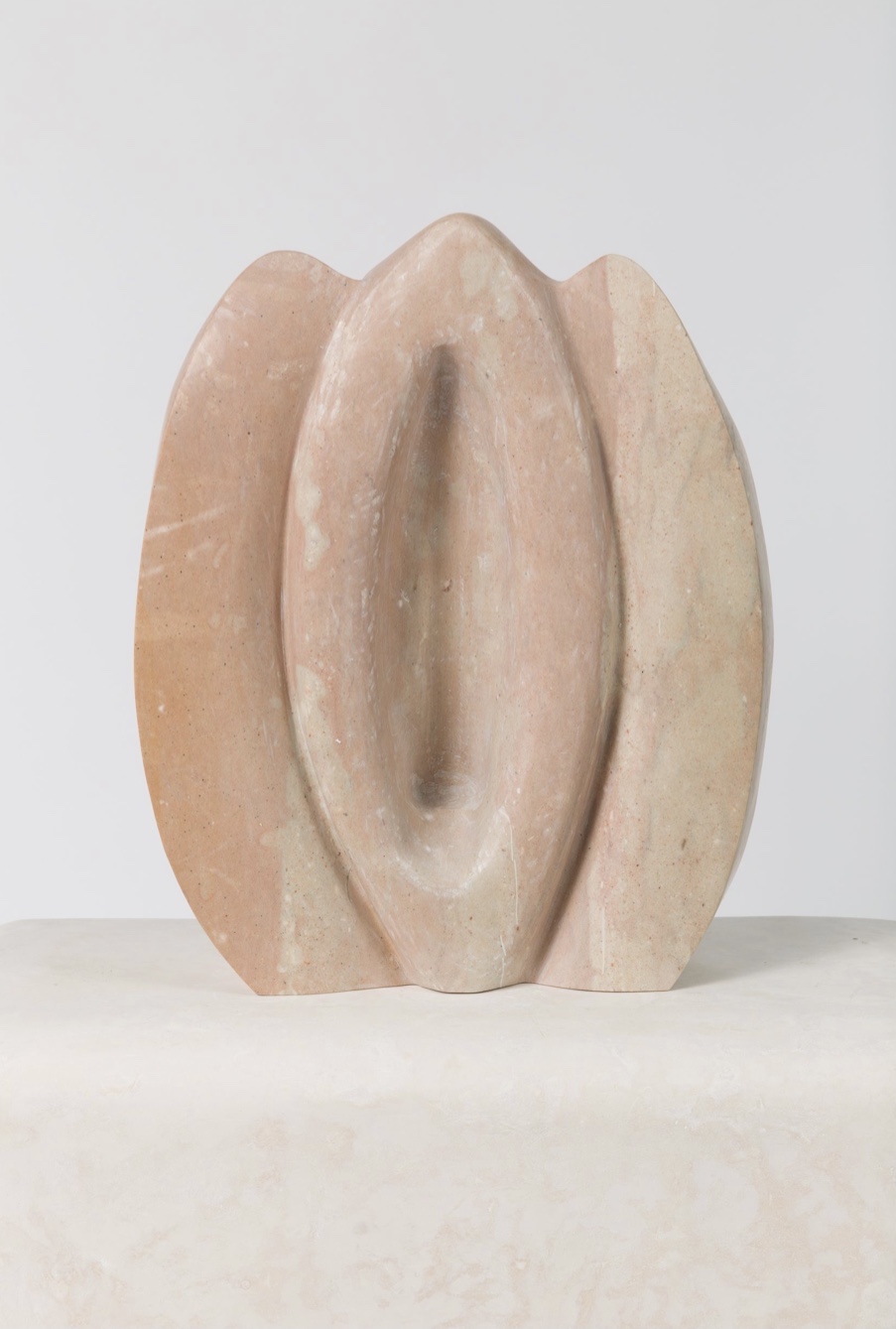 Cara Chan & Don Edler: Deep Time
5513 Pico Blvd. Los Angeles Ca 90019
Jan 09, 2 PM - 8 PM — ends Feb 20, 2022
Hunter Shaw Fine Art is pleased to announce "Deep Time," an exhibition with Los Angeles based artists Cara Chan and Don Edler. "Deep Time" will present a new body of work from each artist, together engaging humanity's most ancient creative impulses, exploring subjects and techniques that have defined our species from prehistory to the present. In the vast scope of this timeline, the artistic inclination emerges at the level of evolutionary force: making objects and images, humanity has discovered itself to be a technological, spiritual, and symbolic being.

Amongst our most ancient and powerful symbols is the yoni: the cosmic womb, the goddess as vulva. This sacred motif appears with striking continuity across disparate periods and geographies of human development. In accordance with its prevalence, the significance of the yoni is profoundly multivalent. Historically, the yoni has represented origin, cosmos, creation, transformation, sex, life, fertitlity, regeneration, home, protection, the mother, the goddess, the mystery. Hand-carved in stone, Cara Chan's yonic forms recall the sculpture of paleolithic and neolithic civilization, interpreted through a sleek modernist sensibility. Embedded with centuries of matristic significance, they prove that this symbol has retained potency in contemporary culture. In this era of oppressive patriarchy, the "sacred display" of the yoni takes on an aspect of defiant power. Recent centuries alone contain numerous examples of the vagina exposed in a radical act of feminist protest, dissenting against a social and political order intent on controlling and censoring female bodies. Placed atop vertical, sculpted pedestals, Chan's objects can be read as the vaginal usurping the phallic, a formal inversion of phallocentric conditioning. Considered in the round, they reveal additional complexities: as the viewer encircles each sculpture a second form is disclosed on the opposite side, the yoni image transformed into arcane, pseudo-oceanic motifs reminiscent of shells and fossils.

These primeval themes are echoed in recent works by Don Edler. "Zed's Head" (2022) is a wallbound sculpture depicting a lifesize Columbian Mammoth skull. The work is based on a scientific drawing of "Zed," the most in-tact mammoth skeleton excavated from the La Brea Tar Pits in Los Angeles. Rendered in silhouette, the shape of the relief resembles a petroglyph, placing the work in dialogue with humanity's earliest images. Through an anthropocentric lens, the mammoth skull is an icon of extinction, a memento mori with petro-capitalist implications. The wax-coated surface is embedded with a bricolage of collected detritus: spent batteries, plastic utensils, e-waste, a found object poem from the anthropocene to the pleistocene. These existential concerns are also evident in a new series of small-scale reliefs, the latest evolution of Edler's "tablet" sculptures. Incorporating a combination of handmade marks, found objects and cast forms, these works recall the semiotic carved stone tablets and mytho-monumental sculptures of ancient civilization. Whereas previous iterations of Edler's reliefs were carved by hand, the works on view in this exhibition were fabricated with the robotic aid of a CNC machine, a gesture that speaks to both progress and obsolescence.

Together these works by Chan and Edler invite a nuanced dialog between the ancient and the contemporary, the organic and the synthetic, the handmade and the machine-made. This exhibition looks at how we are remembered by the objects we leave behind, and how those objects impact and are impacted by an ever-changing environment. Through these works, Chan and Edler question what changes and what is continuous across the vast continuum of "Deep Time."

Cara Chan was born in New Jersey and received an MFA in Sculpture from UCLA along with an BFA in Fine Art from New York University. Recent exhibitions include "Melrose," Harper's, Los Angeles, CA (2021); "The Ansonia Survey Part II," Gattopardo, Los Angeles, CA (2021); "Go Outside, Stay Inside," Outside Gallery, Los Angeles, CA (2020); "A Part Of Things" (solo exhibition), Ochi Projects, Los Angeles, CA (2019); "Undertones: Biomorphic Art in Los Angeles," CalPoly, San Luis Obispo, CA (2019); "Palms," TSALA, Los Angeles, CA (2019); "Fishers" (solo exhibition), DĄĄB, Brooklyn, NY (2018); "From Earth," AR Projects, Los Angeles, CA (2018); "Co/Lab III," The Torrance Museum of Art, Torrence, CA (2018).

Don Edler was born in Bremen, Germany and immigrated as a child to South Florida. He received an MFA in Studio Art from New York University, and a BFA in Sculpture from University of Florida, Gainesville FL, and also attended Skowhegan School of Painting and Sculpture, Madison ME. Recent solo exhibitions include "Tablets 2017-2021," B___ (B Space), Los Angeles CA (2021); "Devil You Know," Hunter Shaw Fine Art, Los Angeles CA (2021); "Two Minutes To Midnight," Hunter Shaw Fine Art (2019); "6871 California Ave," Five Car Garage, Los Angeles, CA (2018); "The Father The Sun and The Holy Road," San Diego Art Institute, San Diego, CA (2016).