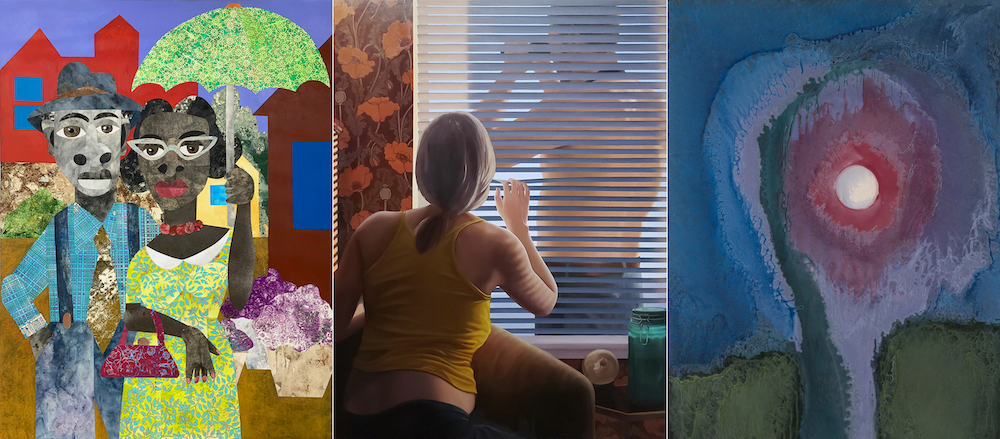 Evita Tezeno, Laura Krifka, & Nancy Evans
1110 Mateo St. Los Angeles CA, 90021
Apr 16, 5 PM - 8:30 PM — ends May 28, 2022
Luis De Jesus Los Angeles is very pleased to announce three upcoming exhibitions with new work by EVITA TEZENO, LAURA KRIFKA, and NANCY EVANS. The exhibitions will be on view from April 16 through May 28, 2022. An opening reception will be held on Saturday, April 16th, from 5:00 to 8:30 pm.
Known for her depictions of characters in harmonious everyday scenes inspired by her family, friends and acquaintances, as well as personal dreams and moments from her adult life, My Life, My Story continues Evita Tezeno's exploration of Black American life through an intimate gathering of members of her family — across time, generations and geography. This new body of work honors and is dedicated to her family.
Laura Krifka carefully constructs intimate narratives that deftly employ the power of the gaze. This new series delves into psychological realms of the self, navigating the relationship between shifting identities. Krifka holds multiple moments in each painting, both acknowledging and mourning the loss of a former identity, while at the same time relishing the radicalization of change.
Moonshadow brings together the Nancy Evan's series of Moon paintings, painted between 2014 and 2020, for the first time. In a departure from her abstract practice, and a long career that encompasses performance, sculpture, painting, drawing, and sound elements, Evans' cosmic paintings take inspiration from the sublime forces of nature which the artist has experienced throughout the course of her life in California, from her upbringing in California's expansive and fertile Central Valley, to the raw and rugged Pacific Ocean coastline, and the high desert landscapes of Joshua Tree and Yucca Valley.
For further information, including images and previews, please call 213-395-0762, or email:
gallery@luisdejesus.com
.