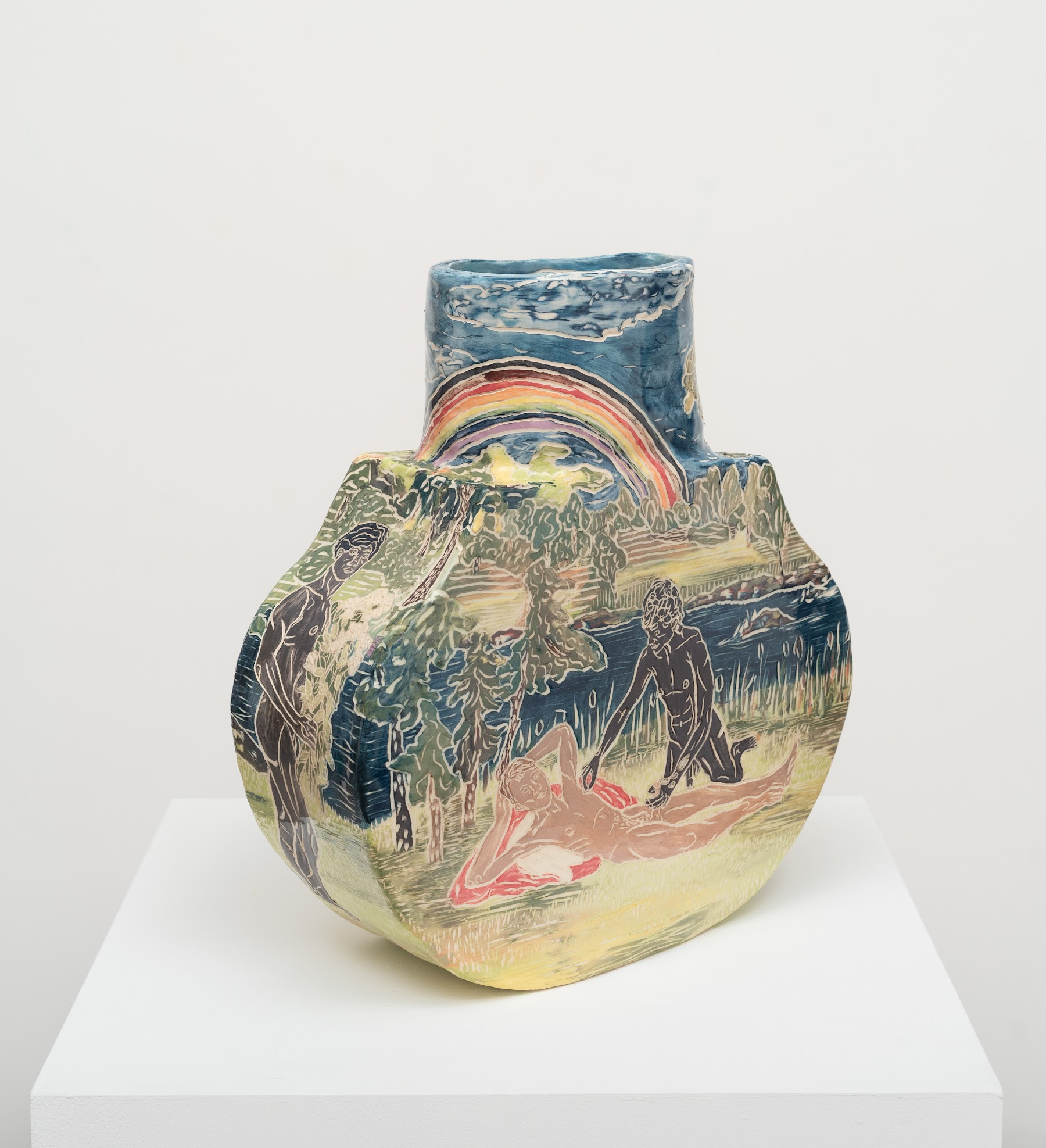 Krzysztof Strezlecki: Forbidden Fruit | Angela Lane: Beside the Sun
4859 Fountain AveLos Angeles, CA 90029
Apr 30, 11 AM - 2 PM — ends Jun 11, 2022
Anat Ebgi is pleased to present a solo exhibition by Polish ceramicist, Krzysztof Strezlecki. This is the artist's first American solo exhibition and will be on view from April 30 – June 11, 2022 at 4859 Fountain Avenue, Los Angeles. An opening reception will take place on April 30 from 6 – 8 PM.

Krzysztof Strezlecki (b. 1993, Świdnica, Poland) earned his BFA in photography from the University of the Arts London (UAL), Camberwell. He works in a variety of media, including ceramics and photography. Strzelecki's influences encompass Christian iconography and ancient mythology. In his work he explores the similarities and differences between man and his environment, contrasting the wilds of nature with the fragility of the human form.

His work often engages with queer culture and considers how different societies relate to LGBT+ issues of acceptance and prejudice. He incorporates photography into his ceramics and embraces the Japanese attitude of wabi-sabi, which accepts and appreciates the unpredictable beauty of any 'imperfections' – each form therefore is unique, and every 'broken' piece adds to his understanding.
__

Anat Ebgi is pleased to announce Beside the Sun, a solo exhibition of new paintings by British artist Angela Lane on view at 4859 Fountain Avenue, opening Saturday, April 30, 2022. This is the artist's first solo exhibition in Los Angeles. An opening brunch will take place Saturday, April 30 from 11am – 2pm.

Angela Lane paints postcard-size landscapes, aligning herself with the art historical tradition of depicting environments of celestial and mysterious phenomena. Robust pastoral beauty, bathed in soft light or cloaked in fog, is offset by dramatic eclipses, comets, or twin suns. These phenomenons suggest a range of mirages and visions open to broad interpretation, which in Lane's words "leave the events in the paintings to be their own messengers."

The intimate scale of Lane's oil on wood paintings, compels viewers to draw quite near in order to see them properly—giving the sense that these visions are your very own. Despite this commitment to the diminutive, the artist achieves a magnetic sense of drama and verdant solitude. Occasionally certain phenomena are repeated either in title, or through shared compositional elements, suggesting passage of time, or varying moods and emotional states.

At times informed by recorded accounts of unexplained meteorological events from the early medieval period, the artist also channels her mystical forms through automatism. Her loose brushwork and painterly articulations register gradually. Lane's interest in spontaneity and inspiration emerges from the desire to look at the spirit and essence of the world, rather than record its surface details.

Angela Lane (b. 1974, United Kingdom) lives and works in Berlin, Germany.